Annual Rev. Dr. Martin Luther King, Jr. Celebration and Awards
January 22-23, 2023
Salem State's 2023 Dr. Martin Luther King, Jr. celebration honored the 60th anniversary of Dr. King's "I Have a Dream" speech by advancing his legacy in equity and justice. We encourage you to (re-) watch the speech delivered August 28, 1963, at the March on Washington for Jobs and Freedom.
33rd Annual Martin Luther King, Jr. Convocation with Keynote Dr. Mary Frances Berry
Sponsored by Inclusive Excellence, Center for Justice and Liberation, Berry Institute of Politics, Alumni Association, and Salem State Foundation 
For more than four decades, Dr. Mary Frances Berry has been one of the most visible and respected activists in the cause of civil rights, gender equality and social justice. Serving as Chairperson of the US Civil Rights Commission, Dr. Berry led the charge for equal rights and liberties for all Americans over the course of four Presidential administrations. A trailblazer for women and African Americans alike, she also became the first woman of any race to head a major research university as Chancellor of the University of Colorado at Boulder. She is the Geraldine R. Segal Professor of American Social Thought and Professor of History at the University of Pennsylvania, where she teaches the history of American law and the history of law and social policy.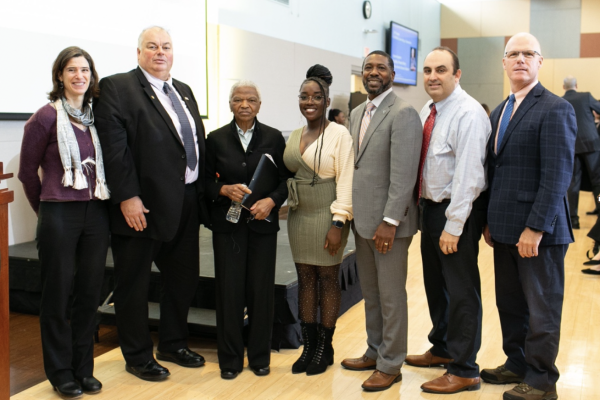 Pictured here: Dr. Keja Valens, Salem Acting Mayor Robert McCarthy, Dr. Mary Frances Berry, Black Student Union Vice President Bettyna Elescar, Dean Shawn Newton, Salem Superintendent of Schools Dr. Stephen Zrike, President John Keenan
Dr. Berry made history as one of the founders of the monumental Free South Africa Movement (FSAM). She received the Nelson Mandela award from the South African Government for her role in organizing the FSAM, raising global awareness of South African injustice that helped to end over 40 years of apartheid. She also served as Assistant Secretary for Education in the US Department of Health, Education and Welfare, working to make these historically inequitable systems achieve a new level of fairness. A prolific author, Dr. Berry's books cover a wide range of subjects, from the history of constitutional racism in America to the history of progressive activism. Her latest book, History Teaches Us to Resist: How Progressive Movements Have Succeeded in Challenging Times, examines the successful tactics of movements that ended the Vietnam War, jumpstarted government response to the AIDS epidemic, championed the Americans with Disabilities Act and advanced civil, women's and LGBTQ rights—all of which she was a part of. Her previous book, Power in Words: The Stories behind Barack Obama's Speeches, from the State House to the White House, offers insight and historical context of President Obama's most memorable speeches.
A moving speaker who makes history come alive, Dr. Berry believes that each generation has the responsibility to make a dent in the wall of injustice. She continues to speak boldly for those who can't speak for themselves and motivates all of us to take action. Her clarion call challenges everyone to stand up, stand tall and to never give up the fight.
"The MLK Convocation provided a powerful platform for voices that are often marginalized to be heard and celebrated. It was inspiring to see individuals from diverse backgrounds unite to honor MLK's legacy and pledge to continue the work towards justice and equality. Attending the MLK Convocation was a meaningful reminder of the impact that one person can have on a community, a nation, and the world. Through his example, MLK demonstrated the power of speaking truth to power and the importance of standing up for what is right. The Convocation served as a call to action for all of us to continue working towards a more just and equitable society." --Michael Corley, '23, 2023 MLK Student Leadership Award Winner
2023 MLK Leadership Awards
Presented annually to an SSU undergraduate, graduate, alumna/us, faculty, staff, or administrator, the MLK Leadership Awards recognize outstanding and significant contributions to the cause of freedom, justice, & equality. This year, the Rev. Dr. Martin Luther King, Jr. Leadership Award was presented to Michael Corley, Emmanuel Quiroz Martinez, Dr. Elisa Castillo, PhD, Dr. Elspeth Slayter, PhD, and Dr. Hope Watt-Bucci '96, PhD. Their names will be inscribed on a plaque with those of previous years' recipients, which is displayed in the Ellison Campus Center.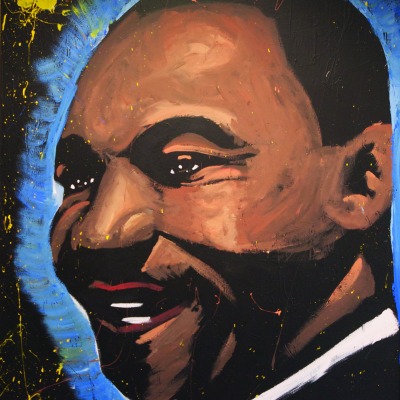 MLK Candlelight Vigil and Freedom March
The candlelight vigil served as the opening of our celebration and an opportunity for the community to honor Dr. Martin Luther King Jr.'s commitment to social activism and the legacy that has inspired us to continue his movement. Speakers included Javier Osorio, Captain of the Men's Basketball Team; Stephanie Jolibois, Student Government Association President; Erika Pen, Asian Student Association President; and Gamael Chalvire, Haitian Cultural Club President, and alumni and Counseling Staff member Jay Carey. Rodnicha Jean Baptiste offered a beautiful rendition of the Black National Anthem, "Lift Every Voice and Sing." After the candlelight vigil, there was a Freedom March on campus from Veterans Hall to Viking Hall.
Title
Racial Justice Writing Contest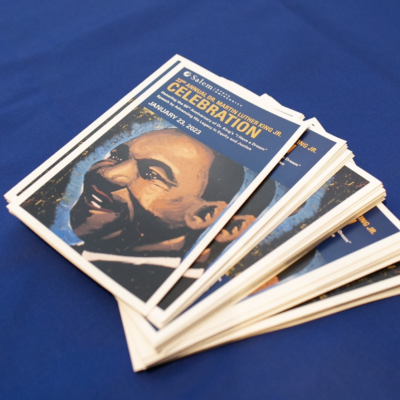 Sponsored by the English Department
 
This writing contest invited works of fiction, non-fiction, plays or poems that reflect on the persistence of racial injustice and/or that consider or express current efforts "to end the racial nightmare, and achieve our country, and change the history of the world" (James Baldwin). Award winners were: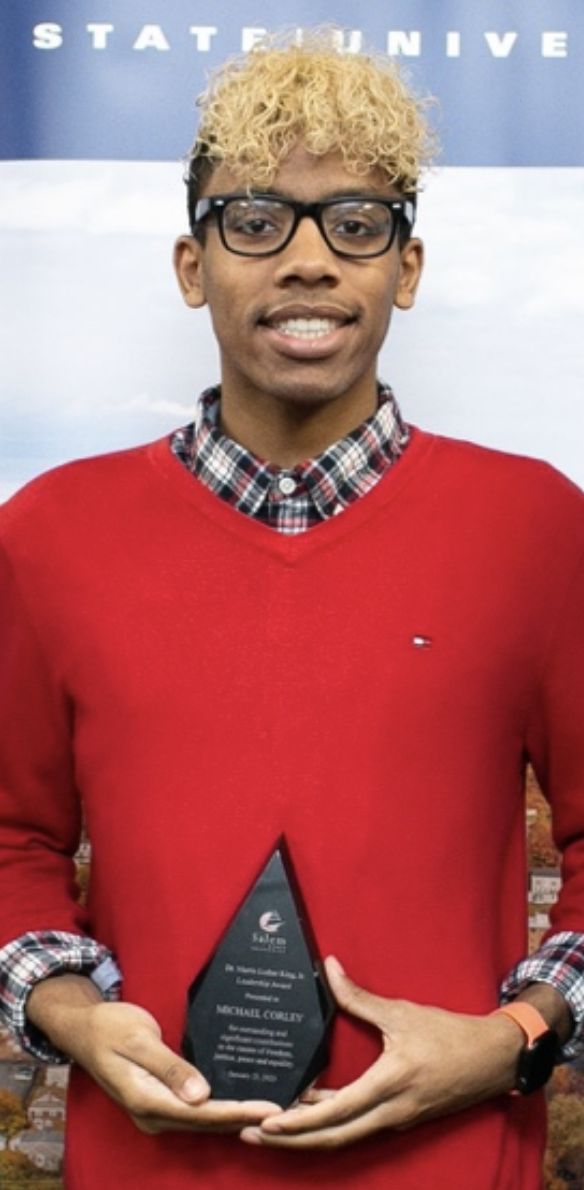 Michael Corley '23, of Salem, is majoring in media and communication with a concentration in journalism and a double minor in English and history. His nomination for the award cites Corley's leadership to establish a land and labor acknowledgement for Salem State, noting that he "embodies what Salem State represents and is the most determined to help others and see the most positive outcomes when they apply themselves."
Title
Emmanuel Quiroz Martinez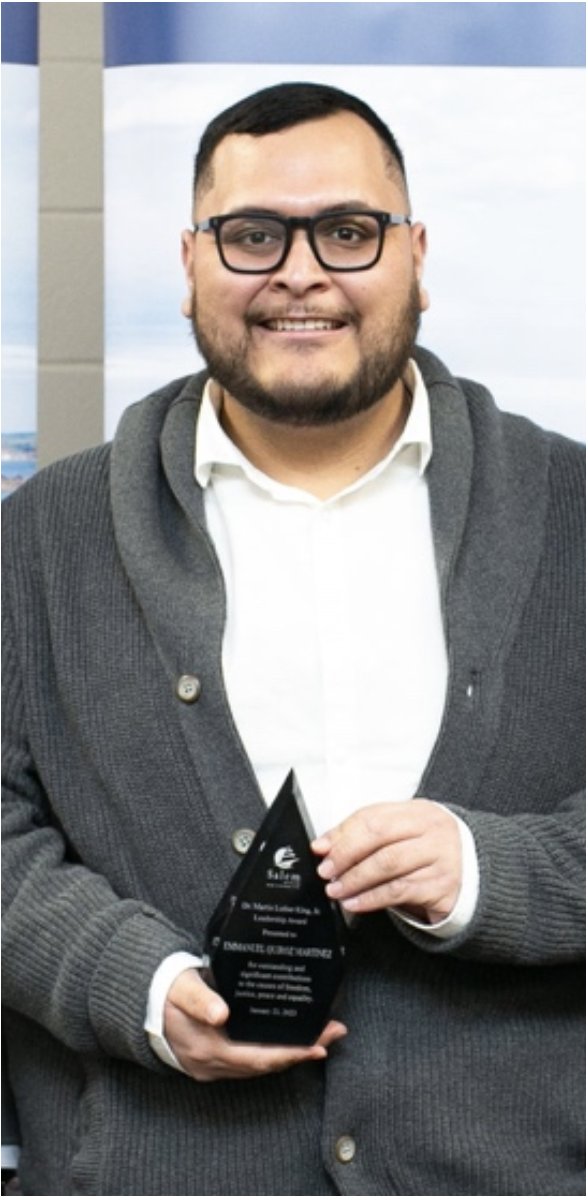 Emmanuel Quiroz Martinez '23, of Houston, Texas, manages the Educator Scholars of Color (ESOC) program in the McKeown School of Education, which helps the university recruit and retain students of color. The nomination noted that "His impact on the program, and most importantly, the students in our program, has been huge."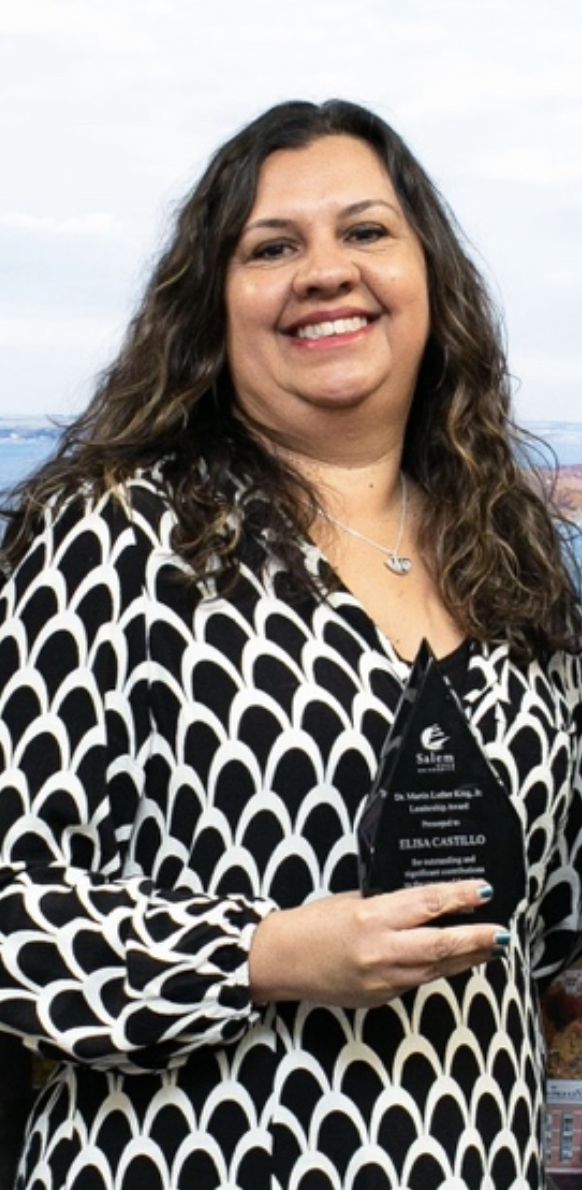 Dr. Elisa Castillo, of Salem, is the Associate Dean of Students for Wellness and was chosen as the administrator/staff award recipient. Her nomination highlights Castillo's leadership in Salem State's emergence as a Hispanic Serving Institution (HSI) and her success expanding the holistic approach taken by counseling and health services. Elisa has been a steadfast advocate for students and social justice throughout her career at Salem State.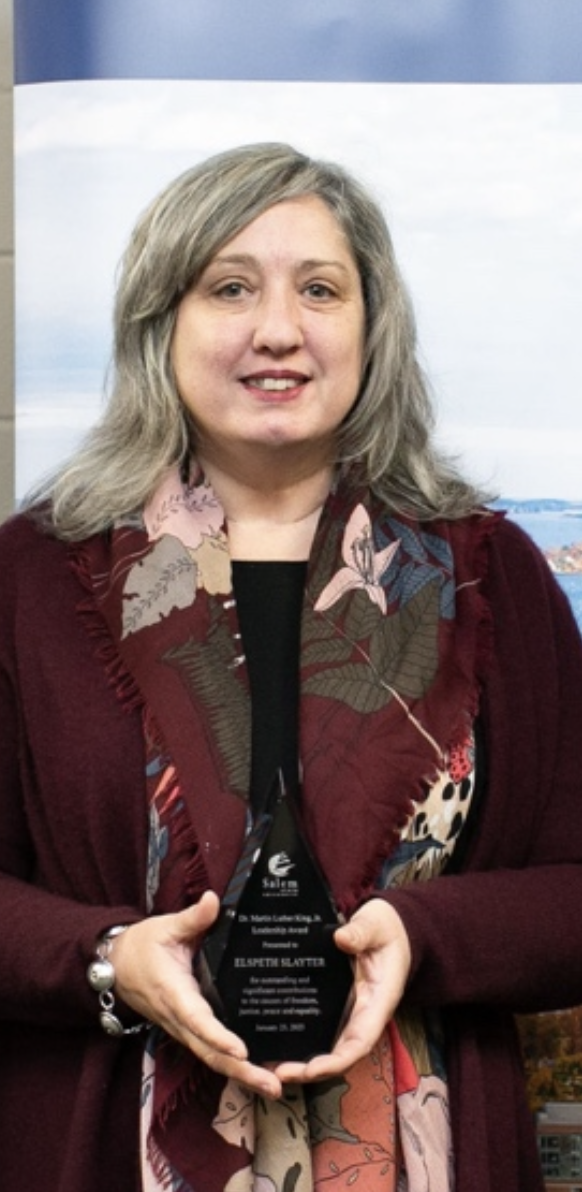 Dr. Elspeth Slayter, of Provincetown, is the faculty award recipient and serves on the Racial Equity and Justice Initiative, a regional, campus-based effort to address systemic racism and to advance racial educational equity. Slayter founded #SWEduActs, a national organization of social work educators devoted to promoting anti-racist teaching. Within Salem State's social work department, she spearheaded a strengths-based data analysis approach devoted to engaging in data-driven anti-racism work. Slayter also coordinates Salem State's partnership with the Massachusetts Department of Children and Families on equity-minded practice for mid-career managers, which focuses heavily on racial justice and disability justice.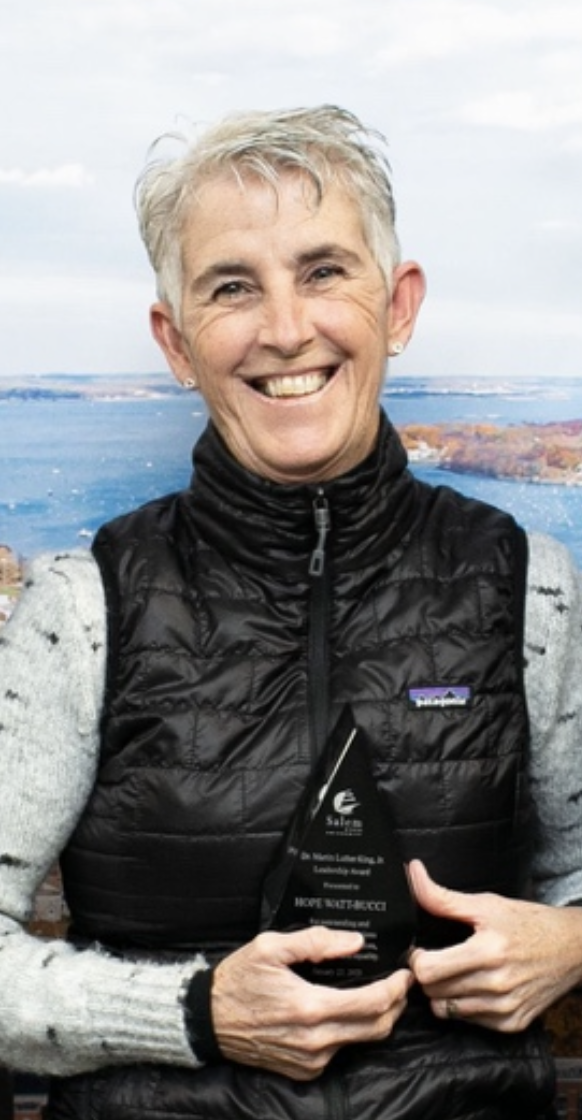 Dr. Hope Watt-Bucci '96, of Manchester-by-the-Sea, was named the alumni award recipient. Watt-Bucci is the founder and president of North Shore Pride and is dedicated to advocating for the LGBTQIA+ community. Under her leadership, North Shore Pride holds events throughout the year that raise awareness, fundraise, and support partner organizations. Some of these events include the North Shore Pride Parade and Vendor Festival, drag shows, community panels, interfaith services, and more.
Title
Salem Public Schools MLK Essay Contest
Co-sponsored by the Salem Human Rights Coalition, this contest invited students in Salem public schools to write essays to honor the 60th anniversary of Dr. King's "I Have a Dream" speech. The winners from elementary, middle, and high school students are:
Vasiliki Tzortzis, of Peabody, Candidate for MA in TESOL and Certificate in Holocaust and Genocide Studies, "If Only They Had Seen Your Soul"
Alex Cepeda, of Monson, undergraduate English major, "Rotten Avocado."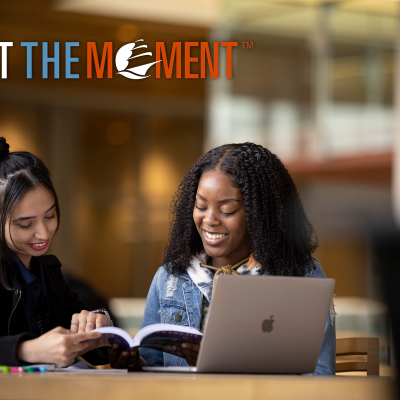 Their award-winning work will be featured in the forthcoming issue of the national literary magazine edited by Salem State students and faculty, Soundings East. More information about Sounding East can be found here.
Mary Asong, Grade 5, of Witchcraft Heights Elementary School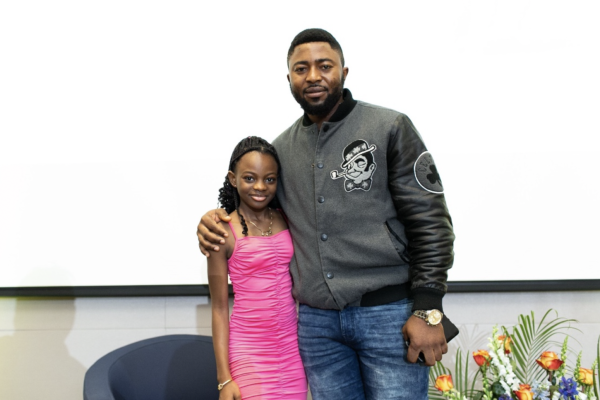 Yaniel Pache, Grade 8, New Liberty Innovation School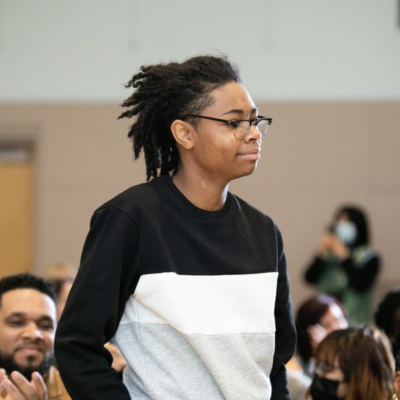 Tyrek Jones, Grade 9, Salem High School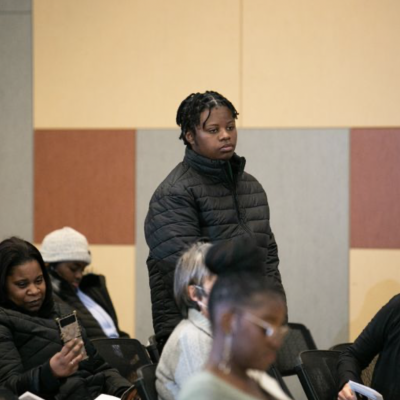 Student race essays show progress... and need for more | News | salemnews.com
This collection of events and awards was coordinated by the Rev. Dr. Martin Luther King, Jr. Celebration Collaborative, which includes representatives of Academic Affairs, Black Employee Resource Group (BERG), Black Student Union, Center for Civic Engagement, Center for Academic Excellence, Center for Justice and Liberation, Inclusive Excellence Office, Institutional Advancement, Student Life, Salem Human Rights Coalition, Alumni Association and Salem State Foundation.