Title
Charlotte Forten Introduction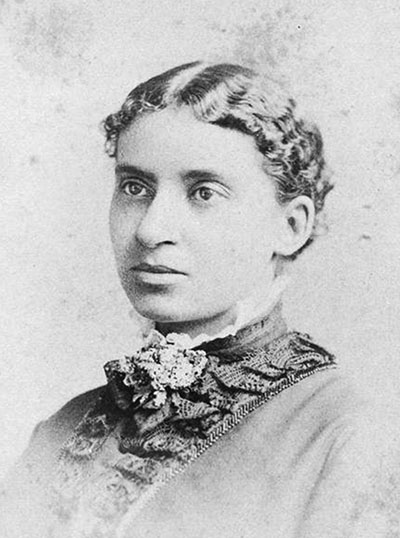 Charlotte Forten, class of 1856, was Salem State's first African American graduate. During her life, she was an abolitionist, educator, writer, poet, translator, and women's rights activist. Her story starts in Philadelphia where she was brought up in a prominent abolitionist family. She traveled to Salem for equal education and graduated from the Salem Normal School [now Salem State University]. She faced inequality due to her race and gender throughout her life and used her pen to express her outrage and advocate for solutions. For 65 years Charlotte was a tireless advocate for the end of slavery; equality for women and people of color; and education for all. Her life embodied activism and social justice. 
Here are a few highlights from her remarkable life.
Title
Philadelphia, Pennsylvania
1837-1854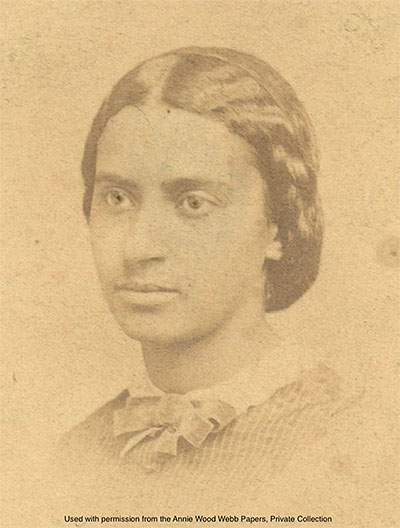 Charlotte Louise Bridges Forten was born August 17, 1837 in Philadelphia to Robert Bridges Forten and Mary Virginia Wood. Charlotte's grandfather, James Forten, a revolutionary war veteran and successful sailmaker, was one of the most prominent African American abolitionists in the United States. James and his activist wife, Charlotte (Vandine), educated their children and grandchildren in their home as Philadelphia's schools were segregated. James was an active member of the American Antislavery Society and his wife and daughters were founders of the Philadelphia Female Antislavery Society. The Forten house on Lombard Street hosted prominent abolitionists such as Richard Allen, William Lloyd Garrison and Samuel J. May. Their children were poets, educators, inventors, and entrepreneurs.
Charlotte's mother, Mary Virginia, died when she was three. Her grandmothers and aunts became her surrogate mothers. Her father Robert remarried and for a time Charlotte lived in the country with his new family.
However, Robert wanted his daughter Charlotte to be educated in integrated schools and so through abolitionist and family connections, she was sent to live with the Remond family of Salem, Massachusetts, where schools were integrated. However, throughout her life, Philadelphia was always home for Charlotte, where she was welcomed and supported by her family.
Her grandfather James Forten was born in 1766, the fourth generation of a Philadelphia family of African descent. His father died when he was seven, so he helped support his family with odd jobs and received an education in the African School. During the revolution, he served on an American privateer, was captured and imprisoned. Once released, he traveled to London and worked at a sail loft. Returning to Philadelphia he apprenticed under sailmaker, Robert Bridges, eventually taking over the business in 1798. He became one of the wealthiest men of African descent in the new Republic.
The Forten family used their financial success to fund slaves buying their freedom, as well as supporting the Underground Railroad. James Forten was an early backer of William Lloyd Garrison's newspaper "The Liberator" and a frequent columnist under the by-line "A Colored Philadelphian," promoting a number of reforms, but none so fiercely as the abolition of slavery. His wife Vandine was also an activist and their sons and daughters followed in their footsteps.
Charlotte's father, grandfather and her aunt's husband, Robert Purvis, were members of the committee that drafted the "Appeal on Behalf of Forty Thousand Disenfranchised African Americans." Vandine and Charlotte's aunts Harriet, Margaretta and Sara served on the boards of female abolitionist groups and founded free private schools for African American children in segregated Philadelphia.
Title
Salem, Massachusetts
1853-1862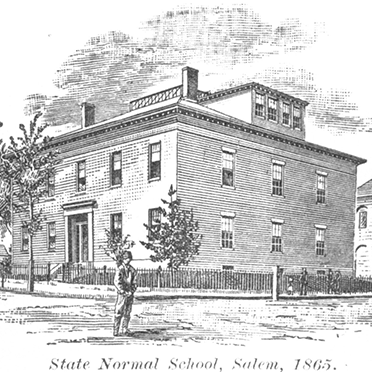 Before the Civil War, Salem had a vibrant free African American community and integrated schools, so it was here that Robert Forten sent his daughter Charlotte to finish her formal education in 1853. Salem's prominent black abolitionist Remond family opened their homes to Charlotte as she pursued her education at Higginson Grammar School for Girls. Charles and Sarah Remond were noted lecturers on abolitionism and women's suffrage and friends of the Forten family. In addition to her studies, there were walks by the ocean, outings in Marblehead and Nahant and skating parties. The Remonds introduced her to Boston's black community where she attended lectures and visited anti-slavery fairs.
After graduation from Higginson, Charlotte enrolled in Salem Normal School [now Salem State University] to carry out her father's wishes that she become a teacher. In the 18-month program, she studied English literature, algebra, geometry, physical geography, hydrostatics, optics, orthography, etymology, physiology, and Latin. Charlotte describes her school days in Salem as
"the happiest of my life….I have been fortunate enough to receive the instruction of the best and kindest teachers; and the few friends I have made are warm and true—New England."
Those friends included classmates Elizabeth Church and Rebecca Manning; and Mary Shepard, principal of Higginson School. However, she could not hide from the racism in the larger society nor in her adopted town. There were many despairing journal entries: "I wonder that every colored person is not a misanthrope. Surely we have everything to make us hate mankind."
A prolific and talented writer, she wrote poems and essays while still a student, publishing some in Garrison's "Liberator" and in the "Salem Register" and was mentored by John Greenleaf Whittier.
With her father increasingly unable to support her, Charlotte worked while in school and near the end of her time at the Salem Normal School Principal Richard Edwards secured for her a teaching position at Epes Grammar School. Charlotte was the first African American teacher in Salem public schools.
Always suffering from fragile health, Charlotte left Salem and went back home to Philadelphia. She returned to Salem from 1859 to 1862 to take additional classes at the Salem Normal School, to teach at Higginson, to walk her beloved beaches with Elizabeth Church, visit with Rebecca Manning in her "pleasant home," and to participate in the Crispus Attucks commemoration in Boston.
Title
Sea Islands, South Carolina
1862-1864
Seven months after the Confederate attack on Fort Sumter opened the Civil War, Union gunboats recaptured the coastline and sea islands between Savannah and Charleston. The Battle of Port Royal on November 7, 1861, left deep water ports and thousands of acres of cotton in Union hands. The 10,000 enslaved people who had worked the cotton were suddenly free to farm for themselves and to pursue the literacy they saw as linked to liberation.
Treasury Secretary Salmon Chase charged Edward Pierce with leading a "Port Royal Experiment" in free labor, enlisting the sea islanders to harvest the cotton to support the war, facilitating the purchase of land for their own use, and providing medical care. A call went out to relief societies seeking teachers for the education they needed and demanded. John Greenleaf Whittier urged Charlotte to go South.
In October, 1862, Charlotte Forten sailed for St. Helena Island to join Laura Towne of Philadelphia and Ellen Murray of Newport RI at the Penn School. Hundreds of formerly enslaved young and old traveled miles to learn to read. The curriculum was academic but Charlotte taught her "scholars" about heroes they would recognize: "Talked to the children a little while to-day about the noble Toussaint [L'Ouverture]...It is well that they should know what one of their own color could do for his race." - Journal, November 13, 1862­­
Charlotte shared books and conversation with white teachers and listened to stories and songs of the islanders whose resilience and culture she admired. She had, however, few kindred spirits in either group. Among her Northern admirers were Robert Gould Shaw, commander of Massachusetts' black 54th Regiment, and T.W. Higginson, commander of the formerly enslaved soldiers of the 1st South Carolina Volunteers, many of whom she taught to read.
Charlotte Forten left St. Helena in 1864 in ill health. During Reconstruction, she served as Secretary of the Teachers Committee of the New England Freedmen's Union Commission and in 1871-72 she returned to South Carolina to teach at Charleston's Robert Gould Shaw Memorial School.
Title
Washington, DC
1872-1914
In 1872 Forten moved to Washington, DC and accepted a position at the Preparatory High School for Negro Youth. The only college prep high school for blacks in the city, it was housed in the 15th Street Presbyterian Church, whose future pastor she would later marry. She left after a year to take a position with the U.S. Treasury.
In 1878 she married Rev. Francis Grimké, son of a South Carolina planter and Nancy Weston, an enslaved woman in his household. Freed after the war, Francis and his brother Archibald were supported in their education at Lincoln University, a black Presbyterian college, by their older abolitionist half-sisters Sarah and Angelina. On New Year's Day 1880, Charlotte gave birth to Theodora Cornelia; sadly, the baby died at six months. The Grimkés were guardians to Francis' niece, Angelina Weld Grimké—later, a feminist poet who influenced the Harlem Renaissance—when Archibald was consul to the Dominican Republic.
The Grimkés were part of a post-war black migration to Washington and a growing "black aristocracy." With Anna Cooper, Frederick Douglass, Mary Church Terrell, and others, they established cultural societies for their own improvement and organizations for the advancement of their race.
Charlotte and Francis shared a passion for justice. He was a co-founder of the NAACP and she helped establish the National Association of Colored Women. In her later life, she used her pen in essays, poems and letters to the editor (for example, "One Phase of The Race Question" and "Mr. Savage's Sermon") against Jim Crow injustice and racial violence and for universal respect and equal rights.
From 1885-1889, they lived in Florida where Francis was sent to rebuild a struggling congregation. Charlotte's recurrent bouts of illness sent her north for care.
Charlotte Louise Forten Grimké died on July 23, 1914 in Washington, DC.
Title
Charlotte Forten Legacy Room 
While on campus, please visit the Charlotte Forten Legacy Room to view an exhibition about this remarkable graduate. This space is located on North Campus in Meier Hall 316B.