Title
Information about Soundings East
Soundings East is the annual literary journal of Salem State University, published with support from the Center for Creative and Performing Arts. Founded in 1973, the journal is edited by graduate and upper-level undergraduate creative students under the aegis of an advisory editor from the writing faculty. Soundings East is dedicated to publishing high-quality poetry, fiction and creative nonfiction. The magazine is distributed nationally, with recent press runs of 750 copies.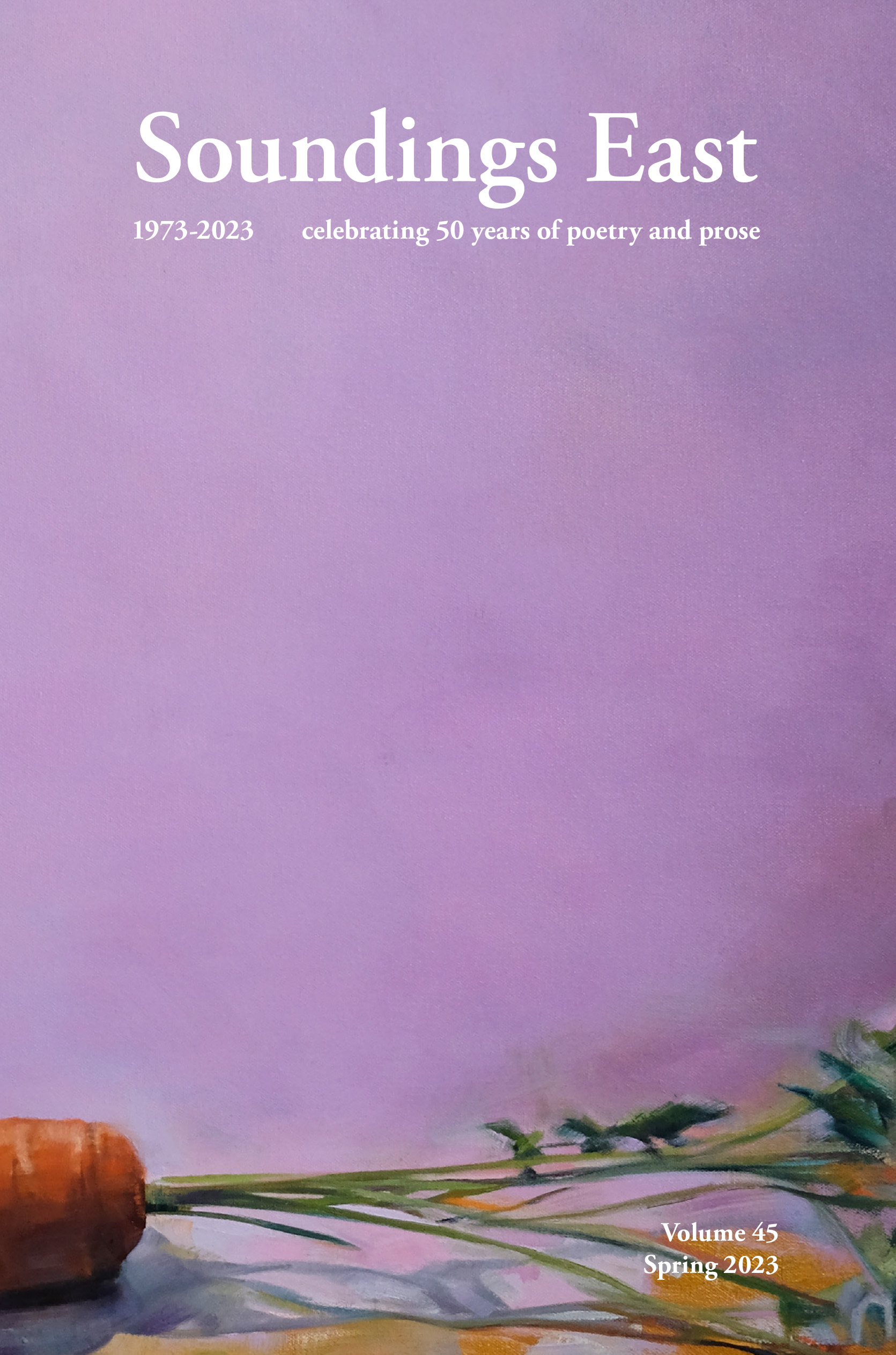 Editorial Staff
Managing Editor, Heather Wright 
Assistant Managing Editor, Sara Pompeo
Fiction Editor, Michael Mahin  
Nonfiction Editor, Paige Sammartino
Poetry Editor, Meghan Miraglia   
Social Media Editor, Macy Fraser 
Faculty Advisors - Kevin Carey and Cathy Fahey
Submission Guidelines 
We accept simultaneous submissions but ask that authors label them as such, and contact us immediately if they are accepted elsewhere. Our reading period is September 1, 2022, to February 1, 2023; we'll do our best to respond within three months. Contributors will receive two copies of Soundings East, volume 45. Upon publication, all rights revert to authors.
For all categories, please only submit once per reading period.
PLEASE SUBMIT YOUR WORK ELECTRONICALLY USING SUBMITTABLE.
If you wish to submit hard-copy please send your work and a self-addressed stamped envelope to:
Soundings East
English Department - MH 249
Salem State University
352 Lafayette Street
Salem, MA 01970
Categories of Submissions Considered
Creative Nonfiction: Previously unpublished creative nonfiction works of up to 3,500 words.Fiction: Previously unpublished fiction works of up to 3,500 words.Poetry: Please submit up to three previously unpublished poems in a single file. Poetry submissions are reviewed blindly.
Purchasing Soundings East, volume 45, spring 2023
$10 per copy. Please forward a check made out to Salem State University to:
Center for Creative and Performing Arts
352 Lafayette Street
Salem, MA 01970
Back issues of Soundings East are also available for purchase. Please contact kgahagan@salemstate.edu to inquire about availability. 
Claire Keyes Poetry Award
Guidelines for the 2023 Claire Keyes  Poetry Award 
A prize of $1,000 and publication in Soundings East will be given for a group of previously unpublished poems. Submit 8 to 10 pages of poetry (no more than one poem per page) with a $10/$15/$20 entry fee from Dec 1, 2022 to February 1, 2023.  Final judge January Gill O'Neil
$10 - entry fee only
$15 - entry fee and copy of the magazine for US addresses
$20 - entry fee and copy of the magazine for international addresses
Online entries only via Submittable.
Past Winners and Judges for the Claire Keyes Award
2023
Robin Messing, Brooklyn, NY
Judge, January Gill O'Neil
2022
Brendan Walsh, Hollywood, FL
Judge, Richard Hoffman
2021
Chivas Sandage, Easthampton, MA
Judge, Afaa Michael Weaver
2020
Arielle Hebert, Durham, NC
Judge, Erika Meitner
2019
Threa Almontaser, Raleigh, NC
Judge, Sean Thomas Dougherty
2018
Jenny Molberg, Central Missouri
Judge, Oliver de la Paz
2017
Faith Shearin, West Virginia
Judge, Andrea Cohen
2016
Mark Wagenaar, Denton, TX 
Judge, Ross Gay
2015
William J Snyder Jr., Moorhead, MN
Judge, Brian Brodeur
2014
Amy Pence, Carrollton, Georgia
Judge, Joan Houlihan