Title
President's Executive Council

Nate Bryant, Vice President of Student Success
Nate Bryant, EdD, joined Salem State in 1987 and today brings his 30 years of leadership at the university to his role as vice president of student success. In his current role, Bryant oversees the areas of marketing and communications, student life, enrollment management, and the Center for Academic Excellence. He has previously held the positions of chief of staff, assistant dean of the Center for Academic Excellence, assistant dean of students for the student life office, and director of undergraduate admissions. He served as the interim president of North Shore Community College in 2021. Bryant received his bachelor's degree in business administration from Salem State, his master's in education from Salem State, and his doctorate in higher education from the University of Massachusetts – Boston. A resident of Salem, he has served his community in various capacities, including the Salem School Committee.
Rita Colucci, Vice President and General Counsel
Rita Colucci, Esq., joined Salem State in December 2017, as the university's general counsel. In her role, she also oversees human resources and equal opportunity, and information technology services. Her 10 years of experience in public higher education include roles as general counsel, chief of staff and board secretary, while also overseeing marketing and communications, public safety and human resources. Prior to joining the world of higher education, Colucci worked as a labor attorney and human resources director for several state agencies. Colucci holds a JD from New England/Boston and bachelor's of science in political science from Southern Connecticut State University.

Cheryl Crounse, Vice President of Advancement
With more than 25 years of fundraising experience, Cheryl Crounse has a passion for high-impact work in higher education and is driven by the opportunities that philanthropy can provide to advance excellence in support of equitable student success. She was appointed as vice president of advancement of Salem State University and executive director in 2019. In her current role, Cheryl is responsible for strategically advancing the fundraising priorities, overseeing nearly $60 million in assets in the Salem State University Foundation, Inc. and works with a 22-member Board of Directors who partner with the university to actively steward and invest the contributed private funds. Under her leadership, the university launched the largest campaign in Massachusetts State University history in May of 2023, set to raise $75 million. Hired by the university in 2011, Cheryl led its first-ever comprehensive campaign which exceeded its goal by raising $26.5 million and doubled the revenue distributed to the university in support of scholarships, on-campus programming and unrestricted support. Nearly 12,000 passionate donors supported the campaign priorities. She previously served as campaign manager, assistant vice president and associate vice president with increasing roles and responsibilities within advancement.
As a first-generation, Pell-eligible, public higher education student studying business at Oswego State University, she learned the fundamentals of fundraising as a student employee calling alumni for her alma mater. Prior to joining Salem State, Cheryl directed leadership giving, annual giving, pre-campaign assessment planning and advancement operations at Emerson College. She spent the early part of her career shaping and significantly growing annual giving programs at the Harvard Graduate School of Education and Beth Israel Deaconess Medical Center. Cheryl is an engaged member of her community and serves on the Board of Lynn Museum/Arts, as a Board of Director at St. Jean's Credit Union and started a scholarship at her alma mater. She enjoys all kinds of travel including spending quality time with her family in West Valley, a rural community south of Buffalo, NY.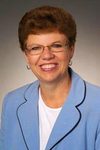 Karen House, Vice President for Finance and Facilities
Karen House joined Salem State University in 2014 and is responsible for the development of the institution's annual budget and the multi-year financial plan, including the allocation of fiscal resources in support of the university's academic and administrative programs; and for overall fiscal accountability. She also oversees capital planning and facilities. A graduate of the University of Virginia in Charlottesville, VA, she holds, in addition, a master's degree in business administration and a graduate certificate from Plymouth State University in Plymouth, NH. House has extensive experience in the private sector as an accountant, internal auditor and management accountant. She began her career in academia at St. Mary's College of Maryland, progressing to associate vice president for business affairs/comptroller before joining Keene State College in 2000.
 
David J. Silva, Provost and Academic Vice President
With over 15 years of administrative experience, Provost David Silva, PhD joined Salem State in March 2015. He has served in numerous capacities at the University of Texas at Arlington, including his role as founding department chair of the newly established department of linguistics. In 2007, he was appointed vice provost for academic affairs where he was responsible for a broad portfolio of academic initiatives, and then went on to become the university's vice provost for faculty affairs. As a scholar of linguistics, Silva has an extensive research portfolio that focuses on phonetic variation and language change in Korean. He has also published and presented on issues germane to university-level teaching and assessment. His scholarly work has been funded by the Fulbright Program, the Korea Foundation, and the Academy of Korean Studies, among many others. Silva holds a bachelor of arts degree from Harvard University, a master of arts in linguistics degree and a doctor of philosophy degree in linguistics, both from Cornell University. His teaching career began at the University of Texas at Arlington, where he became a full professor of linguistics.
 
Keja Valens, Interim Vice President for Diversity and Inclusion and Professor of English
Keja Valens joined Salem State University in 2005 as an assistant professor of English with a focus on Multiethnic American literature. In her 17 years at Salem State, she has been promoted to professor of English and taught and created numerous courses in African American, Latinx, Caribbean, and Native American literatures as well as LGBTQ+ literature and theory and food writing. She has also been a member of the President's Advisory Committee on Diversity, Equity, and Inclusion, helped to design Salem State's Diversity, Power Dynamics, and Social Justice (DPDS) General Education Requirement, and served as Faculty Fellow for DPDS and Inclusive Excellence, launching Salem State's Justice, Equity, Diversity, and Inclusion Faculty Seminar and Consultant program and helping to launch the Building Inclusive Academically Engaged Communities mentoring and pedagogy program, among other things. She has also published extensively and has just completed a manuscript titled Culinary Colonialism, Caribbean Cookbooks, and Recipes for National Independence. Keja Valens received her BA in Romance Languages and Literatures from Carleton College and her MA and PhD in Comparative Literature from Harvard University.