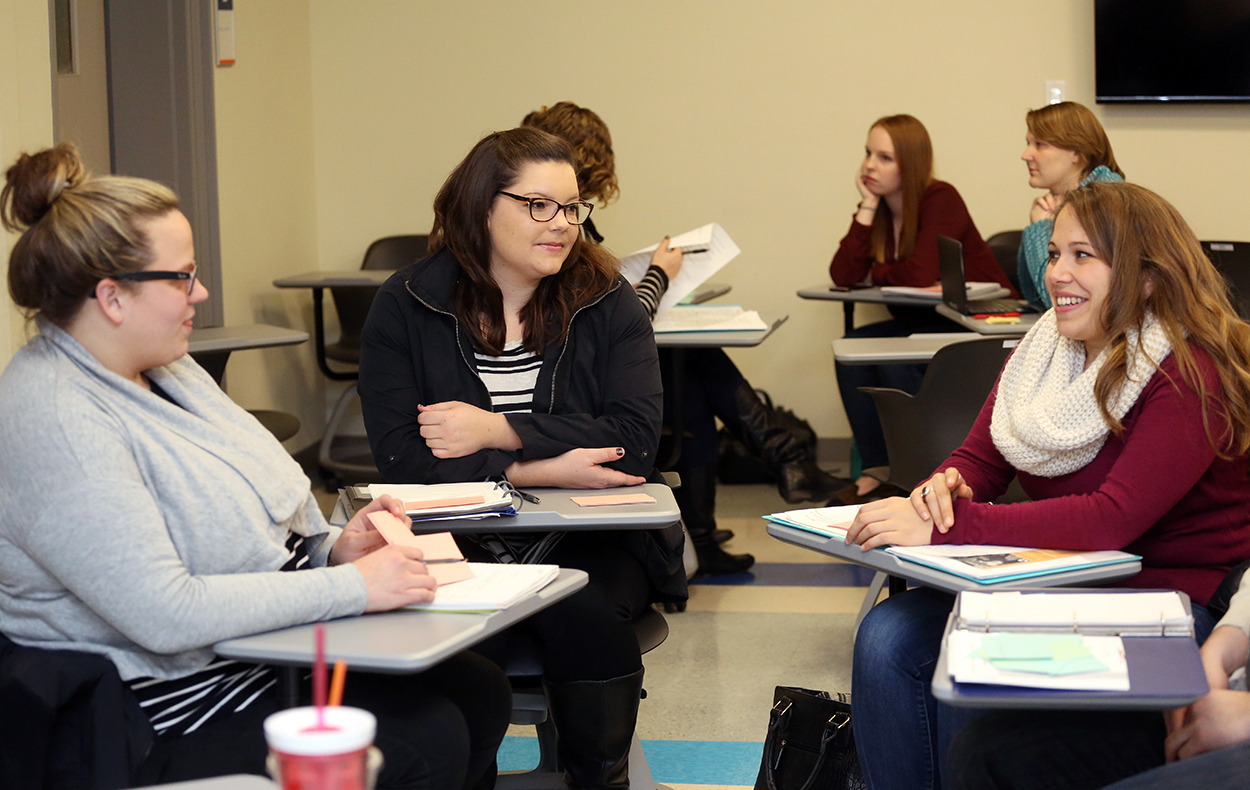 Welcome to Salem State!
Join us at the annual Faculty and Graduate Research Symposium on May 8, 2023! Register here.
Become a Salem State University Graduate Student
Programs without a Deposit
Email graduate admissions, including your name, Salem State ID and graduate program, to let us know you plan to enroll (matriculate). Enrolling allows other processes, such as registration and setting up your Salem State email, to begin.
Programs with a Deposit
Enrollment deposits are required for those admitted to the following programs:
Master of social work
Master of science, occupational therapy direct entry
Go to the "Programs with Additional Requirements" section below for additional information on the deposit process.
Schedule an appointment with your program coordinator, who will help you develop your plan of study, which outlines which courses you will take and when and any other program requirements. Your program coordinator is listed in your admission letter, please reach out to schedule an advising appointment.
Social Work and occupational therapy host orientation events. Scroll to "programs with additional requirements" section below for additional information for the orientation/advising dates.
Students in the CAGS/TL program will receive an e-mail from the program coordinators in early spring for onboarding information.
If you applied before you completed your bachelor's degree, please submit an official transcript showing your conferred degree to our document processing center (Salem State University, PO Box 51193-9925, Philadelphia, PA 19115), before beginning your graduate program. Salem State reserves the right to revoke your admission if your final transcript is not received. If you applied for financial aid, we can share an award amount prior to your transcript being received, but the actual funds cannot be disbursed until your final transcript is received.
If you have a conditional admission, such as prerequisite courses, critical thinking and analytical writing, or other documentation, please submit all requested documents to the School of Graduate Studies (Salem State University, School of Graduate Studies, Sullivan Building Room 113, Salem, MA 01970). The School of Graduate Studies clears all conditions. Financial aid cannot be awarded or disbursed until your condition is cleared, but conditionally accepted students may apply for private/alternative loans and enroll in the payment plan.
Questions? Email us or call 978.542.6323
The day after you enroll (matriculate), your Salem State email account will be created. Access your Salem State email through Outlook in Office 365. Log in and use the same username and password as your Navigator account.
Email is the official method of communication at Salem State, therefore you are expected to check your account regularly.
Contact the IT help desk for assistance at 978.542.2036 or it-helpdesk@salemstate.edu.
Please download the free Navigate Student app available in the Apple Store or Google Play. Use your Salem State username and password to log on. This app will allow you to stay informed of important updates, connect to important campus resources, and soon to come, connect with your program coordinator. 
Programs with Additional Requirements
Verification of Acceptance into Graduate Educator Licensure Program Form
This document is required for formal admission into the licensure portion of your program and should be completed with your program coordinator at your plan of study advising appointment. Because the Commonwealth of Massachusetts may change educator licensure requirements, you are advised to contact the Department of Elementary and Secondary Education for specific, current licensure requirements. You should meet regularly with your program coordinator and maintain the above documents to ensure that you will to meet the academic and licensure components of your program.
Pre-Practicum Documentation Form
Licensure programs culminate in a full-time, full-semester student teaching practicum or practicum appropriate to your program and license sought. Before your final practicum, you will need to complete all of the required courses which include pre-practicum field hours. Use these forms to document your pre-practicum field hours. Because these documents must be submitted as part of your practicum application toward the end of your program, it is critical you plan your pre-practicum field experiences with your program coordinator.
Let the School of Social Work know you plan to matriculate
Newly admitted MSW students must submit a $200 non-refundable deposit to formalize your status as a matriculated student. Deposits are made by credit card or e-check through your Navigator account. Please review the instructions on how to submit your MSW deposit.
Orientation
Students admitted and matriculated into the MSW program will attend a mandatory Orientation to meet with faculty, staff, and campus supports to finalize their outstanding needs. This includes course registration, field placement planning, and more! Please see specific dates below*:
Advanced Standing students will attend orientation on Saturday, March 25, 2023
Fall start started will attend orientation on Tuesday, May 16, 2023
*For additional questions, please email Stella Willis
Academic Resources and Support Services