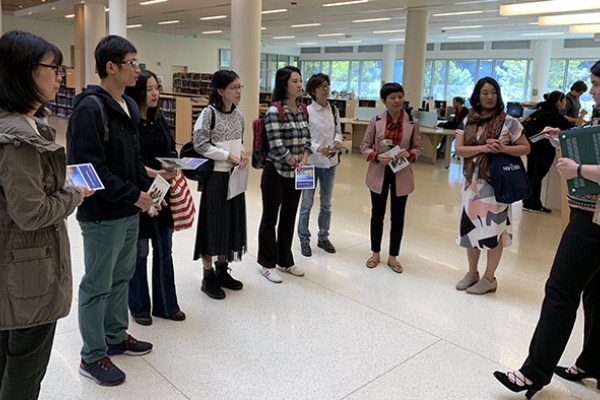 Salem State seeks to welcome visitors and scholars to our campus, and we seek to enhance our international partnerships through Fulbright, Erasmus +, and through multiple memoranda of understanding with universities around the world.  
Fulbright 
Fulbright is the flagship exchange program of the United States.  Salem State has been named several times as a top producer of Fulbright Scholars.  Our Fulbright program is managed out of the Center for Research and Creative Activities with support from the Center for International Education which supports incoming Fulbright Scholars from around the world.   
Learn more about Fulbright at Salem State
Erasmus+
Erasmus Plus is the European Union's (EU) program to promote international education and training with countries outside of Europe.   Salem State University was invited to participate in the Erasmus + program in 2017 and we have partnered with the Catholic University of Lublin (KUL), Poland, to provide opportunities for faculty and student exchanges. This EU-funded program is part of a larger EU program designed to encourage development and networking activities in education. Originally designed to provide Europe with "bridges of trust" to study abroad, the program now allows Europeans to cross borders to learn new perspectives and collaborate on joint ventures.  Each year, SSU is invited to apply to send faculty to the KUL for a short-term exchange in a variety of humanities and social science disciplines.  KUL students are also invited to apply to study at SSU for a semester, earning credits toward their degrees.  
Visiting International Scholar Institute 
The Center for International Education (CIE) is assisted by the Center for Research and Creative Activities (CRCA) at Salem State University to offer our Visiting International Scholar Institute, an academic and leadership opportunity for scholars across the world who could benefit from an academic home in the U.S. for a semester or a year. 
Learn more about Visiting International Scholar Institute