No time for a daytime English class?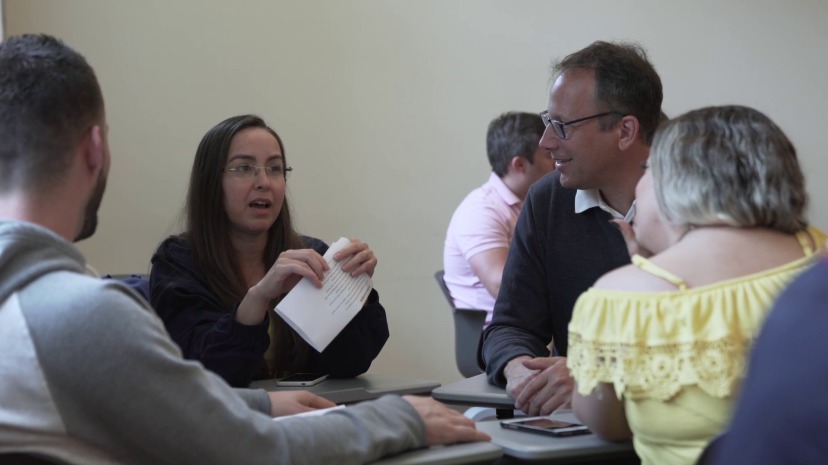 Our Community Life and Work ESL program gives students the practical English language training they need to bridge the gap between daily life, the classroom and the world of work. 
Learners engage in activities that focus on academic and career areas of interest, while acquiring essential language skills through listening, speaking, reading, and writing during our face-to-face mixed level group lessons. Apply Now
Program Entry
Academic requirements: N/A
Immigration requirements: Suitable for part-time students, including those studying short term while visiting on a B-1/B-2 visa; Not suitable for maintaining full-time status for F-1/J-1 visa holders
Age Requirements: 17 years and above
English language requirements: Novice – Intermediate High (Students are assessed for placement.)
Level 1-2: Novice Low – Novice High (GSE 10-29 <A1-A1)
Level 3-5: Intermediate Low – Intermediate High (GSE 30-50 A2-B1)
Why should you study in our evening Community Life and Work ESL Program?
Build confidence
Be part of a fun, supportive environment
Improve your English reading, writing, listening and speaking skills
Explore career options
Gain the skills necessary to succeed in the workplace
Learn about educational and training opportunities
Develop digital literacy skills
Transition into our daytime Intensive English Language Program to prepare for direct admission to Salem State University
Curriculum highlights
In addition to interactive group lessons to build general language skills, students engage in project-based lessons to develop vocabulary, interpersonal communication, and presentational speaking and writing skills for specific career areas that interest them. Below are the career clusters we can assist with: 
Agriculture, Food, and Natural Resources
Architecture and Construction
Arts, Audio/Video Technology, and Communications
Business, Management, and Administration
Education and Training
Finance
Health Science
Hospitality and Tourism
Human Services
Information Technology
Law, Public Safety, and Security
Manufacturing
Marketing, Sales, and Service
Science, Technology, Engineering, and Mathematics
Transportation, Distribution, and Logistics
Connect with Salem State's American Language and Culture Institute -- we're here to help! 
Center for International Education, Sullivan Building, Suite 114, North Campus