Testimonial: Want to explore the United States this summer?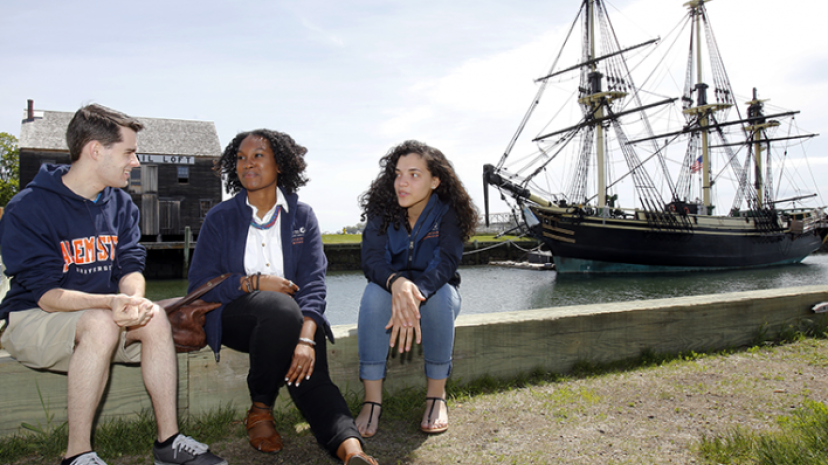 Whether you are a history buff, literature nut, maritime fan, foodie, or art appreciator, Salem's got it all!
Our curriculum exposes learners to a wide range of cultural experiences, language, and accents, familiarizing them with English as it is really spoken and used in Massachusetts, one of America's top destinations for tourists.
Why should you study in our summer American Culture and English Immersion Program?
Enjoy a four-day study week (Monday through Thursday)
Explore historic, artistic and contemporary sites of Salem, Boston and beyond
Increase your understanding of American culture and history
Build confidence in reading, writing, listening and speaking through interacting with local Americans and other international students 
Request More InformationApply Now
Program Entry
Academic Requirements: N/A
Age Requirements: 17 years and above
Immigration Status: Suitable for full-time F-1/J-1 visa holders; suitable for part-time students, including those studying short term while visiting on a B-1/B-2 visa
English language requirements: Novice – Advanced (Students are assessed for placement.)
Level 1: Novice Low – Novice Mid (GSE 10-21 <A1)
Level 2: Novice High (GSE 22-29 A1)
Level 3: Intermediate Low (GSE 26-42 A1-A2)
Level 4: Intermediate Mid (GSE 30-50 A2-B1)
Level 5: Intermediate High (43-58 B1-B1+)
Level 6: Advanced Low (GSE 51-66 B1+ - B2)
Level 7: Advanced Mid – Advanced High (GSE 59-84 B2 – C1)
Integrated Language Skills Levels 1-7 (Listening, Speaking, Reading and Writing) – 10 clock hours
American Culture through Art – 4 clock hours
American Culture through Movies – 4 clock hours 
American Culture through Art and Storytelling – 4 clock hours
English Conversation through Music – 4 clock hours
English Conversation through Sports – 4 clock hours
English Conversation through Food – 4 clock hours
Discover Salem: English through Tourism – 4 clock hours
Discover New England Coastal and Marine Life – 4 clock hours
Discover New England History and Literature – 4 clock hours
From 2-hour workshops to six-week programs, we will collaborate with your department, business, agency, or educational group to develop a customized English language program to meet your needs.
Previous customized group programs have included:
Teacher training and development for ESL/EFL teachers from Mexico
Overview of the American public-school system for students preparing to teach in China
Business communication for engineers from Japan
STEM English for science and technology students from Brazil
Connect with Salem State's American Language and Culture Institute -- we're here to help! 
Center for International Education, Sullivan Building, Suite 114, North Campus