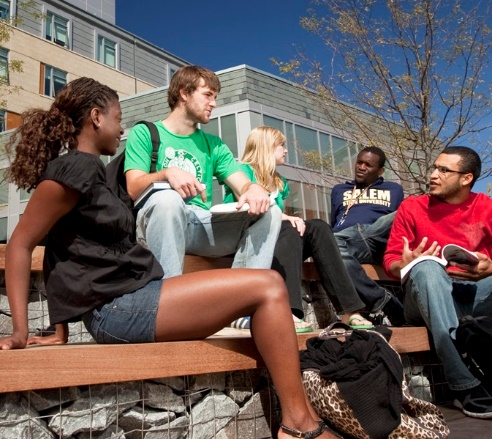 The Center for Academic Excellence offers the Summer Bridge Academy (SBA) as an alternative admissions program to aid high school graduates in achieving academic success in college. We believe all students should master basic academic skills to achieve their educational goals. Some students need to develop these skills before enrolling in college and therefore are required to participate in the SBA. SBA is designed to give students the tools and resources they need to be successful at Salem State University throughout their academic careers.
SBA provides program students opportunities to demonstrate achievement and/or progress in developing the three areas below.
Summer Bridge Academy Applicant Information
Applicants are considered for admission to SBA using the following criteria:
High School GPA: minimum 2.0
SAT Scores (if submitted): minimum of 1180
ACT Scores (if submitted): minimum of 24
Personal Interview, if deemed necessary
First-time college students (have not attended another college aside from Dual Enrollment)
Students who attend and successfully complete the Summer Bridge Academy are admitted to Salem State University and can begin classes in the Fall.
Virtual Event Registration Links
In Person Summer Bridge Academy Information Sessions
Guidance Counselor Only Virtual Information Sessions 
 
The cost of SBA is generally covered with the exception of an enrollment deposit by financial aid. The cost cover academic and development courses, technology for access to online learning, books, academic support, and workshops. The total cost for 2023 SBA is $3,200.
For the summer semester (SBA): You will be notified about financial aid for the SBA starting in mid-June and only if your summer financial aid file is complete. Please note that students requesting financial aid for the SBA must fill out the 2022-2023 FAFSA and the 2023-2024 FAFSA.

For Fall: If you completed your 2023-2024 FAFSA, financial aid award letters are typically processed starting in early February and then 1-3 times per month after that. Fall financial aid is awarded to students who have been accepted to the Summer Bridge Academy. After May 1, students with incomplete financial aid files (To-Do lists) will not be awarded until accepted to SBA and their financial aid file is complete and reviewed.

Did financial aid get all my information? How much aid will I receive? Applicants have a financial aid To-Do list on Navigator that shows what (if anything) is required to complete your financial aid file. You should check your to-do list frequently, even after you turn in all requested item. Once you turn in a requested item it takes 1-3 days for it to drop off your to-do list. Be sure to click on the Info button above each to-do item for additional directions and information.

Students with complete summer financial aid files will be awarded up to the cost of the summer program (not including the required deposit). Awards are based on the FAFSA and can contain a combination of Pell Grant (if eligible) and/or Federal Stafford Loans.
A Typical Summer in the Summer Bridge Academy
Students selected for SBA will participate in a six-week remote summer program. All students will be enrolled in nine (9) college level credits. The credits earned may fulfill graduation requirements. Courses may include:
Oral Communication
General Psychology
General Sociology
Introduction to College Writing
In addition, students will be enrolled in non-credited courses to supplement and improve their academic skills. Some of these courses may include:
SBA runs Monday-Friday, which includes classes, tutoring, one-on-one appointments, workshops, and other activities. A typical day begins at 8 am and ends at 4:30 pm. Students have evening study sessions twice a week.
Additional Support
Students enrolled in SBA participate in both individualized and comprehensive student development services. These services include:
Personal Counseling
Career Counseling
Academic Planning
Mentoring
Numerous workshops and meetings are required throughout the academic year, all with the goal of achieving academic success and personal growth and development.
Students continue to meet with their student development counselors and continue to be connected to academic services.
Students are provided with opportunities to participate in various clubs, jobs and organizations including:
Various academic affiliated organizations (ex. Pre-Law, FEA, SNA, START)
Resident Assistants
Orientation Leaders
Peer Leaders in SBA
Peer Mentors in the School of Business
The Black Student Union (BSU)
The Latin American Student Organization (LASO)
Student Government Association and Student Trustees
Campus Activity Board (CAB)
Commencement Speakers
Fraternities and Sororities
Various sports teams/clubs (ex. Rugby, LAX, Hockey, Basketball – Men's and Women's)