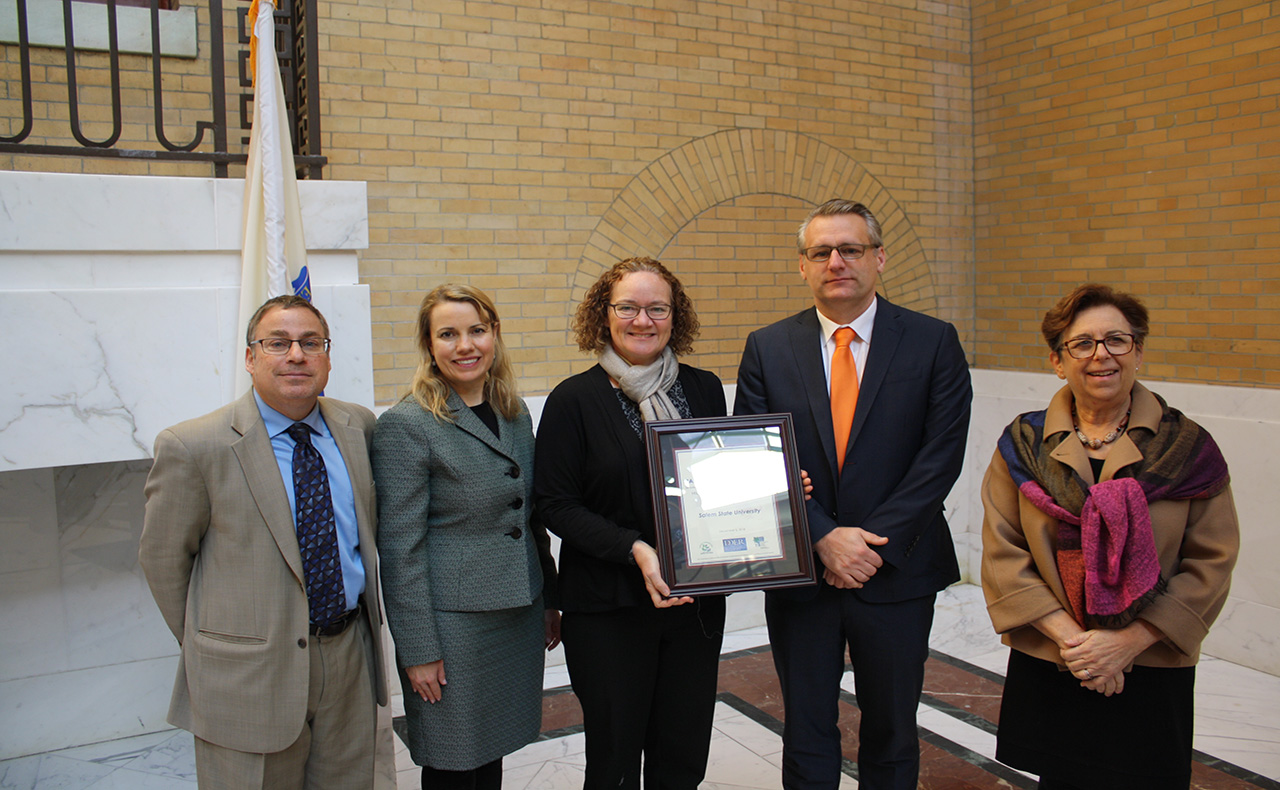 Salem State Earns Leading By Example Award
Salem State was recognized for its leadership in pursuing positive clean energy and environmental solutions across campus.
Instilling a culture of sustainability across our programs is a critical part of our commitment to academic excellence, civic engagement, and operational efficiency. Our work to educate the next generation of community leaders spans all of these areas and touches students, faculty, staff and alumni.
Climate Commitment
Divestment: In May 2018, the University announced it had divested its holdings in the Carbon 200 (fossil fuel) companies and added investments in solar and renewable energy companies. This followed a vigorous campaign by students and faculty and a 2016 Board of Trustees vote to move the university toward full divestment from companies in the Carbon Underground 200 list. In 2019, Salem State University received $57,000 as the only institution from 30 participating schools in the Multi-School Fossil-Free Divestment Fund (MSFFDF) to fully divest from fossil fuels by the December 2018 deadline.
Carbon Neutral Goal: Salem State signed the American College and University Presidents' Climate Commitment in 2007, pledging the university to carbon neutrality by 2050.
We're Still In: President John Keenan signaled that "We Are Still In" the movement to address climate change. In signing the open letter in October 2017, Salem State joins more than 2,300 businesses, municipalities, and universities that have declared their enduring commitment to pursue ambitious climate goals and to uphold the Paris agreement.
Academics and Engagement
Ten departments offer more than two-dozen sustainability-related courses in addition to foundational courses, field work, directed studies, internships and study abroad opportunities.
Related concentrations and minors are offered by the biology, geography and geological sciences departments.

Vibrant Earth Week programming includes lectures, movies, art installations, and a poster competition highlighting independent student research. Over 700 students, faculty, staff and community members participated in 20 events during April 2019.

Moving Forward, Giving Back: Salem State University's First Year Day of Service provides opportunities for students, faculty, staff, and alumni to participate in community projects, many of which support open spaces and community gardens.
Research
Sustainable Building
As part of our 2050 commitment to carbon neutrality, we search for opportunities to improve the efficiency of our built environment.
Five buildings have achieved LEED-certification and the parking garage received a Parksmart award for its sustainable features
Solar panels on five buildings have produced over one 1.5 million kWh of electricity.
A geothermal system reduces heating and cooling needs at the library while a cogenerator at the O'Keefe Center heats water for the swimming pool and building needs.
A Greener Commute
A majority of our students and employees drive to campus, making transportation a significant source of our carbon emissions. We promote a variety of greener transportation options by:
Reduce, Reuse, Recycle
We compost food waste at our two dining halls and three additional locations on campus. Our efforts were honored with an EPA Food Recovery Challenge Award in 2015 and Certificates of Achievement in 2016 and 2017.
Salem State moved to single-stream recycling in 2017. We now recycle metal, plastic and glass as well as paper and cardboard.
Plastic Bags
Single-use plastic bags were banned on campus and throughout the City of Salem in January 2018. Our campus bookstore has eliminated the use of 6,000+ plastic bags per year.
Water
22% reduction in campus water use from 2014-2017.
23 bottle refill stations on campus have helped eliminate over 650,000 single-use water bottles.