Title
Recycling and Waste Reduction
Recycling and Waste Reduction
Salem State encourages efforts to reduce waste and reuse items over recycling or placing in the trash. Students in an annual First Year Seminar explore the issues around reducing, reusing and recycling waste and conduct a waste audit on campus to help educate their peers. To reduce plastic use on campus, many events during the first weeks of school provide free, reusable water bottles to students to use at one of the 34 water bottle refill stations across campus. These have filled three-quarters of a million bottles – eliminating the need for that number of plastic water bottles.
In 2017, we expanded our recycling program to a single-stream system accepting paper, cardboard, glass, plastic, and metal. The dining halls also compost food waste through our award-winning composting program.
See which materials can and cannot be recycled on Salem State's campus!
Single-Stream Recycling at Salem State
| | | |
| --- | --- | --- |
| Item  | Recycle?  | Notes |
| Paper, Cardboard  | Yes | No coffee cups or dirty pizza boxes |
| Glass  | Yes  |   |
| Clean Plastic | Yes | No Styrofoam, plastic bags, colored plastic (no Solo cups!) |
| Metal | Yes | Submit a work order for bulky metal.  |
Textile Recycling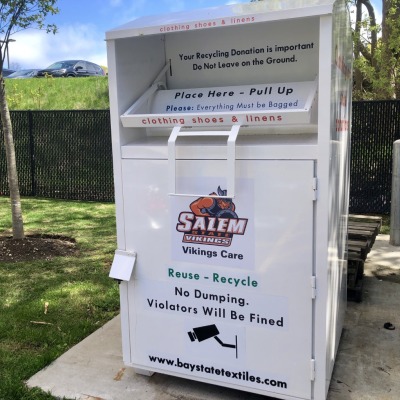 Salem State collects well-worn clothing, bedding, pillows, knapsacks, and footwear for recycling. As long as these items are clean, even if they are stained or damaged, they can be placed in the white bins on campus. The program benefits both the environment and Salem State. For every ton of textiles recycled, Bay State Textiles will donate $100 to Salem State. 
Bins are located behind Viking Hall, Peabody Hall and near Bates Complex. Items must be placed in plastic bags to keep them free of moisture. During move-out, plastic bags are available at the front desks in all dorms. 
Below is a list of items that are acceptable for recycling or you may consult Bay State Textile's website for the full list of items that can be recycled. Note that Bay State cannot accept mattresses, foam products such as mattress pads, or rugs.
Acceptable items for textile recycling
Clothing of all types; rips and stains are fine
Footwear: shoes, boots, flip-flops, slippers
Bedding: sheets, towels, comforters, pillows, curtains
Accessories: hats, scarves, gloves, backpacks, belts, ties, purses
Specialty Items
| | |
| --- | --- |
| Electronics | |
| Office Furniture or Appliances | Submit a work order. Items are evaluated and then stored for reuse, submitted to the state Surplus Property Program, recycled, or disposed of properly. |
| Batteries | Collect these locally and submit a work order when collection container is full. |
| Lightbulbs  | Submit a work order. |
| Ink Cartridges | Our Ricoh representative collects spent cartridges and sends them to Ricoh to be recycled. Offices with additional, smaller printers collect the spent cartridges and send to Staples for recycling. |
Questions? Contact Sustainability or the facilities helpline at 978.542.4357. You can also learn more by visiting the Massachusetts Department of Environmental Protection's Beyond the Bin Recycling Directory.
Mattress Recycling: SSU and UTEC
Salem State recycles soiled mattresses each year through a partnership with UTEC, a Lowell non-profit organization supporting at-risk youth.  Mattresses are notoriously difficult to dispose of responsibly. Metal springs complicate compaction and the many different materials in a mattress make recycling an unattractive proposition. UTEC engages proven-risk young people in the workforce while also diverting mattresses from the waste stream. UTEC youth hand-cut the mattresses and recycle the steel, foam, wood, some of the toppers, and cotton, recycling 85% of each piece, by weight.
Recycling Materials into Art
Art + Design professor Ken Reker incorporates recycled materials into his classes and his art, using hundreds of plastic water bottles in sculptures such as the one below: