Title
Sustainability: Get Involved
Building a just and sustainable future is everyone's responsibility. There are many ways to participate in creating a culture of sustainability at Salem State. Take a course, attend a lecture or an Earth Week event, join a club, volunteer, intern, make changes to your own habits, and, of course, vote! Explore some of the opportunities below.
Student Sustainability Council Internship
Students seeking hands-on experience with campus sustainability issues and projects are encouraged to apply to be a Campus Sustainability Council intern — learn more!
Apply for a Fossil Fuel Divestment Scholarship
In 2018, Salem State University divested its holdings from fossil fuels following a five-year campaign by university students, faculty and alumni. Salem State University was the only institution among the 30 participating schools in the Multi-School Fossil-Free Divestment Fund (MSFFDF) to fully divest from fossil fuels by the challenge deadline. As such, SSU was awarded with the 30 schools' escrowed donations ($57,000). To celebrate Salem State's leadership in tackling climate change, the university established two endowed annual student scholarships: 
Ken Saro-Wiwa Climate Justice Scholarship
Salem State University Social Justice Scholarship
Students interested in applying for these scholarships must possess an interest in climate justice or social justice as demonstrated by past and present activism, volunteering, professional, and educational experiences. Winners are chosen by the faculty from geography and sustainability every spring on the basis of their commitment to climate and social justice.
Student Organizations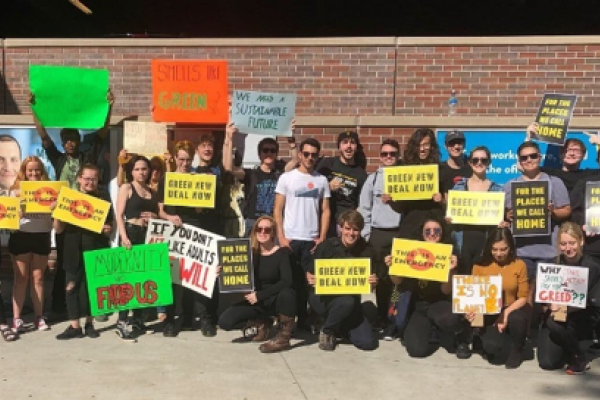 Sunrise Movement: The Sunrise Movement is a national movement of young people uniting to stop climate change. The Salem Sunrise hub focuses on campus, local, and statewide action to advocate for: the removal of fossil fuel from politics, holding politicians accountable through activism, the promotion of sustainability, and climate change education. The photo shows Sunrise students on their way to the Climate Strike in Boston on September 20, 2019.
Earth Science Association: ESA is a student-led club for Earth lovers. This club actively engages students with their environment, geological conferences, and conservation efforts.  
Biological Society: The Biological Society offers students opportunities to learn more about the expansive topic of biology and to connect with fellow students and faculty. The Biosociety is an active participant in Earth Days and other on-campus sustainability efforts. 
Geographical Society: The Geographical Society was revitalized by students in 2022 and aims to explore the topic of sustainability through on-campus events and celebrations of geography. 
Greenhouse Club: The SSU Greenhouse Club is committed to environmental sustainability, philanthropy, and civic engagement through hands-on education and plant cultivation.
Student Government Association: SGA is the official student governing body and the primary voice for student interests. SGA is a powerful platform for students who want to get involved in sustainability. Students can become a senator, attend meetings as an interested participant, or join the Civic Engagement & Sustainability committee to make real, lasting change on campus.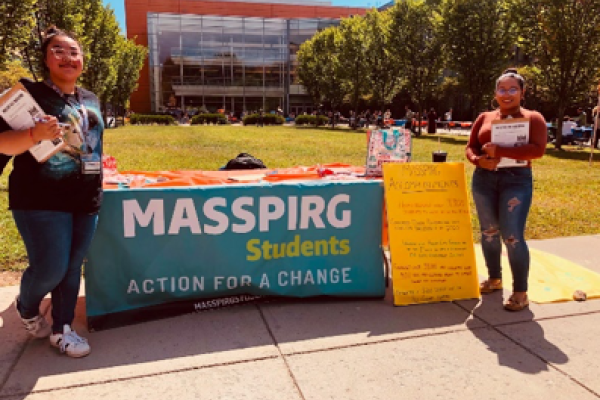 MASSPIRG: MASSPIRG is a student-run group on campus that works towards a sustainable future by running effective advocacy campaigns for a variety of issues such as 100% renewable energy, voter engagement, food and housing insecurity, and college affordability. Every semester, MASSPIRG offers internship, leadership, and volunteer opportunities that help students build valuable skills and create meaningful change. 
Check out other clubs on campus as well: Already in a student organization? Have your organization participate in sustainability through community service. Your group could help collect donations for the food pantry, do a trash cleanup, run a textile recycling drive, and so much more!
Campus Opportunities
First Year Day of Service: The First Year Day of Service is an opportunity for 200 first-year and new transfer students to spend the day engaging in one of 30+ service projects in Salem and neighboring communities. Students volunteer as part of a team of first-year and upper-class students, faculty, staff and alumni while learning about their site mission and goals. Past projects included weeding and harvesting at Lifebridge's community garden, trash cleanup and invasive weed control at Lynn Woods Reservation and garden maintenance at Salem Greenspace.
Civic Engagement Fellowship
Students can apply to the year-long Civic Engagement Fellowship, a program that develops the next generation of community leaders by inspiring students to discover their strengths and civic responsibility. Under the mentorship of the Center for Civic Engagement, fellows engage in career and leadership development, build a network of student and community leaders, and gain valuable real-world experiences around a social justice topic of interest to them.
Community Partners
The North Shore and the greater Boston area boast many active environmental and climate change-focused organizations. Consider reaching out to one of these groups to get on their email list, apply for an internship, or join in one of the events they host.