Salem State began celebrating Earth Days in 2000. The April event has grown to encompass a judged research poster competition, an art exhibition and competition, and a series of lectures, panels, films and activities. These events bring renowned researchers, activists and officials to campus to engage students, faculty, staff, alumni and the larger community. View summaries of the 2023 and 2022 celebrations.
Please consider supporting our work by visiting our crowdfunding page. Follow Earth Days and SSU Sustainability on Instagram, Twitter and on Facebook. 
Friday, March 31, 2023
DEADLINE for Student Writing and Visual Art Contest Entries.
Undergraduate and graduate students are invited to share their thoughts, worries, and hopes about climate change in written or visual formats. Cash prizes will be offered. Details are available here.
Co-sponsored by Alpha Lambda Delta (First Year Honors Society)
Monday, April 10
Vegan-Friendly Options at Marsh Dining
11 am-4 pm lunch, Marsh Dining Hall
Enjoy a greater selection of vegan options to kick off Earth Days. Sodexo's Chef Josh will prepare specials including Impossible Shepherd's Pie and Jack Fruit Tacos. There will still be meat options, but everyone will have a chance to try new dishes.
Sustainability Council interns will be tabling at the entrance to the dining hall from 11 am-1 pm with information about the environmental benefits of plant-based foods. There will also be vegan cookies to take away while supplies last.
Tuesday, April 11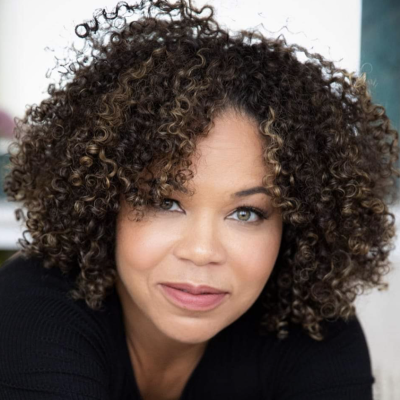 Climate and Health Converge
11am-12 noon, ECC Martin Luther King Jr. Room
Eugenia Gibbons, Berry Institute of Politics Spring 2023 Fellow, is the Clean Power Program Director for the Energy Foundation and an expert in clean energy, climate policy and climate justice. 
More information can be found here.
Speakers include:
Dr. Amy Collins, Medical Director of Physician Engagement & Education at Health Care Without Harm

Shanda Demorest, Associate Director or Climate Engagement and Education at Health Care Without Harm

Moderated by Eugenia Gibbons, Berry IOP Fellow and Climate Policy Expert
This program is co-sponsored by the Berry Institute of Politics and the Earth Days Planning Committee.
Campus Cleanup 
4:30 pm, meet in front of Bertolon Business School Sponsored by Earth Science Association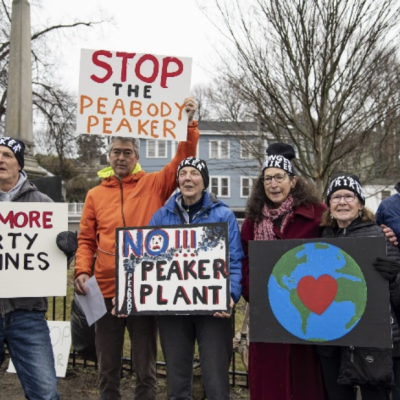 Film: Stopping the Peabody Peaker Plant: Documentary Viewing and Q&A with Key Activists 
12:15-1:30 pm, ECC Martin Luther King, Jr. Room
Join Professor Jennifer Jackman's Grassroots Activism class as it hosts a viewing of the February 2023 documentary on the local grassroots pushback against the proposed Peabody Peaker power plant. This exciting event will also feature Q&A with Breathe Clean, North Shore's Susan Smoller, film maker Steven Andrada and Lilly Worthly, Massachusetts Climate Action Network.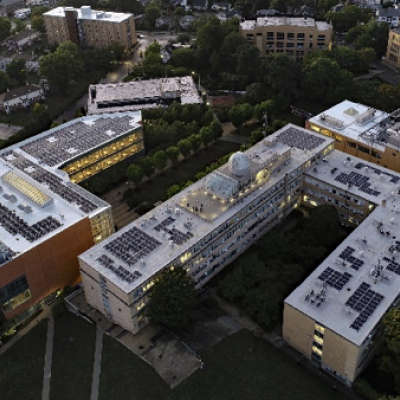 Solar Panel Ribbon Cutting
1:30-2 pm, Alumni Plaza (rain location is ECC Veterans Hall A)
1 and 2 pm: Solar Tours on Meier Hall Roof
Join us as we celebrate our two newest rooftop solar arrays, on Meier Hall and an additional array on the O'Keefe Center. Vice President of Student Success Nate Bryant and others will make brief remarks and cut a ribbon between two solar panels. There will be displays with information about renewable energy and about all of Salem State's solar projects. 
Rooftop tours will be offered to those who have signed up, weather permitting, and as space allows. To sign up, email Tara Gallagher or sign up for the 2 pm tour at the ribbon-cutting event.
Sponsored by the SCUBA Club
 
Exhibition: Kite Flying 
2:30-3:30 pm, North Campus McKeown Quad
Students from SSU Form+Design classes will fly the climate change-themed kites they have created.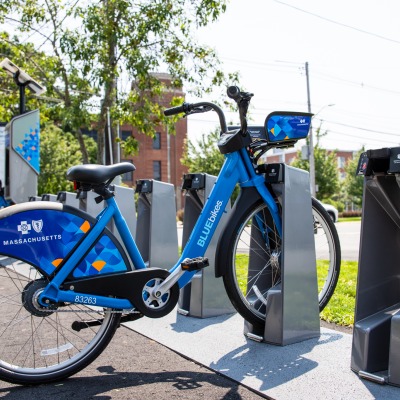 Bike Ride on the Bike Path
4:30-5:30 pm, Meet at the Bluebike Hub along the bike path on Central Campus (Rain date is Wednesday, April 12, same time and location)
City of Salem Bike Committee Members will lead a bike trip along the bike path from the Bluebike Hub to path terminus behind Domino's, in downtown Salem and back to campus to introduce this wonderful rail trail to students and others. Bring your own bike or borrow a Bluebike (first come first served). Rain date is Wednesday April 12th, same time and place.
Wednesday, April 12 
Student Sustainability Leader Breakfast with Eugenia Gibbons 
8:15-9:15 am, Charlotte Forten Room 
Student sustainability leaders will meet with Climate Expert and Berry IOP Fellow Eugenia Gibbons for a conversation about climate issues, career advice and campus sustainability over breakfast. Invitation only. Co-sponsored by the Berry Institute of Politics.
Lunch and Learn: Environmental Injustice on the North Shore
12-1 pm, ECC Martin Luther King, Jr. Room
Special guest at this informal lunch will be newly appointed Massachusetts Undersecretary for Environmental Justice and Equity María Belén Power. This event is hosted by Berry IOP Fellow Eugenia Gibbons. Read more about this event.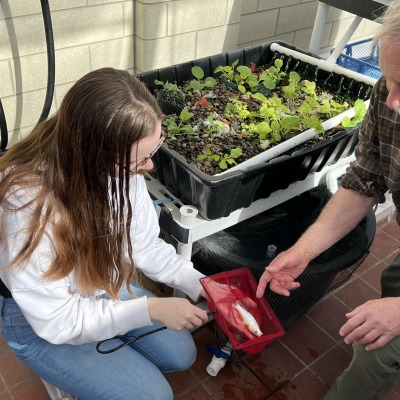 Demonstration: Aquaponics: Research That You Can Eat
1:45-2:30 pm, Meier Hall 420, followed by a visit to the Greenhouse. 
Biology Professor Joseph Buttner and Student Robyn Cashins will demonstrate how aquaponics works and how it is promising climate solution.
Campus Cleanup
4:30-6 pm North Campus, Meet on North Campus Quad near Meier Hall
Sponsored by the SCUBA Club
Thursday, April 13
Discussion: Sustainability Challenge
12-1 pm, Charlotte Forten Room (Meier Hall 316B)
Join Biology Professor Ryan Fisher to discuss behavior changes that mitigate some of our personal climate impacts. Take the sustainability challenge and then pledge to improve!
Film: The True Cost
12:15-1:30 pm, ECC Martin Luther King, Jr. room
The price of clothing has been decreasing, while the human and environmental costs are growing dramatically. The True Cost  "invites us on an eye opening journey around the world and into the lives of the many people and places behind our clothes."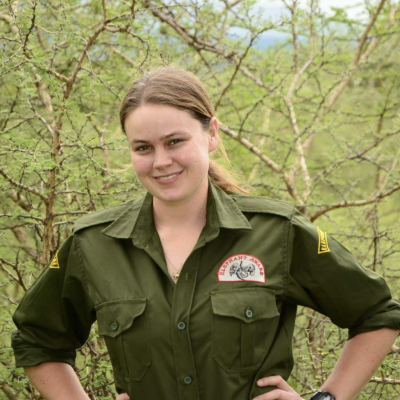 Lecture: The Challenge of Securing a Future for African Elephants: Changes and Challenges in the Masai Mara Ecosystem
1:40-2:55 pm, Ellison Campus Center, Veterans Hall A
 
Wildlife conservationist Gini Cowell manages Elephant Aware Masai Mara in Kenya. She will describe the role of elephants in creating a sustainable ecosystem and how the traditional pastoral land use system of the Masai has been compatible with nature and wildlife. The presentation will address what happens when modernization creates human desires for material well-being which clash with long-held interests in protecting and sustaining nature and cultural traditions.
Earth Days Award Ceremony
4:30-5:45 pm: Ellison Campus Center, Veterans Hall A
View Student Earth Days Contest Art Works and Writings, honor student winners and enjoy a pizza dinner. The informal portion of the evening will be followed by the award ceremony for this year's Friend of the Earth Award.
Since 2001, Salem State's Friend of the Award has honored recipients for their tireless and varied actions to protect the earth. Past awardees have included Naomi Oreskes, the Union of Concerned Scientists, SSU's own Professor Marcos Luna, HEET, and Former Representative Lori Ehrlich.
This year's Friend of the Earth Award will be presented to Massachusetts Climate Action Network (MCAN). MCAN has distinguished itself in recent years through its laser focus on municipal-level activity to fight climate change and help bring green energy projects and policies to fruition in Massachusetts. We choose to honor MCAN for their work to accelerate local-level policy change, recognizing that local action is a vital, and the most common, path forward to making our Earth livable, verdant, and just.
MCAN Interim Executive Director Logan Malik will accept the Friend of the Earth award on behalf of MCAN and will deliver brief remarks highlighting MCAN's recent campaigns and successes.
Friday, April 14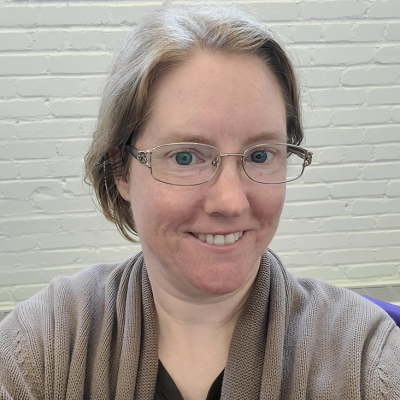 Lecture: City of Salem's Sustainability, Housing, and Transportation Initiatives
9:25-10:40 am: Ellison Campus Center Martin Luther King Jr., Room
The City of Salem's Engagement Coordinator Stacy Kilb will describe some of the cutting-edge initiatives Salem has put in place or is considering and answer your questions.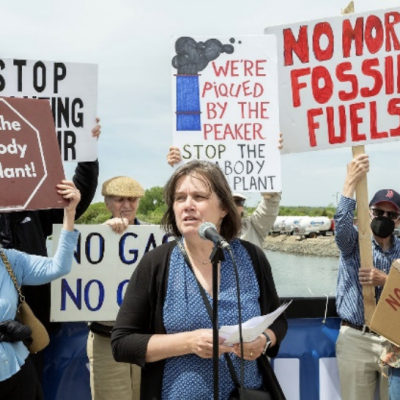 Environmental Justice: The Good, The Bad, and The Just
1:40-2:55 pm, Ellison Campus Center Martin Luther King, Jr. room
This event will also be available remotely. Please email Marcos Luna to request the link.
This event will also be available remotely. Request the link.
Environmental Justice (EJ) demands that North Shore neighborhoods burdened by fossil fuels should be the first to benefit from the workforce opportunities created by renewable energy projects, including the new Salem port that will support offshore wind development. Panelists will explore EJ through a look at the opposition to the Peabody Peaker, a fossil-fuel plant being built in an EJ neighborhood, and the potential workforce benefits for our communities from moving quickly to utility-scale off-shore wind power.
Panelists: Professor Marcos Luna, SSU, Geography and Sustainability; Rob Bonney, Chapter Lead for Citizens' Climate Lobby North Shore and SAFE board member; Lucy Corchado, Salem State's Center for Justice and Liberation and President, Salem's Point Neighborhood Association, and Embajadora, SAFE.
Co-sponsored by SSU Geography and Sustainability Department and Salem Alliance for the Environment (SAFE).
Exhibition: Kite Flying
2:30-3:30 pm, North Campus, McKeown Quad 
Climate change-themed kites.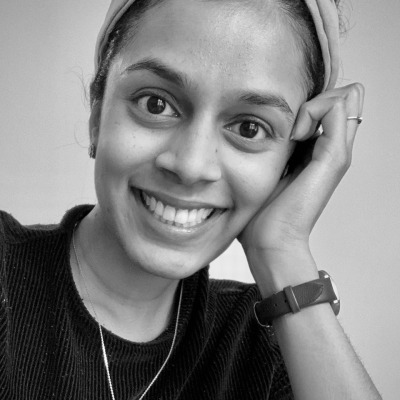 Thursday, April 20
Climate Change, Racism and Health Justice 
2 pm, Webinar
Dr. Abi Deivanayagam is a medical doctor, academic and campaigner specializing in public health, environmental inequalities, and racial justice. View the recording of this insightful talk.
 
Saturday, April 22
Student Earth Day Festival 
12-3 pm, North Campus Quad
Hosted by BioSociety. Music, food, activities and more! 
 
On view through June 25, 2023
Peabody Essex Museum | Climate Action: Inspiring Change 
PEM's exhibit showcases contemporary art, hands-on activities, and inspiring works by youth artists to help lead us to make a difference for the planet.
Learn more about this exhibit. 
Earth Days Recent Events
Stephen Young, Professor of Geography, Salem State University
"Impacts of Climate Change. They have only just begun."
Each year we are seeing more and more impacts from climate change. Dr. Young's presentation will explain why we are seeing these impacts and what we can expect in the future. Dr. Young will also discuss his recent research about climate change in New England and will end the talk highlighting climate change education and activities by Salem State University students.
Sponsored by the Salem State University Geography and Sustainability Department, the Salem State University Earth Days Planning Committee and the Charles Albert Read Trust
Land Use in the Clean Energy Transition
Hosted by the Berry Institute of Politics and Berry IOP Fellow Eugenia Gibbons, this event will tackle the land use demands of the country's transition to clean energy.
This event will discuss the balance that must be struck between rapidly deploying clean energy while conserving (or responsibly developing) open space, safeguarding community interests, and ensuring the transition to net zero is as equitable as possible. 
Speakers include Eugenia Gibbons, Berry IOP Fellow and clean energy policy expert, and Cheri Smith, Founder and CEO of Indigenous Energy Initiative. Cheri Smith will speak to some of the land use challenges and barriers to renewable energy development unique to indigenous American communities and how they are being overcome.
Dressed to Kill: The Cost of Fast Fashion
Costume / Clothing Designer and Chair of the Fashion Design Department at MASSArt, Jennifer Varekamp will provide an overview of the issues surrounding Fast Fashion and ways we as consumers can do better. She will also provide resources and action steps for our campus community that consider all aspects of sustainability in the fashion industry. There are many areas of concern including environmental and ecological impacts, waste, ethics, social responsibility and more. Come learn more about this issue and how you can be a part of the solution.  
Webinar: "Colonialism and Climate Justice." 
Salem State History Professor Avi Chomsky is the coordinator of Latin American Studies at Salem State University and the author of several books including Undocumented, "They Take Our Jobs!", and Is Science Enough? Forty Critical Questions About Climate Justice. Professor Chomsky has been active in the Latin American solidarity and immigrants' rights movements for over 30 years. View the webinar. 
Webinar: "Climate Change as Class War."
Professor Matthew T Huber, Syracuse University Geography and Environment Department, will discuss his recent book, Climate Change as Class War: Building Socialism on a Warming Planet (Verso Books 2022). The discussion will be hosted by Professor Noel Healy of the Salem State Geography and Sustainability Department. Co-sponsored by the Earth Days Planning Committee. This event has already occurred. View the recording.
 
Documentary: POWERLANDS investigates the displacement of Indigenous people and the devastation of the environment caused by chemical companies exploiting their lands. Focused on the region in Colombia where the coal that used to be burned in Salem's former coal plant was mined, a discussion led by Professor Avi Chomsky follows the screening. 
Sponsored by Salem State Earth Days, the Office of Inclusive Excellence, the Center for Justice and Liberation, the History Department, the First Year Experience Office and the Geography and Sustainability Department. 
Webinar: "Climate and Environmental Justice Policies in the Biden Administration" with Mijin Cha, Professor of Urban and Environmental Policy at Occidental College. Professor Cha's research focuses on climate justice, environmental justice, labor movements, and the intersection of labor and climate justice. Tuesday, November 15, 2 pm. This event has already occurred. View the recording.
Sponsored by the Earth Days Planning Committee and the Geography and Sustainability Department.
Past Earth Days Celebrations 
Contact Us
Sustainability at Salem State
Stanley Building 220
Mailing Address:
352 Lafayette St.
Salem, MA 01970