Student, faculty and staff commuting accounts for 30 percent of Salem State's greenhouse gas emissions. To reduce our environmental footprint and decrease traffic and parking demands, Salem State offers a comprehensive suite of alternatives to driving alone. Taking advantage of our urban location, we encourage students, faculty, and staff to use more sustainable forms of commuting.
Ride the T
Reduced Fares
Salem State's Clipper Card Office provides students with 16 percent subsidies for T passes and gives out free Charlie Cards that provide discounts on bus and subway fares, while supplies last. You can save $.30 on all local bus rides and $.50 on the subway with a plastic Charlie Card instead of a paper Charlie ticket.
The MBTA offers unlimited rides on the commuter rail on the weekends for $10. Buy commuter rail tickets on your phone with the MBTA mTicket App.
The MBTA also has a Youth Pass program for those aged 18-25 who live in participating communities and who meet low income eligibility requirements. This pass discounts fares roughly 50 percent.
Bus, Subway, Commuter Rail
MBTA bus #455  travels to and from the Wonderland T-stop in Revere and the Salem commuter rail station in downtown Salem, stopping at Salem State's North, Central and South campuses as well as the School of Social Work along the way.
The MBTA's Salem commuter rail stop on the Newburyport/Rockport line is located in downtown Salem, a 15-minute walk from North Campus.  The stop at North Station in Boston connects to the MBTA's extensive subway system.
See this website for information on the Salem to Boston ferry.
MBTA Trip Planner
Use the MBTA Trip Planner to map out your commute or download the Transit App to see real-time information about your route.
Take the Shuttle
Travel around campus with Salem State's Viking Shuttle Service provided by Cavalier Coach Trailways.
Ride a Bike
Bring your bike (and helmet) from home and take advantage of the bike paths on Central Campus and in Salem and Marblehead. The City of Salem has also been adding new, protected bike lanes throughout the city including those on Fort Avenue that connect to Salem State's marine research station at Cat Cove.
Learn how you can take your bike on MBTA buses, trains and ferries. Across campus, there are 390 spots where you can lock your bike. Students who want to protect their bikes in winter can email cardaccess@salemstate.edu to request access to the bike storage room in Viking Hall.
Get Pre-Tax Employee Benefits
The Commonwealth of Massachusetts offers full-time, benefited employees pre-tax transit and parking benefits up to $265 per month. This could be used for a monthly T-pass, for example. Learn more about this benefit administered by Benefit Strategies.
Electric Vehicle Charging Stations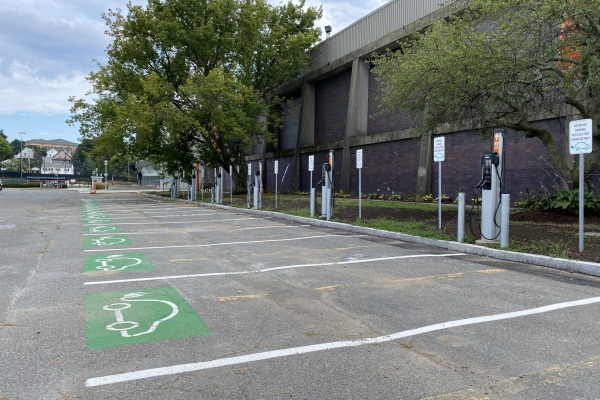 Electric vehicle charging stations are located inside and next to the parking garage on North Campus, behind Viking, and at the O'Keefe Center parking lot.
Title
Excellence in Commuter Options (ECO) Award