Salem State University is pleased to partner with North Shore Community College (NSCC) on the North Shore Viking Collaborative!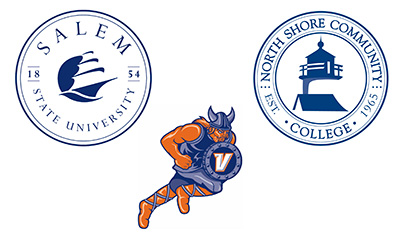 The North Shore Viking Collaborative program provides several potential opportunities:
Pathway Program: A high-quality, more affordable option that begins at NSCC with the opportunity to graduate from Salem State University. This new program offers several transfer pathways for students who were denied admission to Salem State. Students begin their academic career at NSCC and complete their bachelor's degree at Salem State.

Commonwealth Commitment: Freeze on all tuition and mandatory fees on program entry, and a 10 percent rebate off tuition and mandatory fees.

Salem State University Housing: Live in Salem State University housing and enjoy the residential experience while attending classes at North Shore Community College.
Students enrolled in the North Shore Viking Collaborative have the following transfer options at Salem State University*:
First Semester Transfer: complete a minimum of 15 college-level credits with a minimum 2.5 GPA at North Shore Community College

MassTransfer General Education Foundation: complete 34 credits with a 2.0 GPA and the MassTransfer General Education Foundation at NSCC

MassTransfer Associate's to Bachelor's (A2B): complete 60 credits and Associate's Degree with a GPA between 2.0-3.0 at NSCC
*Please note: students interested in the nursing, theatre (BFA), music, art, fire science, and occupational therapy programs at Salem State will be required to re-apply after completing credits at NSCC.
 
For next steps and to speak with an admissions counselor, contact:
Salem State University admissions: 978.542.6200
North Shore Community College admissions: 978.762.4188