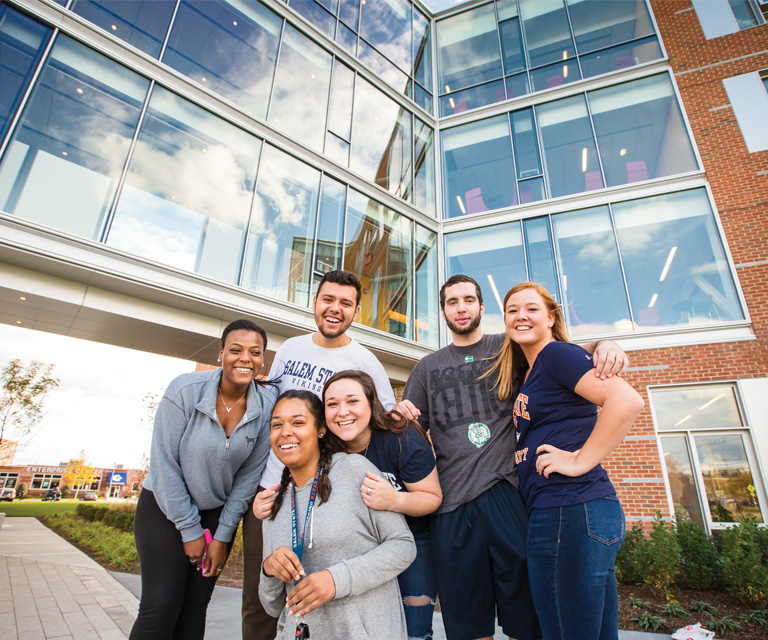 Welcome Transfer Students!
Whether you are at a 2-year or 4-year college or university, or recently earned your associate's degree, we are committed to making sure your transfer experience is a success.
We recommend transfer students apply before the semester is complete. You don't have to wait!
Will my credits transfer?
Transfer Requirements
Review our requirements for admission.
Transferring Credits
We are committed to helping you transfer credits you may have earned toward your Salem State degree.
How to Apply
Send us all official college transcript(s) from each college attended. 
Transcripts can be mailed to:
Salem State University
Undergraduate Admissions
PO Box 315
Randolph, MA 02368
OR
Transcripts can be sent electronically through a secured source to admissions@salemstate.edu
Send us a list of courses in which you are currently enrolled 
OR
Send us your resume or work history if you have not taken courses within the last year
If you have less than 12 college credits, a GPA of less than 2.5, or has been out of high school for three years or less, please send us your official high school transcript and SAT/ACT scores.
Transcripts can be mailed to:
Salem State University
Undergraduate Admissions
PO Box 315
Randolph, MA 02368
Fall 18 NRCCUA Tracking Pixel