Title
Information About Housing Process for Returning Students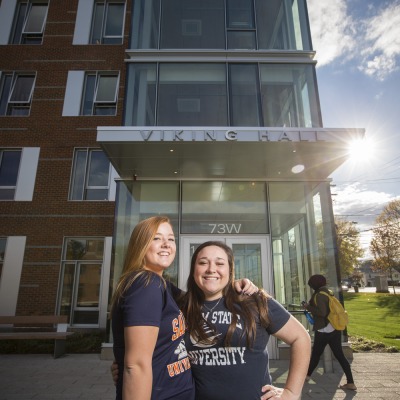 Salem State undergraduate students returning to housing are able to participate in a room selection process. Students are able to select their room location and their roommate for the approaching academic year. Students who wish to live on campus must first pay a housing deposit online through their Navigator account.
Selecting a Room without a Roommate
Room selection is your opportunity to select a living space for the upcoming academic year. In order to have priority in the selection process, students should form roommate groups that match the number of beds in the space you desire to live (students looking to live in Atlantic should create a group of 4 or 5 students, for instance. 
Roommate groups are formed on the "Roommate" portion of the Room Selection page on your housing portal. Priority is given in selection to students who completely fill an apartment or suite. You are strongly urged to make every attempt to choose a room and a roommate. In the event that you do not have a roommate, you may still participate in room selection and will be notified when the selection process is open to students who are going through as individuals or in smaller groups. If you choose not to select a space, you will be randomly assigned based on availability
Lottery Numbers
Lottery numbers are randomly assigned by computer and will be sent to you via email. Lottery numbers will be sent to residents who have paid their housing deposit before March 1. Additionally, each member of the group must be registered with 12 or more credits for the fall semester to participate in room selection.  In order to receive a date and time for room selection, you must complete a housing application online and electronically sign your license agreement.
If you are currently commuting or are on a leave and you wish to participate, please deposit via your navigator and then reach out to our central office.
Two or more students who choose to live together in a double, triple, quad, or apartment may make their selection according to the best lottery number of the group.
Roommate Changes after Room Selection
If your roommate cancels during the academic year or during the summer, you will be assigned a new roommate or be reassigned to another room and roommate. It is wise, therefore, to discuss with your prospective roommates their plans for the upcoming academic year. Residence Life reserves the right to consolidate vacancies. You will not be able to maintain your double as a double-single.