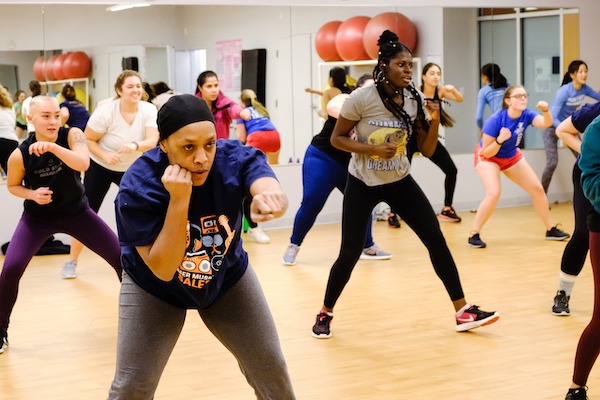 Our group exercise program offers a variety of classes to meet the needs and interests of Gassett Fitness Center members of all ages and abilities. Our nationally certified instructors provide intensity modifications for all fitness levels to ensure that everyone can take a step toward meeting their fitness goals. Our classes will motivate all participants while promoting fun, reducing stress, and improving overall wellness. Join us today and let's get moving! Classes are included with all membership types.
Pre-Registration is Required
Pre-registration is required for all group exercise classes and registration opens 24 hours in advance of the class.  Register today using the Fusion web portal.
Title
Spring 2023 Group Exercise Schedule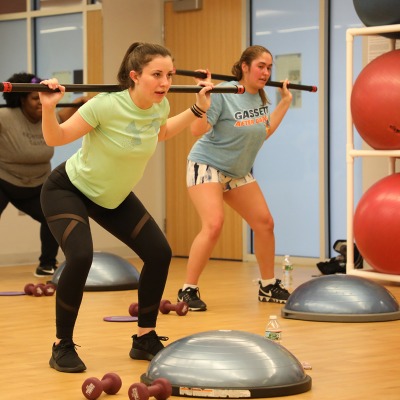 Class Dates: January 17 – May 4
No Classes: 2/20, 3/13-3/16, 4/17
MONDAY
12:15-1 pm Tread 45 (Lisa)
4:30-5:30 pm Strength & Conditioning (Colby)
6:15-7 pm Zumba® (Tara)
TUESDAY
3:15 -4:15 pm Vinyasa Yoga (Brianna)
5-5:45 pm Viking Pump (Annmarie)
6-7 pm Candlelight Yoga (Michael)
WEDNESDAY
3:15-4 pm Strength & Conditioning (Colby)
4:15-4:45 pm HardCORE 30 (Sarah)
5-5:45 pm Spinning® (Sarah)
6-7 pm Vinyasa Yoga (Maggie)
7:15-8 pm Salsa (Sharon)
THURSDAY
12:15-1 pm Pilates (Annmarie)
3:15-4:15 pm Vinyasa Yoga (Brianna)
5-6 pm Triple Threat (Lisa)
Candlelight Yoga – escape from your day and enjoy the tranquility of candlelight yoga.  Classes will blend stretching, gentle movement, and restorative poses.  Come release unwanted tension in the body and mind and find focus. 
HardCORE 30 – add a variety of exercises and intensity to your usual routine – and see results! This workout is dedicated to toning and strengthening the abdominal and core muscles.
Pilates – this popular mat workout concentrates on core strength, body alignment, and muscular balance. If you are looking for a class that stresses mental focus, breathing, quality of movement, and contributes to overall fitness, this class is for you!
Salsa – in this class, you will learn the fundamental principles of timing, basic footwork, and salsa dance patterns.  No prior dance experience is required.
Spinning® – with great music pumping and the class cycling as one, your instructor takes you on a journey of hill climbs, sprints, and flat roads, motivating you to new fitness levels. Each participant controls his/her own intensity by adjusting speed, resistance, and body positions. Open to beginners and experienced riders.
Strength & Conditioning – this class is designed to help push your body to the next level with a sports-inspired strength and conditioning workout.  Class combines elements of plyometrics, interval training and various equipment modalities.
Tread 45 – this class is a combination of intervals on the treadmill and total body exercises using body weight, free weights, med balls, and more! This cardio / resistance combo will keep burning calories long after the workout is over.
Triple Threat - triple threat is a workout designed to make the most of your exercise routine with 20 minutes of cardio, 20 minutes of strength, and 20 minutes of stretching and core work all in one class! Are you ready for the challenge?
Viking Pump – total body workout using barbells and a variety of equipment to strengthen and tone from head to toe.  High repetition and high energy make Viking Pump both an effective and enjoyable class.
Vinyasa Yoga – this class offers a unique way to integrate the body, mind and spirit.  We will emphasize alignment, breath, and awareness to encourage inward focus and spiritual attunement within a flow of movement. 
Zumba® – be prepared to move and be moved! Zumba is a cardio-dance based workout designed for everyone. Ditch the workout, join the party!