Title
Salem State's First Year Reading Experience (FYRE) Program
The First Year Experience (FYE) office is excited to announce that Salem State's First Year Reading Experience (FYRE) selection for the 2023-2024 academic year is "Ties That Bind: Stories of Love & Gratitude from the First Ten Year of StoryCorps" edited by Dave Isay.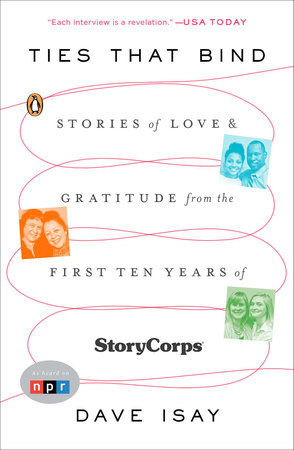 The FYRE program connects new students to the university community through a shared reading experience, welcoming them to a culture that values the thoughtful discussion of ideas.
First-year students will receive the book free of charge during summer orientation, and are expected to read it prior to the start of the fall semester. Throughout the year, a number of events, activities, and in-class assignments will be connected to the themes within the book.
Past FYRE Selections
"College Rules!" (2022)
"Tell Me Who You Are: A Road Map for Cultivating Racial Literacy" (2021)
"Look Me in the Eye" (2020)
"The Book of Unknown Americans" (2019)
"The Hate U Give" (2018)
"Bad Feminist" (2017)
"How Does it Feel to Be a Problem? Being Young and Arab in America" (2016)
"Spare Parts" (2015)
"I am Malala" (2014)
"Orange is the New Black: My Year in a Women's Prison" (2013)
"The Leftovers" (2012)
"SuperFreakonomics" (2011)
"Scratch Beginnings: Me, $25, and the Search for the American Dream" (2010)
"Listening is an Act of Love" (2009)
To recommend a book to the selection committee, email the title and author to fyre@salemstate.edu.