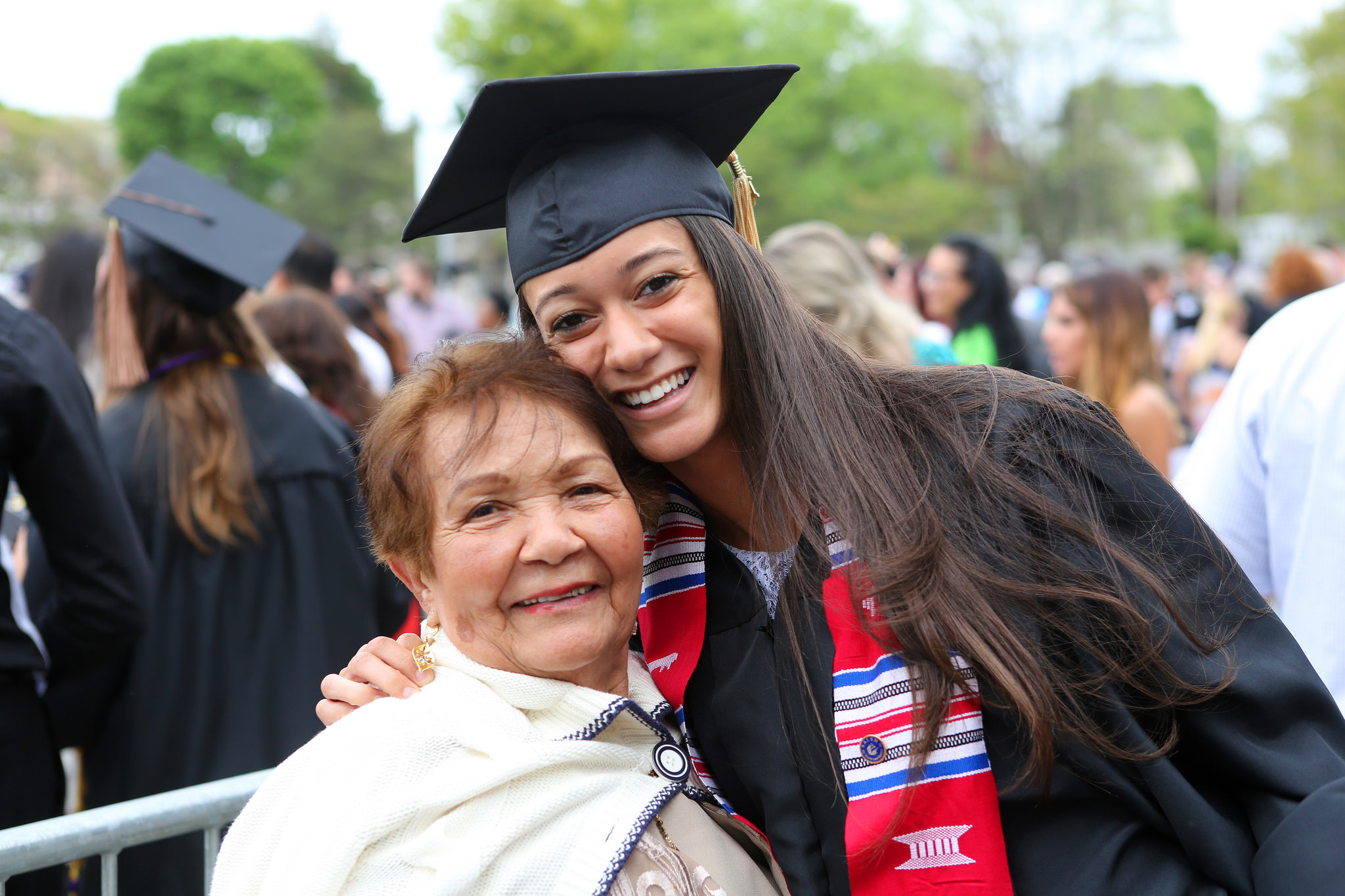 Welcome, Families and Friends!
Thank you for your support of your graduate! We're excited to welcome you to campus for commencement this year.
2018 Commencement Ceremonies
School(s)
Ceremony Date and Time

College of Arts and Sciences,
School of Education

Saturday, May 19,
10 am
Maguire Meservey College of Health and Human Services,
Bertolon School of Business
Saturday, May 19,
3 pm
School of Graduate Studies

Thursday, May 17,
4 pm
All commencement exercises will be held in the Richard B. O'Keefe Complex, 225 Canal Street, Salem. Please note: all three ceremonies will be broadcast live online.
Title
Event Admission Policy
All family members and guests must have a valid bar-coded ticket to be admitted to the O'Keefe Sports Complex, including children and guests with disability seating requests. There will be no exceptions. The arena will open one hour prior to each ceremony.
Any guest who arrives once the ceremony is in progress will have restricted seating options and may be directed to the upper level of the arena.
NOTES:
To exit the arena, all guests must present their ticket. Guests must show the same ticket for re-entry. No exceptions will be made.
Any guest who arrives once the ceremony is in progress will have restricted seating options and may be directed to the upper level of the arena.
Also, please be aware that all bags are subject to inspection prior to admittance.
Satellite Viewing for Undergraduate Ceremonies
For Saturday ceremonies, a non-ticketed, family friendly satellite viewing location will be available in Veterans Hall, Ellison Campus Center, North Campus. The ceremony will also be available via webcast.
Title
Additional Commencement Information
Graduates or Guests with Disabilities 
Individuals needing accessibility accommodations, such as sign language interpreters, wheelchair access, ground level seating, will be able to request this service through the ticket reservation process. For more information, contact disability services at commencement-access@salemstate.edu or 978.542.6217 (TTY: 978.542.7146) (video phone: 978.910.0167) or visit the Frederick E. Berry Library and Learning Commons, room G20, no later than Monday, April 30, 2018.
Parking/Shuttles
Degree candidates and guests with commencement tickets will be able to park in all available university parking lots. For Saturday's ceremonies, shuttle service will be available to provide transportation to the O'Keefe Complex from all parking locations. Prior to coming to the ceremony, please review the commencement parking map.
Accommodations
There are many places to stay in and around Salem. Be sure to ask about discounts for guests visiting for Salem State commencement festivities. For a complete listing of area accommodations visit http://salem.org/stay/ or contact commencement@salemstate.edu or call 978.542.7455 for more information.
Decorum
We ask for your cooperation before, during and after the ceremony in helping us to present a program to your family and friends of which we can all be proud. Please remain in your seats until all graduates have received their diplomas and the ceremony is concluded.
Photography
A commercial photographer with a special high-speed camera will take a picture of each student at the moment their degree is presented. A few weeks prior to commencement, degree candidates will receive detailed information in the mail from the photographer. For more information, contact Essex Commencement Photographers at 978.388.9832.
No private photographers will be allowed on the floor or near the stage.
Tobacco
Please be aware that since September 2011, Salem State University is a tobacco-free campus.
Social Media
Share your graduation excitement—join the conversation at #SalemState18.