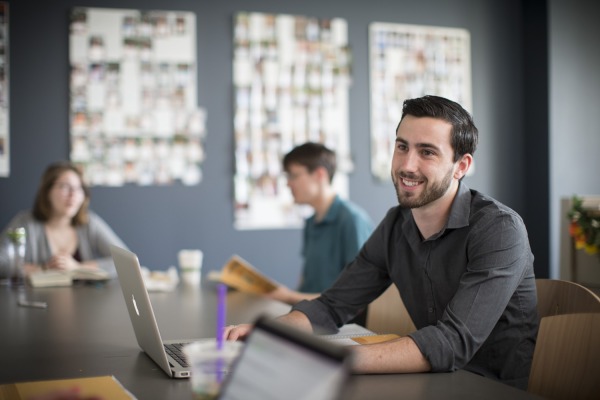 Courses in the Honors Program differ in design and content from traditional classes. Honors classes are smaller, allowing greater individual interaction with faculty members, and the seminar format is favored, giving students the opportunity to learn from one another. Field trips and sessions with outside speakers contribute to a particularly enriched academic experience.
View the Honors Program curriculum.
Para conseguir más información sobre los beneficios del Honors Program en Salem State
Honors Program Course Load
Honors students typically take a partial load of honors-level courses in a given semester. Because many honors classes take the place of the college-wide required courses, our first-year and second-year students tend to enroll in more honors-level courses than they will in later semesters, when they concentrate on courses within their majors.
How to Stay in the Program
To be considered an honors student, one must maintain a 3.2+ GPA each semester, as well as complete the required program courses and take (at least) one honors elective each semester until honors program elective requirements have been met. Students who do not achieve as such may be dismissed from the program.
Senior Honors Projects
The goal of the senior honors project is to allow a student to study in-depth, under the aegis of a faculty mentor, a topic about which he or she is passionate. The projects take on many forms depending on the students' fields of study and interests. Art, theater and music students, for example, may take on a project that finishes with a campus presentation or exhibit. Generally speaking, projects entail extensive background research and the creation of an original piece of work which may be a scholarly analysis, an experimental report, an exhibit of original artwork, or the completion of a student-initiated service project. 
The senior honors projects from 2014 to the present can be viewed on our digital commons website. Prior to 2013, all theses are archived in the Frederick E. Berry Library and Learning Commons.