Community of Inclusive Scholars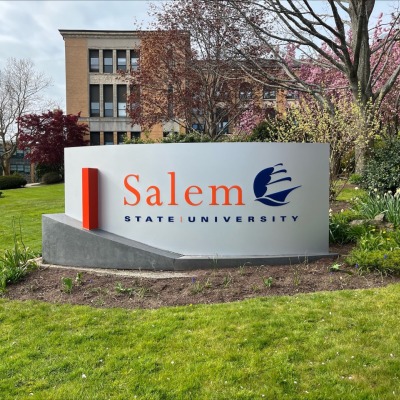 The Community of Inclusive Scholars Program at Salem State University is a MAICEI Program; Massachusetts Inclusive Concurrent Enrollment Initiative. Opening its doors in the Spring of 2017, the Community of Inclusive Scholars Program offers a "college experience" to high school students with Intellectual Disabilities or Autism Spectrum Disorders from partnering school districts. MAICEI students are 18–22 years old, are unable to pass the MCAS exams or have passed MCAS but still qualify for special education services, are currently on an IEP, and are enrolled in a partnership district.
The Community of Inclusive Scholar students participate in two college courses, in both the fall and spring semester. In addition, Inclusive Scholars students will also participate in at least one identified activity or club, internship opportunities either on campus or through their school district, participate in the Gassett Fitness Center, peer tutoring, and the writing center. The ultimate goal of the Community of Inclusive Scholars Program is to prepare students for paid employment through the promotion of self-determination, self-advocacy, increased independence, and improvement of social skills.
Visit the Massachusetts Inclusive Concurrent Enrollment Initiative (MAICEI) section of the Department of Higher Education website for more information of the MAICEI Initiative and our program here at SSU!
Watch this video to learn about MAICEI from students' perspectives, or view a PowerPoint by students.
Application Process
All referrals must come from school districts. For more information please contact a CIS staff member. Applications are submitted jointly by the student and partnership district, and reviewed by the Community of Inclusive Scholars Committee for enrollment.
Upon submission of the application, the district will schedule a team meeting with the prospective candidate, their family and team members.
Upon receipt of the application, an observation will be scheduled at the student's high school
Prospective candidates and their families will participate in a visit to Salem State University to include attendance in a Salem State undergraduate course. During the visit, a personal interview will be held by the Community of Inclusive Scholars Committee with the prospective student and their family.
Admissions Criteria
Primary disability intellectual or autism spectrum, not behavioral or emotional
Age is 18-22 upon admission to the program, is their fifth year of high school and has not accepted a traditional high school diploma
Currently has an IEP
Has demonstrated they have successfully accessed accommodations and/or other instructional supports in a high school general education content area course
Has basic mathematics understanding and can use a calculator
Reading ability is on at least the third-grade level
Has means of independent communication
Has a satisfactory record of school attendance
For Students
Ideal participants will have a strong desire to go to college to learn skills that will enable them to live more independently. Participants will be considered fully matriculated students, gaining access to all extracurricular activities and academic supports.
Accepted Students:
Enroll in two courses per semester
Participate in organization and study skills class and social skills programming
Access peer tutoring through the Center of Academic Excellence and Writing Center
Access the Gassett Fitness Center
Participate in student organizations and clubs
Access paid and unpaid internships on and off campus
Participate in travel training
For Parents
Many parents have a desire to see their student participate in a higher education program. The Community for Inclusive Scholars Program supports parents during the transition from high school to post-secondary programming.
Parental involvement helps students:
Take ownership of their goals, interests, needs and creating a path to employment
Support their student in acquiring skills in advocacy and self-determination
Become independent learners and active in identifying and participating in campus activities
Learn more about CIS and Remote, Online Learning
Read in the Boston Globe: First-of-its-kind law improves college access for students with autism, intellectual disabilities
Chris Lenahan
Project Coordinator
Matt Nolan
Program Manager
Rachel Connary
Employment and Community Life Coordinator
Get Social with Us!