Salem State Nursing Alumni on the Front Lines of COVID-19
The Salem State University School of Nursing helps to prepare nurses and future nurses to meet the many challenges of today's complex healthcare environment. The COVID-19 pandemic has posed unique challenges for nurses everywhere. Despite difficult and unprecedented circumstances, Salem State nursing alumni are working diligently across the Commonwealth to treat patients and combat this outbreak. Below, hear from four recent graduates about their experience working on the front lines of COVID-19 in spring 2020.
Title
Nurses on the Front Lines
Ashley Bouchard '16, RN at Winchester Hospital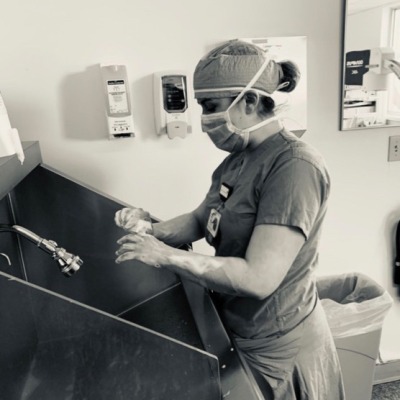 "On a 'normal' day I am an operating room nurse. During this outbreak, I have continued to work in the operating room assisting with emergency surgeries. When there are no emergent surgeries, I am deployed to other units whether it be the ICU or intubation team. Working through the COVID-19 outbreak is an indescribable feeling of uncertainty, but with the support of my team and the community, it helps me power through for my patients.
The most rewarding aspect of work is seeing patients feel better emotionally, physically or both. The advice I would share with my fellow frontline workers is to stay strong and use your resources. We are all in this together. As for the public, stay home and follow the guidelines. This pandemic is no joke."
Paige Goodwin '16, RN at Mount Auburn Hospital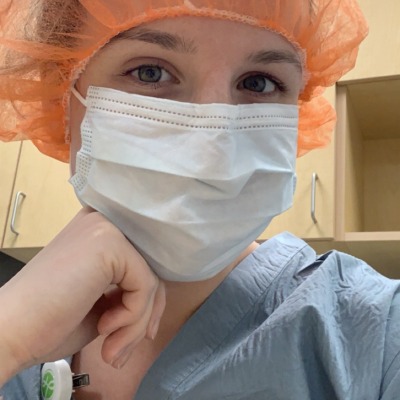 "Work has become increasingly difficult, both emotionally and physically with each passing week. I currently work as a nurse on a step-down unit that has been designated a "clean floor," or a floor with no COVID-positive patients.
However, my co-workers and I are now required to float to the intensive care unit and other "COVID" floors which have more patients than they can handle. With that being said, we are taking care of much sicker patients. We have been taking "crash courses" to learn about ventilators, pressors, and other medications and procedures that we are not familiar with.
During an already stressful time, we are working on unfamiliar units, oftentimes with people we've never met while taking care of very sick people. It is heartbreaking to see these patients fighting this alone because their families are not allowed to visit. There is also the constant fear that we will get sick, or worse, bring the virus home to our family and friends.
The most rewarding aspect during this time is seeing everyone at work come together the way we have. The kindness and teamwork that I've witnessed between doctors, respiratory therapists, nurses, patient care assistants, and unit coordinators have brought me to tears. (Also, a huge shoutout to cleaning staff, those working in the lab, transport and X-ray techs.) Everyone is so willing to help even though we are all scared and exhausted. It gives me hope that we will get through this together. To all non-essential workers, please do your part in slowing the spread of the virus and STAY HOME."
Brian Curry Krieger '19G, RN at Massachusetts General Hospital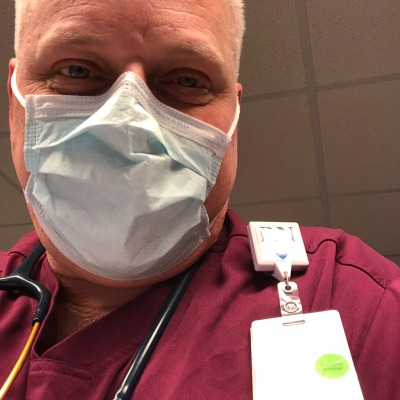 "I am a staff nurse in a surgical unit that has been transitioned to care for post-surgical COVID-19-cleared patients. Due to the change in the type of patients we typically care for in our unit, we are seeing patients outside of our norm with a myriad of conditions.
Nurses in our unit are responding professionally and brilliantly to new challenges, including possible redeployment to COVID-19 floors and caring for a wide array of surgical patients. The teamwork on our floor has been spectacular! There is a palpable sense of optimism in our unit and in such unsettling times, this atmosphere projects hope. On every shift, I am reminded why I became a Staff Nurse at MGH.
Doing my part to help during these troubling times is the most rewarding aspect of my work as a Staff Nurse at MGH. I do not directly care for COVID-19 patients, but that is very likely to change. I know the work I do supports my fellow healthcare professionals on other floors within the walls of MGH. As I put on my mask and walk by the other healthcare professionals coming onto their shifts or leaving for the day, I know I have done my best for the greater good. I also know the next person coming on is just as committed as I am to this battle. There is a real sense of pride in caring."
Ashley Alexander '16, RN at Lahey Hospital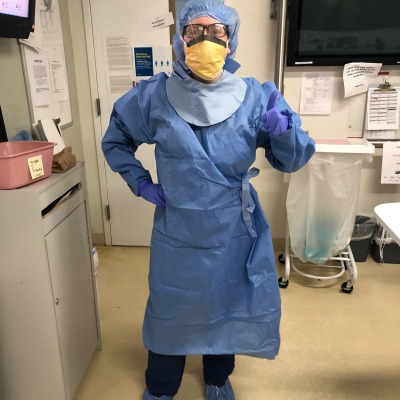 "I am originally an operating room nurse and have never worked anywhere else. We have now been deployed to different floors to be nurses, which has been quite nerve-wracking for me. I have also been working as a member of the "prone team," where we go around and turn COVID patients prone to help with their oxygenation levels. It has been really helpful and we're super busy doing this for many of the patients.
Being able to help out in any way I can is super rewarding. Every time a COVID patient is discharged we play the "Rocky" theme song throughout the hospital. It's great to hear positive news throughout the day. So often we're hearing depressing news, and it's rewarding to know many people in our hospital are getting better. We will all get through this together."
Learn more about the Salem State University School of Nursing.