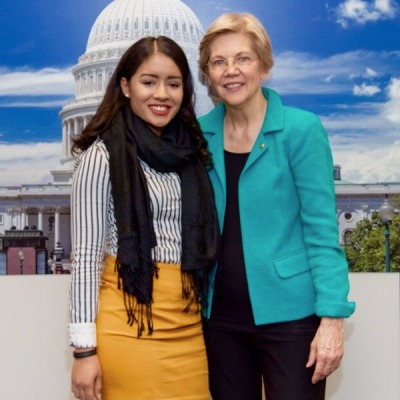 Many internships exist for students at the local, regional and national levels, offering students opportunities to engage in practical political or professional activities that supplement their educational experience. Internships provide students with relevant learning experiences in career environments off-campus, and may prove to be invaluable stepping stones along their chosen career paths. Participating in an internship is an option available to all politics, policy and international relations majors. Students should contact Professor Jennifer Jackman jjackman@salemstate.edu for more information.
A binder with internship announcements is available in Meier Hall 333B. Announcements are also posted on the bulletin board in front of the office and circulated on the politics, policy and international relations email list. Some of the locations where our students have had politics, policy and international relations internships include:
The offices of US Senator Elizabeth Warren, both in Washington DC and in Boston

 The office of US Senator Edward Markey in Washington DC

The office of US Congressmen Seth Moulton
The offices of Governors Charlie Baker and Deval Patrick
The offices of Massachusetts of a wide number state senators (including Senator Joan Lovely – a Salem State political Science graduate) and state representatives
The office of the Mayor of Salem and other departments in the Salem City government
The office of former U.S. Congressman John Tierney (who has, as a graduate of our department, been very supportive of our students)
The office of former U.S. Senator John Kerry in Washington, DC
Medford Hall
Offices for Veterans' Services
The Massachusetts Department of Education
The Massachusetts Water Resources Agency
Numerous local newspapers, courts, and law firms
Various local and national political campaigns
The Salem District Court
Salem State Human Dimensions of Wildlife Unit
Research work with professors (as Salem State and elsewhere) 
Various non-governmental organizations (NGOs)
The Peabody Essex Museum
Two specific internship opportunities available to politics, policy and international relations students are especially noteworthy:
The Politics, Policy and International Relations department's Rich Levy Congressional Internship Program awards a stipend each year to support student internships in the Washington, DC offices of members of the Massachusetts Congressional delegation. 
The Washington Center (TWC) internship program in Washington, DC (see also the Salem State University Undergraduate Catalog). To learn more, contact Professor Elizabeth Coughlan at ecoughlan@salemstate.edu.
Internship coordinator for the politics, policy and international relations