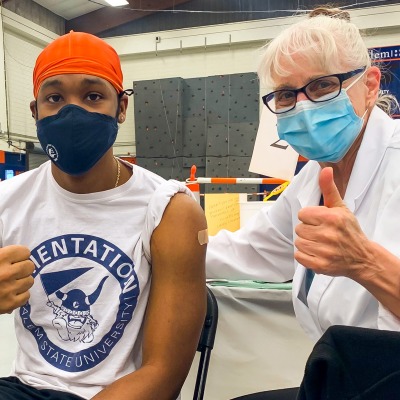 The Massachusetts State University system is joining a growing number of colleges and universities across the country and Commonwealth requiring students to be vaccinated against COVID-19 before they attend in-person classes this fall.
All Salem State students to be fully immunized before returning to campus for fall semester. This includes undergraduate and graduate students who are attending in-person classes, conducting research on campus, living in residence halls, or participating in campus life activities. The state university presidents expect that all employees will also be fully vaccinated prior to the start of the fall semester.
Full Vaccination Status
For the Pfizer or Moderna vaccines, you are fully vaccinated two weeks after the second dose. For the Johnson & Johnson vaccine, you are fully vaccinated two weeks after the single dose. If these requirements are not met, you are not considered fully vaccinated. Students who are not fully vaccinated will be unable to move in or gather for in-person learning and other in-person activities.
To be fully vaccinated by the start of the semester, students and staff should receive their first COVID-19 vaccine no later than:
Moderna by July 16, 2021
Pfizer by July 23, 2021
Johnson & Johnson by August 13, 2021
Scheduling a Vaccine Appointment
Mass General Brigham is operating a mobile vaccine site during Salem Pantry hours on Wednesdays from 10 am-12 pm at 68 Loring Ave in Salem. No appointments or insurance needed! 
Visit the MA Immunizations page to find a vaccine appointment near you.
Documenting Your Vaccination
You should receive a vaccination card that indicates which COVID-19 vaccine you received, the date you received it, and where you received it.
Please take a picture of your card and upload it to the student health portal as soon as possible.
State of Massachusetts VaxMillions Giveaway
Massachusetts residents age 12 or older who complete their full COVID-19 vaccination can register to win one of five college scholarships (for residents age 12-17) or one of five million-dollar prizes! Registration for the giveaway is now open. Find complete Vaxmillions Giveway details on mass.gov.
Learn more about the COVID-19 Vaccine
Key Things to Know about COVID-19
Getting the Facts: Vaccine Awareness & Slowing the Spread
Frequently Asked Questions about Vaccine Safety
What Fully Vaccinated People Need to know
Choosing Safer Activities Vaccinated vs. Unvaccinated