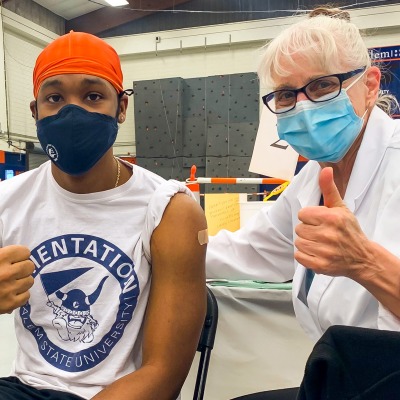 All Salem State students and employees are required to be fully immunized, including a booster shot, for COVID-19. 
This includes undergraduate and graduate students who are attending in-person classes, conducting research on campus, living in residence halls, or participating in campus life activities.
All staff and full-time faculty are required to be vaccinated or request an exemption regardless of whether they are working on-campus or remotely. Part-time faculty who provide in-person instruction, whether on-campus or in a clinical setting, are required to be vaccinated or request an exemption. Part-time faculty who teach remotely may request a waiver but will not be permitted on campus and may not teach in-person until they comply with the Salem State vaccine mandate.
Full Vaccination Status
For the Pfizer or Moderna vaccines, you are fully vaccinated two weeks after the second dose. For the Johnson & Johnson vaccine, you are fully vaccinated two weeks after the single dose. If these requirements are not met, you are not considered fully vaccinated. 
COVID-19 booster shots are required as part of our COVID-19 vaccine mandate.
Booster eligibility is five months after receiving the last dose of either the Moderna or Pfizer vaccine; or two months after receiving the Johnson & Johnson vaccine. We ask that you receive the booster within a month of your eligibility. While the original vaccine is continuing to provide protections, the booster will provide additional protections especially as we face new variants and a new surge in cases.
Partially Vaccinated Students
Students who have received 1 of a 2-dose COVID vaccine series (Moderna or Pfizer) but are not yet due for their second, will continue to receive non-compliance messages. Students who are not fully vaccinated yet will need to test weekly until 2 weeks after their second COVID vaccine.
Students who are in the process of becoming compliant are able to move in and participate in on-campus activities as long as they satisfy the weekly testing requirement.
Students must receive their booster within one month of the date they are eligible.
Entirely Remote Students
Students taking fully remote classes are encouraged to upload their Covid-19 vaccine documentation to the student health portal. The Covid-19 vaccine and booster requirement will not be enforced for students who are taking all remote classes and are NOT residential, with the exception of student athletes, or students on an F-1 visa.
On-Campus Vaccine and Booster Clinics
Salem State is partnering with Transformative Healthcare to offer vaccine and booster clinics on campus. No insurance needed. Individuals should bring their photo identification and health insurance card (if they have one) to their appointment. 
Note for international community members: Individuals who have received a WHO approved vaccine and are seeking to booster with a Pfizer vaccine should schedule as follows:
Please select Pfizer as the last vaccine given and put the date of last vaccination. The scheduling system will allow you to proceed through the steps. The software system has yet to be updated to include WHO approved vaccines.
Off-Campus Vaccination Options
Documenting Your Vaccination
You should receive a vaccination card that indicates which Covid-19 vaccine you received, the date you received it, and where you received it. If you've misplaced your vaccine card, you can request a copy of your Covid-19 vaccination record here.
Students, please take a picture of your card and upload it to the student health portal as soon as possible. 
Employees are required to upload their vaccine information to CoVerified using the information located in Polaris.
Documenting Your COVID-19 Booster Shot
Students are required to upload their booster documentation to their student health portal. Counseling and health services will verify compliance for students by mid-February 2022.  
Employees are required to upload their booster documentation to CoVerified by April 15, 2022. CoVerified Vaccination Upload Instructions can be found here. Human resources will verify compliance with this requirement for employees by April 15, 2022.
Scheduling a Vaccine Appointment
Visit the MA Immunizations page to find a vaccine or booster appointment near you. Please note that given the increase in demand, some vaccination sites are scheduling boosters two or three weeks out.
Vaccine Exemptions
Students are expected to be vaccinated prior to returning to campus unless they apply for and receive an exemption. The exemption process is located in the student health portal. Students claiming a medical exemption must present documentation from a medical provider stating that the vaccine is contraindicated and upload the documentation to the health portal. Students who are seeking a religious exemption should complete the exemption form on the health portal.
New to the health portal? Review the health portal FAQs.
Employees seeking a medical or religious exemption should review the process in Polaris.
Students and employees who receive approved exemptions and are not vaccinated will be expected to follow current CDC and Department of Public Health guidelines for unvaccinated individuals and will be required to participate in weekly COVID-19 surveillance testing, to obtain a "cleared" CoVerified badge and be allowed to participate in on-campus, in-person activities and classes. Failure to participate in weekly testing will result in a restricted badge that does not allow the student or employee to participate in on-campus activities or classes. Failure to follow campus policies can also result in a referral to community standards for students and human resources for employees. New to CoVerified? Download the app today and review the CoVerified user guide.
Health Information Privacy
Please note that the only office that needs to know a student's vaccine status is counseling and health services. Your personal health information is private. We are using CoVerified in order to simply indicate if a student is compliant with protocols and at lower risk of transmitting the virus if engaging in in-person activities. Students should expect to show their CoVerified badge daily when on campus. 
Learn more about the COVID-19 Vaccine
Key Things to Know about COVID-19
Getting the Facts: Vaccine Awareness & Slowing the Spread
Frequently Asked Questions about Vaccine Safety
What Fully Vaccinated People Need to know
Choosing Safer Activities Vaccinated vs. Unvaccinated
Regular Vaccinations
All full-time students, health science students, residential students, and international students must still submit traditional immunization documents to the health portal. Please visit the health portal or counseling and health services for the health form and traditional immunization requirements.
Please note that remote students who are full time, health science, residential, or international students must still meet traditional immunization requirements and should also submit this documentation on their health portal prior to the start of the semester.