Bertolon students take their business experience beyond the classroom through student organizations, awards and the annual Viking Business Pitch Competition.
Viking Business Pitch Competition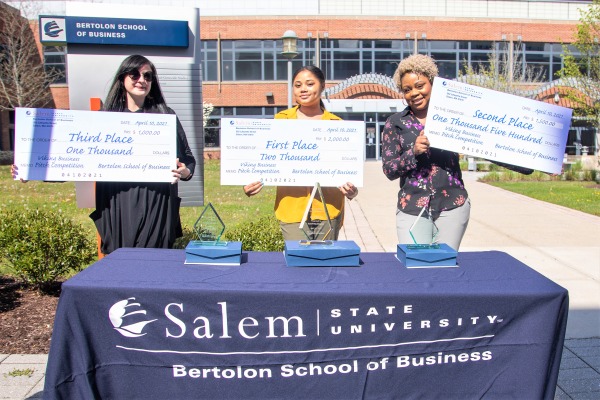 Launched in 2021, the Viking Business Pitch Competition invites students and alumni to pitch their innovative business ideas to the local entrepreneurial community for the chance to win a cash awards. Competitors submit their business pitches online, then present their ideas to a panel of local business leaders. Read about the winners of the inaugural business pitch competition.
Student Organizations
Delta Mu Delta
Delta Mu Delta is an international honor society for business administration majors. The society's goals are to promote higher scholarship in education for business and to recognize and reward scholastic attainment in business subjects.
Membership is by invitation, and is open to all junior, senior and graduate business students in the top twenty percent (based on cumulative GPA) of their respective classes, who have completed a specific number of credits at the university with a minimum GPA of 3.40 for undergraduates and 3.9 for graduate students. 
Accounting Association
The accounting association encourages professional interest among students preparing for careers in business administration and offers programs geared toward accounting. Connect with the Accounting Association on Facebook! 
American Marketing Association
The American Marketing Association holds job fairs and a career day, as well as workshops on resume writing, interviewing techniques, letter writing, and dressing for industry. It also connects members of the Salem State business community with the professional chapter through seminars, dinners and conferences. 
Finance Association
The Finance Association's objective is to bridge the gap between academic and professional life for students seeking career paths in the finance world. The reins of the association are in the hands of elected student officers. Students organize club activities which include trivia, discussion/debates, field trips, etc. A faculty member from the accounting and finance department helps out as advisor in all matters. The finance association strives to help students in developing skills such as leadership, communications, public speaking and wider awareness of the field to succeed after graduation. Students wanting to join the club please contact Dr. Sanjay Kudrimoti at skudrimoti@salemstate.edu for further details. Visit the Finance Association's webpage.
Hospitality Management Association
The SSU Hospitality Management Association focuses on the hospitality industry and related subjects. Anyone interested in joining or learning more about this organization please contact the faculty advisors, Dr. Ripp Daniell and Dr. Mindy Jeon.