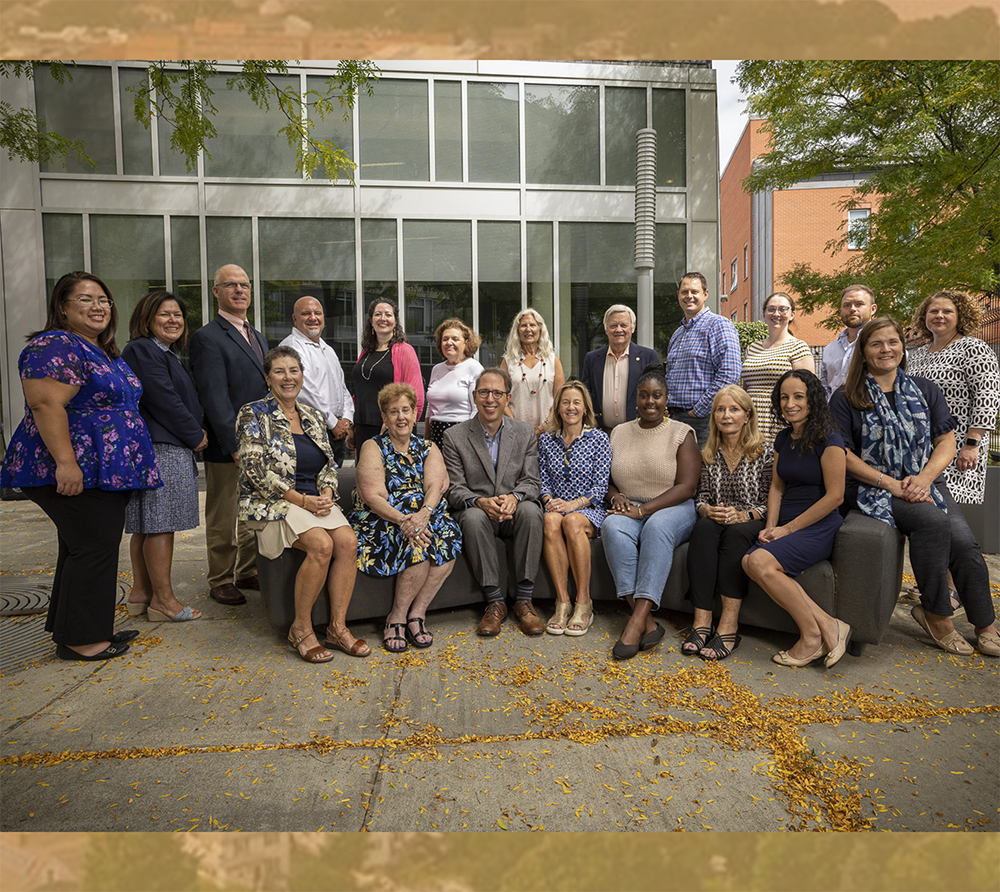 About the Foundation
Working with the university and other partners, the foundation operates under the leadership of a 21-member board of directors comprised of alumni and community leaders who take their roles seriously as stewards of contributed private funds.
Mission and Vision Statement
Title
Additional Information about the Foundation
Foundation Board
Officers  
Annalisa C. Di Palma, Chair
Louis J. George '89, Vice Chair
Jeffrey V. Cicolini '94, Treasurer
Andrea C. Liftman '75G, Secretary
Kathleen L. Skrabut, Immediate Past ChairEx-Officio
John D. Keenan, President, Salem State University (voting)
Debra Lee Surface '05, '19G, President, Salem State University Alumni Association (voting)
Cheryl W. Crounse, Vice President, Advancement and Executive Director, Salem State University Foundation (non-voting)
Directors
Nancy A. Dias '09, '13G
Kim D. Gassett-Schiller '83, '18H
Richard J. Gilmartin '76
David C. Gravel '78
Virginia C. Lyons '16
Joanne Mendes '79
Paul A. Petrowski '66
Michael D. Procopio '12
Kate E. Reid
Joanne O. Ricciardiello '68, '19H
Stephen A. Rollins Jr.
C. David Surface '88
Elaine A. Zetes '88G
Audit/Finance Committee
The powers and duties of the audit/finance committee shall include:
Presenting an annual budget for Board approval at the annual meeting of the Board
Reviewing and recommending for Board action audits, accounting procedures, financial activities, and expenditures
Board Development Committee
The powers and duties of the board development committee shall include:
Presenting the slate of officers for election at the Annual Meeting
Identifying, cultivating and nominating, for election to the Board, directors who meet the needs of the Foundation
Facilitating new directors' orientation
Identifying opportunities for involving directors in Foundation and Salem State University activities.
Fundraising and Engagement Committee
The powers and duties of the fundraising committee shall be:
Identifying prospective donors for cultivation in support of the Foundation and the University
Participating in cultivation and solicitation activities under the guidance of Advancement
Providing information helpful in prospect research
Actively encouraging Directors of the Board to meet their Director philanthropic contribution responsibilities
Investment Committee
The powers and duties of the investment committee shall include:
Recommending investment policies for Board approval not less frequently than annually
Reviewing and recommending for Board action the use of financial advisors and managers, spending policies, investment policies, and establishing and managing funds
Memorandum of Agreement between Salem State University and the Salem State Foundation.
With guidance from our advisors at Eastern Wealth Management, the foundation's Investment Committee invests private contributions in ways that meet the needs of the Salem State community not met through public funding, which today accounts for less than 40 percent of university revenues.
The foundation also works with university partners to do the following:
Manage an endowment
Increase annual disbursements to academic and administrative departments
Cultivate and steward a culture of philanthropy
Foundation News and Events
News about our Foundation Board members
Outgoing Vice President of the Salem State University Foundation
Funds managed by Eastern Wealth Management
Endowment Asset Allocation

as of June 30, 2022

Endowment Market Value Growth

FY2012 - FY2022
Foundation Facts
Scholarship growth over the last decade!

Endowment market as of June 30, 2021