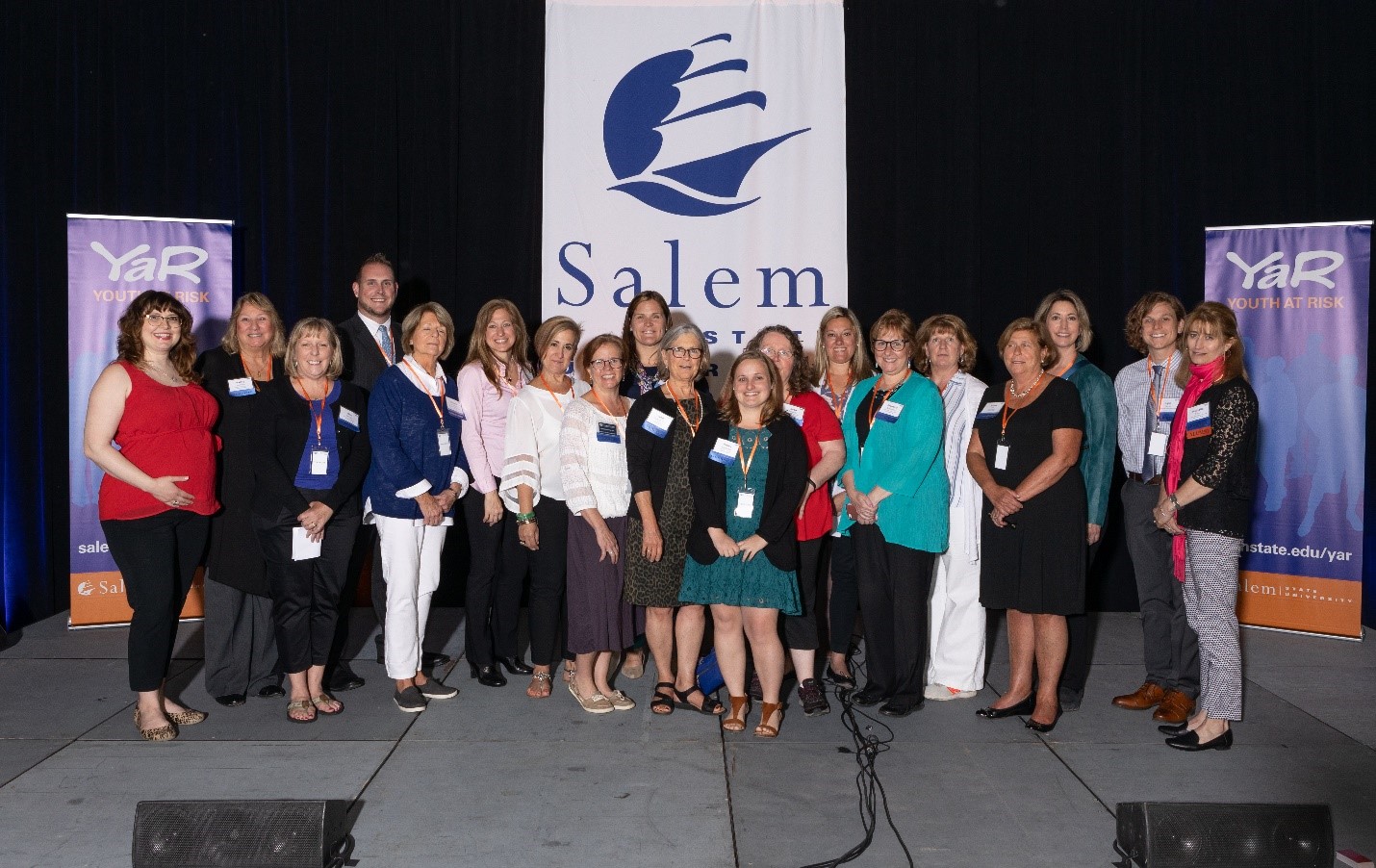 Youth at Risk Committee Members
Title
The 20th Annual Youth at Risk Conference is Postponed
FAQs
For updates and information on future conference, join our email list by emailing yar@salemstate.edu with your preferred address, phone and email.
CEU's will be posted before the conference.
Each year, the Youth at Risk (YAR) conference honors a special person who lives or works in Merrimack Valley or Essex County and has made an outstanding contribution in supporting youth at risk. The Diruhi Mattian Memorial Award honors the memory of an extraordinary social worker who was tragically killed in 2008. Diruhi was dedicated to her profession and always wanted to make a difference in the lives of young people over and over again. The award was created in her name to recognize those who, like Diruhi, do outstanding work in the community for our youth.
Nominations for the 2020 Diruhi Mattian Memorial Award are closed.
Previous Award Winners
2010 - Mike Duda, YAR Founder and Pastor of First Church in Wenham
2011 - Kelly O'Connor, Director of the Gregg Neighborhood House Afterschool Program 2012 - H. Bud Kelly, a Licensed Independent Clinical Social Worker
2013 - Mark Libon, V.P. of Community Based services for Lahey Health Systems
2014 - Donna Coe, Nurse Practitioner at Lynn Community Health Center
2015 - Patrick Foley, Program Director for the Adolescent STARR program 
         - Fred Mathieu, Director of Kids Club program at Washington Street Baptist Church
2016 - Carol Ireland, VIP Team Advisor, Haverhill High School
2017 - Deb A. Morrison, MSW, LICSW, Kevin O'Grady School at North Shore Consortium in Beverly
2018 - Nancy Edman Earls, Director of the Newburyport Learning Enrichment Center (NLEC)
2019 - Eric Cousineau, Social Worker at the Greater Lowell Department of Children and Families
The expo showcases nonprofit organizations and industry vendors that provide unique services and resources to those who serve and care for youth. 
Chair:
Jane Truesdell Ellis, Attorney
Co-Chairs:
Kathy Moriconi, Co-Founder, YAR
Linda Richards, Department of Mental Health
Planning Committee:
Amy Ackroyd, Children's Friend and Family Services, A Division of JRI
Maria Avila, MA Society for the Prevention of Cruelty to Children/Eliot
Nicholas Bound, Department of Youth Services
Linnea Burrill, Department of Children & Families
Jessica Caron, Beth Israel Lahey Health Behavioral Services
Missey Donohoe, Essex Sheriff's Department (retired)
Michelle Fyrer, Department of Children & Families
Staci Gergely, Lynn Juvenile Court
Lyla Harrod, DanversCARES and Center for Childhood and Youth Studies, Salem State University
Lea Hill, DDS, NE Regional Autism Services
Kimberly Hutchins, Private Practice and Consultation
Monica Leisey, Salem State University
Robert Lewis, Child Welfare Consultant
Mark Libon, Faculty Fellow, Salem State University
Hailey MacDonald, Pathways for Children
Shakira Moreta, Salem State University
Fran Rosenberg, Northshore Education Consortium
Christine Shaw, Merrimack College 
Karen Wilk, Educational Clinical Consultant, (Beverly Public Schools - retired) 
Jacqui Williams, Department of Public Health (retired)
To join the committee, please contact yar@salemstate.edu.
History and Additional Information
The Essex County Community Foundation established the YAR conference in 2000 as a response to the need for increased collaboration and coordination among the many providers of services to at-risk youth in and around Essex County. As of 2015, Salem State has taken over the program and pledges to carry on the YAR mission of trainings and outreach. The conference remains an amazing opportunity to tap the wealth of expertise in Essex County on the topic of youth at risk. It continues to be a one-of-a-kind and most anticipated annual event. 
The annual Youth at Risk (YAR) conference is the region's only annual all-day conference for professionals who work with at-risk youth. The event will feature over 20 morning workshops and a variety of afternoon breakout sessions, as well as keynote speakers, program exhibitions, and networking opportunities.
The YAR conference is geared toward individuals working with and caring for youth in a variety of settings—family, community, school, religious, healthcare, human service, recreational and legal. Attendees include social workers, psychologists, youth counselors, family therapists, educators, school adjustment counselors, guidance counselors, community and public health workers, program managers, agency and organization CEO's, police officers, juvenile court personnel, lawyers and volunteers.
2020
2019
2018
2017 
2016
Past Conference Photos
2019
Sixto Cancel, founder and CEO of Think of Us
Pamela Garramone, MEd, Positive Psychology Speaker and Life Coach
2018
Debby Irving, MBA, Racial Justice Educator and Writer, author of Waking Up White and Finding Myself in the Story of Race
Brian Castellanos, MS, Motivational Speaker, Life Coach, Public Involvement Coordinator
2017
Kenneth V. Hardy, Drexel University, Eikenberg Institute for Relationships
Susan Cooper, LICSW
2016
Chris Herren, Former NBA Player, Addiction Recovery Advocate, The Herren Project
Leonard Campanello, former Chief of Police, Gloucester, MA, Gloucester Angel Program/Police Assisted Addiction Recovery Initiative (PAARI)
2015
Jeanine K. Fitzgerald, The Fitzgerald Institute of Lifelong Learning
FatherSpeak, Family Nurturing Center of Massachusetts
Title
Accessibility and Accommodations