Title
Pat Maguire Meservey Biography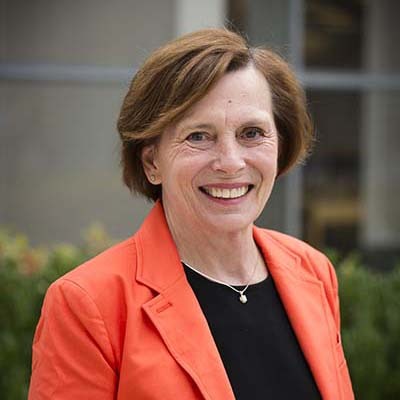 Patricia "Pat" Maguire Meservey, PhD, is the 13th President of Salem State University. President Meservey is recognized for her work in the advancement of teaching excellence, the promotion of faculty scholarship, and academic and administrative strategic planning. She embraces and has advanced the high-quality, student-centered education model that is at the core of the university's mission and is known for her commitment in advancing the North Shore region's cultural, social and economic development.
In her decade of leadership at Salem State, the university has seen tremendous growth in student success, an elevation of its profile, an increase in fundraising efforts, and significant improvements to its physical campus among numerous other accomplishments she shares with the Salem State community. 
During President Meservey's tenure, student success is the primary driver for the university's plans and initiatives. From 2007 to 2016, the graduation rate for baccalaureate students increased 15 percentage points – the largest change in the Massachusetts state university system. Salem State's six-year graduation rate for first-year freshmen has increased from 37 percent in 2007 to 52 percent in 2015, with a 67 percent graduation rate for transfer students. This growth reflects the exceptional efforts of faculty and staff to support students, and the university continues to set aggressive goals in the area of student success. 
Recognizing the many aspects of diversity at Salem State, President Meservey has made it a priority to ensure a campus community that is welcoming to all. Bringing multiple and varied voices to our community and affirming their unique perspectives, Salem State University provides a learning environment that promotes mutual respect, an understanding of differences, and an appreciation of similarities.  
President Meservey was a leading champion for the achievement of university status from the Massachusetts legislature in 2010. Becoming Salem State University, this legislative change reflects the large, comprehensive institution the university has become, bringing greater recognition to the high quality of Salem State's academic programs and the many accomplishments of its faculty and students. 
Recognizing the need for alternative funding sources, President Meservey established the university's first comprehensive campaign. In December of 2016, the university exceeded its goal, and raised over $26 million during the campaign from over 11,000 donors, with a remarkable 93 percent participation rate among faculty and staff. The funds resulted in the establishment of over 40 new scholarships for students and much needed financial support for academic programs.
Under President Meservey's leadership, profound changes have been made to the physical campus over the past decade. Nearly 760,000 square feet of new construction and renovations have been completed or are underway, bringing state-of-the-art academic and student life spaces to campus. Through the support of the Commonwealth of Massachusetts and generous donors, combined with resources of the university's operating budget, over $250 million has been invested in campus improvements. Highlights of these changes include the Frederick E. Berry Library and Learning Commons, the Sophia Gordon Center for Creative and Performing Arts, the Harold E. and Marilyn J. Gassett Fitness Center, athletic fields and courts, and two residence halls that provide accommodations for nearly 900 students. Efforts are currently underway to secure the Commonwealth's support for a new science facility to support the growing demand for science, health care, and technology programming.
President Meservey is fully committed to supporting the university's host city of Salem, the North Shore region, and the Commonwealth as a whole with the institution's expertise, talent and resources. She herself serves on a number of boards and committees in the North Shore and beyond. She is a founding member and chair of the board for the North Shore Alliance for Economic Development, serves as a member of the Massachusetts STEM Advisory Council, a member of the Health Care Workforce Transformation Fund Advisory Board, a board member for Bottom Line, past chair Commission on Institutions of Higher Education (CIHE) of the New England Association of Schools and Colleges, the New England Council, the North Shore Workforce Investment Board, and the North Shore Chamber of Commerce. She is also a member of the Eastern Bank Corporation Board of Trustees. In 2015 and 2016, under President Meservey's leadership, Salem State was named one of the top 100 women-led businesses in Massachusetts by the Commonwealth Institute and Boston Globe Magazine.
President Meservey joined Salem State in 2007 after serving as Suffolk University's first Provost and Academic Vice President. Prior to that, she held a number of administrative leadership roles at Northeastern University and served as a faculty member in Northeastern University's Bouvé College of Health Sciences and at Suffolk University. In those roles, she provided leadership in the transformation of nursing and medical education, bringing students into the fields of community health and primary care. Through work with the neighborhood health centers of Boston, President Meservey provided learning opportunities for students and improved health care options for patients and community members.
President Meservey holds a PhD in higher education administration from Boston College, an MS in parent-child health nursing and a BS in nursing, both from Boston University, and a diploma in nursing from Faulkner Hospital. She is a Fellow in the American Academy of Nursing.