Title
Commencement Day Details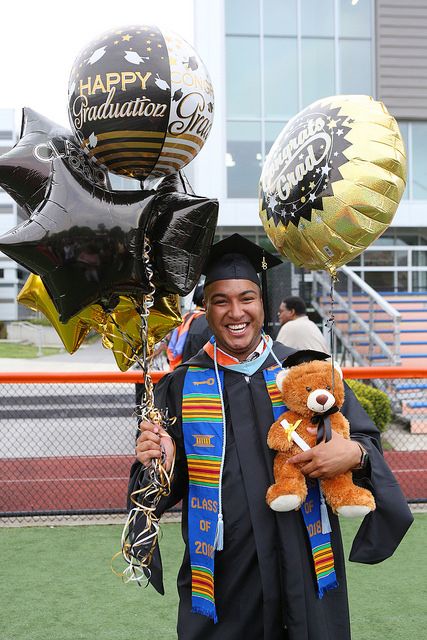 This page contains all of your day-of commencement details. For ticket information, cap and gown orders and other details to help you prepare for commencement, visit the main commencement page.
Parking
The main parking lot for Salem State's commencement ceremonies is located at the O'Keefe Complex at 225 Canal Street in Salem. The university also provides satellite lots in case of overflow. These lots are located at our North and Harrington campuses and are within walking distance to the O'Keefe Complex.
Please note that satellite viewing during commencement ceremonies, takes place in the Ellison Campus Center and parking is available there on North Campus as indicated on the campus map.
Arrival time and Assembly of Candidates
Candidates for graduation should arrive at O'Keefe Sports Complex no later than 90 minutes prior to their ceremony. Late arrivals may not be admitted to commencement activities.
Check-in will take place at the main entrance of the Harold E. and Marilyn J. Gassett Fitness and Recreation Center. Commencement staff will assist the candidates with lining up in the Twohig Gymnasium and will guide them to the seating area on the rink floor. There is no secure storage for personal belongings at the O'Keefe Sports Complex, so please plan accordingly.
Important!
At check-in candidates will receive a colored 3 x 5" index card with a number. Keep this card with you at all times. The card will be presented on stage just prior to the announcement of your degree. It is also important that once candidates are placed in order in the gym by commencement staff, the candidates must remain in that position. Because students' names will be called in the order of the student lines, failure to maintain the correct place in line or present the card on stage will disrupt the orderly procession of students across the stage. Once a student has presented their card on stage, their name will be called and the student will proceed across the stage to be congratulated by a university academic leader and professionally photographed. If candidates need to leave the arena after checking in, they must show the index card and a hand stamp for re-entry.
Diplomas
Students who have completed their degrees in May 2023 will receive their actual diploma by mail during the summer following the ceremony to allow for all academic honors and requirements from the Spring 2023 term to be credited. For information on diploma delivery schedules, visit salemstate.edu/graduation
Decorum
We ask for your cooperation before, during and after the ceremony in helping us to present a program to your family and friends of which we can all be proud. Please remain in your seats until all graduates have received their diplomas and the ceremony is concluded.
Undergraduate Honors Designation
Honors cords will be distributed at commencement check-in to undergraduate seniors graduating with a cumulative grade point average of 3.300 or higher as of the end of the fall 2022 semester and who will have earned at least 60 credits in residence at Salem State University by the end of the spring 2023 term.
For a complete description of the honors categories, please review the academic policies section of the catalog.
Photography
A commercial photographer with a special high-speed camera will take two pictures of each student, 1) posed, prior to them crossing the stage, and 2) on the stage with the University President or Provost. A few weeks prior to commencement, degree candidates will receive detailed information from the photographer.
For more information, contact Grad Images, the professional photographer on site, at (800) 261-2576, online at www.gradimages.com, or by email. After the ceremony, photographers will also move among the guests and graduates to take candid photographs.
No private photographers will be allowed on the floor or near the stage.
Students will receive a coupon from Grad Images, the ceremony photographer, for one free 5x7 digital photo from Graduation Portraits and/or one free 5x7 print photo from Commencement with their proofs from all photos taken. There is a shipping charge to order the print with the Grad Images coupon for the free photo from Commencement.
Grad Images will send the proofs to your SSU email address in the coming weeks. Graduates should expect to receive proofs next month. If you receive someone else's proofs by mistake, do not receive proofs, or do not receive a coupon, please contact Grad Images, the professional photographer at 800.261.2576, or by email with any questions.
Inaccurate proofs often result from someone crossing the stage out of order, creating a domino effect among the subsequent proofs. Correcting inaccuracies is a time-consuming, trial and error process for the vendor as they may need to send different proofs to find the right images. Thank you for your patience.
Tobacco
Salem State University is a tobacco-free campus.
Social Media
Share your graduation excitement – join the conversation at #SalemState23