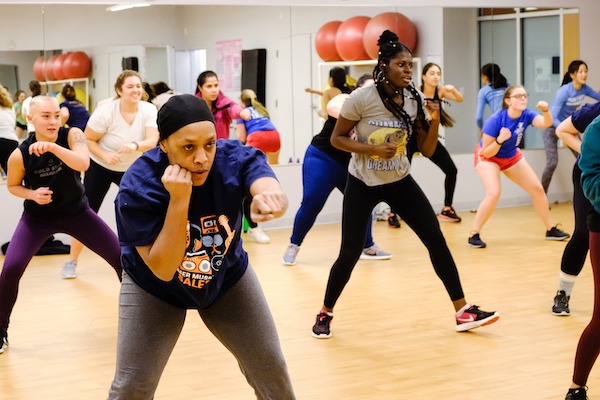 Our group exercise program offers a variety of classes to meet the needs and interests of Gassett Fitness Center members of all ages and abilities. Our nationally certified instructors provide intensity modifications for all fitness levels to ensure that everyone can take a step toward meeting their fitness goals. Our classes will motivate all participants while promoting fun, reducing stress and improving overall wellness. Join us today and let's get moving! Classes are included with all membership types.
Non-Member Options
Salem State University employees can purchase a multi-visit pass in order to access our group exercise classes without a membership.  Purchase 10 visits for $50.00 or 20 visits for $80.
Title
Spring 2022 Group Exercise Schedule
Pre-registration is required for all group exercise classes and registration opens 24 hours in advance of the class. Register today using the Fusion web portal.
Schedule runs Monday, January 31-Wednesday, May 4
*No classes on February 21, March 14-17, April 18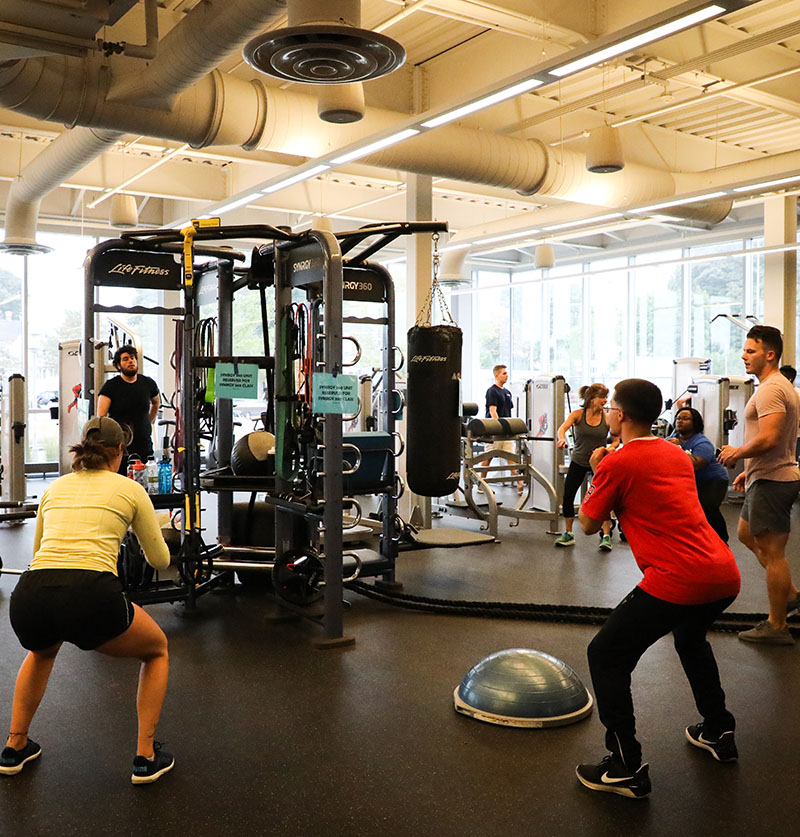 MONDAY
12:15-1 pm Tread and Shed Express (Lisa)
6-7 pm Zumba (Tara)
TUESDAY
12:30-1:15 pm HIIT Intervals and Core (Tabatha)
3:15-4:15 pm Cardio Kickboxing (Annmarie)
5-5:45 pm Spinning (Keli)
WEDNESDAY
12:15-1 pm TRX SYNRGY 360® Circuit Training Express (Sarah)
5:30-6:30 pm Vinyasa Flow Yoga (Maggie)
THURSDAY
12:30-1:15 pm Spin and Sculpt (Keli)
3:15–3:45 pm Buns 'n Guns (Annmarie)
Cardio/Dance Classes
Zumba®: Inspired by Latin dance and music, Zumba® incorporates a variety of styles to create an exhilarating, aerobic, easy-to-follow, calorie-burning, dance fitness-party.
Cardio / Strength Classes
Buns 'n Guns: This class will help you tighten, firm and tone your buttocks/gluteals and pelvic region (buns) through various small equipment and bodyweight exercises specifically designed for this area of the body. It will also focus on the troublesome upper arm area (guns) through specific exercises designed to impact the biceps and triceps area. We will incorporate chest, shoulders, and back as well!
Cardio Kickboxing: A great cardio workout that will help you release any pent-up frustration! This class uses non-contact punches and kicks mixed with a few martial arts practices. No equipment is needed for this class. All fitness levels are welcome. Punch and kick your way to fitness and an ultimate release to stress relief.
HIIT Intervals and Core: Take your workout to the next level with this calorie-burning class!  Classes will combine cardio and muscle conditioning exercises with intervals, plyometrics, Tabata drills, athletic and agility training and more! This class is designed for all fitness levels and core training will be incorporated into every class.
Spinning®: This class offers a cardiovascular workout set to exhilarating music that will motivate you to new fitness levels. Open to beginners and experienced riders as each participant controls his/her own intensity by adjusting speed, resistance and body positions.
Spin and Sculpt: This class will be a combination of Spinning® and include segments of strength and core work.
Tread & Shed Express: This class is a combination of intervals on the treadmill and total body exercises using body weight, free weights, med balls, and more! This cardio/resistance combo will keep burning calories long after the workout is over.
TRX SYNRGY 360 Circuit Training Express: This circuit-based class is a perfect blend of strength and cardio intervals using the TRX suspension trainer, ropes, weights and cardio for a full body, functional workout. This class features a series of circuits to increase strength, improve your endurance, and push your boundaries.
Mind/Body Classes
Vinyasa Yoga: Be guided through a variety of yoga poses while linking the rhythm of your breath and movement. Emphasis will be on proper body alignment for our individual body types throughout the flow in a mindful and supportive way. You will begin to feel and connect to your body and the messages that your body is telling you to support your wellbeing. Leave this practice feeling refreshed, calm and centered.