Title
Fitness Center Memberships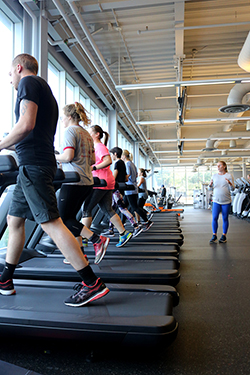 Fall 2021 Update
As of August 31, 2021, the Gassett Fitness Center will be open for use by Salem State University students and employees compliant with all COVID-19 and university health and safety protocols.
We will continue to evaluate the opportunity to welcome our affiliate members back at a later date.  All paid memberships will be extended to account for this interruption in service.  Please contact kjanos@salemstate.edu with any questions you may have.
Registration
All individuals interested in using the Gassett Fitness Center must complete the online registration form by logging into the Fusion Web Portal and pay any applicable fees. Your ClipperCard or Gassett ID Card will provide you with facility access and you must present it at each visit to the fitness center. Payment can be submitted to the front desk of the Gassett Fitness Center during any operational hour, at which time your ID will be activated for your membership. Membership is covered by student fees for students currently enrolled in a class.
Member Benefits
Entry into the Gassett Fitness Center during regular building hours
Options for:

Group Exercise class participation
Batting Cage (when not in use by in-season varsity athletic teams)
E-sports, Intramural and Club Sports
Participation in open recreation activities including pick-up basketball, volleyball, indoor soccer and more!
Reduced prices on instructional programs
Use of the locker rooms 
Equipment checkout
Special events and incentive programs
Sponsorship of guests (2 per visit per day; $10 guest fee per guest)
Insurance Reimbursement
Many employer-sponsored health plans provide a fitness rebate for your fitness center membership. Please see individual plans for eligibility requirements. Members are responsible for completing any fitness rebate forms provided by their insurance carrier. The Gassett Fitness Center will provide proof of fitness center membership and proof of payment. Please complete the insurance reimbursement form and submit to Bethany Ross.
Past year reimbursement request form can be downloaded here.
Membership Categories:
The Gassett Fitness Center offers numerous membership categories. All memberships are subject to proof of affiliation, confirmation of employment, or proof of enrollment.
Student Memberships
Enrolled Students (No Charge): All undergraduate and graduate degree-seeking students taking at least one class per semester and paying student fees are eligible to utilize the Gassett Fitness Center.  No additional membership fee is charged.
Leave of Absence Student Membership ($50/semester): Students that have taken a Leave of Absence from the University are eligible to purchase a semester membership. 
Faculty and Staff Memberships 
Gassett Fitness Center memberships are available for purchase by Salem State University full-time and part-time faculty and staff. 
Annual Membership fee is $150.00
Membership Periods
Access to the Gassett Fitness Center is based on the following semester schedule:
Spring Semester: January 1-May 31
Summer Semester: Day after graduation-August 31
Fall Semester: September 1-December 31
Any student who is registered for classes for the current semester is eligible based on the dates above. During the summer, student memberships are given to those who were registered for the previous spring semester (have not graduated) and are registered for the upcoming fall semester, or, are currently registered for summer classes (session I and/or II), or, are registered for the upcoming fall semester. For incoming students, facility access begins following orientation with successful completion of the registration form and a valid ClipperCard.
All fee-based memberships are on an annual basis only (with the exception of those listed above).
Faculty and staff registered for classes during the current semester will not be charged while they are enrolled in classes if paying student fees. The same student expiration dates and enrollment policies apply as listed above.