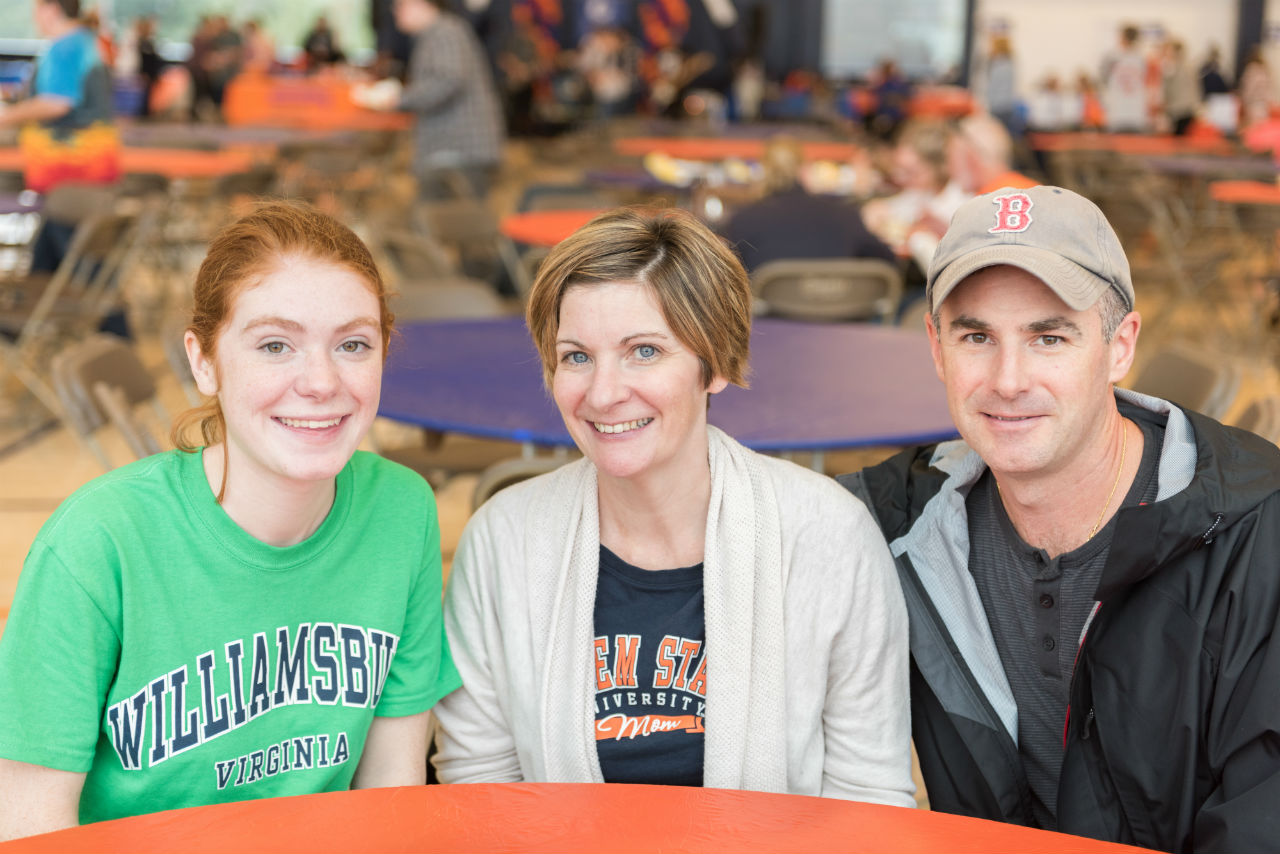 Parents and Families
Parents and the University Fund

Many parents support their student by contributing to the university fund, building resources on campus and strengthening our programs. Your gift has immediate impact and value. When contemplating your gift, it is not the amount you give, but your participation that matters. Please make a gift that is meaningful to you. Give it to U!

About the Parent Council

The Salem State Parent Council is designed to engage parents in the Salem State community through enhanced communication and meaningful opportunities for parents. The council serves as a forum for parents to communicate ideas and questions to the university. University administrators utilize council members as a sounding board for planning family activities. All parents of Salem State undergraduate students are members of the Parent Council.

Council Networking

The council is a networking and support group for Salem State parents and is involved with many family activities during the year:

Friends and Families Weekend
Winter Family Day
Spring Family Day

You can also volunteer as a parent ambassador at the following events:

First Year Orientation
Move-in Day
Accepted Students Day 

The Parent Council meets monthly during the academic year.

If you are interested in learning more about the parent council email Wendy Davison or Bruce Perry.

Parent Communications

Find out more about life at SSU and connect with others at the Parents Facebook page.
Social Media Ambassadors
Meet Our Social Media Ambassadors!

Some of our most influential volunteers are those who engage actively on social media platforms to build university pride, to raise awareness of events and relevant issues, and to promote philanthropic initiatives.

To get in the game, all you need is your own Viking pride. If you wish to become a social media ambassador, please email Erica Bourbeau.
Student Philanthropy Council and Ambassadors
The Student Philanthropy Council (SPC)

The Student Philanthropy Council (SPC) is a group of student volunteers committed to educating classmates about the importance and impact of donor generosity. The council seeks to promote a culture of gratitude and to provide students the opportunity to give back to the Salem State community.

Gifts received from students can be designated to a particular department, club or program directed by the student. Students can also let Salem State President John Keenan allocate their gifts to current priorities.

Stop by one of the Student Philanthropy Council (SPC) tables and make a donation. SPC giving tables are scheduled throughout the semester. Dates and locations are posted regularly on our Facebook page.

In addition to the general student outreach, the SPC also has two working subcommittees–the Student Philanthropy Council Ambassadors and the Senior Class Gift Committee.

2017-2018 Student Philanthropy Council Ambassadors

SPC ambassadors are students that possess strong leadership, public speaking, and interpersonal skills. They serve as the student voice at university advancement events by interacting with variety of university constituents, including alumni, friends, trustees, donors, and university administrators. 

2017-2018 Student Philanthropy Council Ambassadors
Current Members:

Anthony Divirgilio '20  is double majoring in American Studies and Italian and double minoring in geography and international relations. With a passion for community service, Anthony was immediately drawn to Salem State University for its commitment to giving back to surrounding communities. Anthony has developed an admiration for the classroom dynamic at Salem State, particularly for the opportunities that our professors create in forming meaningful relationships with students. Anthony took full advantage of these opportunities when he chose to study abroad in Germany at the University of Mannheim during the summer of 2017. Anthony looks to continue to take advantage of the many opportunities Salem State University has to offer as he continues his studies.  

Odessa Gaulin '19 is a business administration major, with a passion for mathematics. She is going into her second year as an Annual Giving Administrative Assistant, and spends her time taking part in the Accounting Association where she serves as the secretary. Being from Central Massachusetts, Odessa loves the change in scenery, in her free time she enjoys being on the shore and visiting the many coastal parks in Salem.

Caroline Sulick '19 of Wilmington, MA, is in the Honors Program and is studying towards a Bachelor of Science degree in geography. She has made Dean's list the last four semesters at the university and is in the academic honor society, Alpha Lambda Delta. In high school, Caroline ran cross-country, track and threw shot put. She enjoys spending time with children as well as the elderly through community service. Recently, she has taken on a tour guide position on campus. If you see her around be sure to say hello!

Ashley Paron '19 is a junior majoring in elementary education and American studies and is currently enrolled in the 4+1 program for education. During her first year, Ashley was inducted into Alpha Lambda Delta, a campus honor society for first-years. She is a First Year Mentor in the First Year Experience Office. Her first two years as a Viking she lived on campus, but now commutes from her hometown of Billerica.

Ashley Walsh '18 is a dean's list geography student with a concentration in environmental sustainability. She aspires to work towards clean water efforts around the world, incorporating new technology and innovation to help nations maintain a reliable water resource for the future. In her first year at Salem State, Ashley helped to bring a new sorority to campus, Theta Phi Alpha, and has served on the Executive Board for two years. She has also interned for the University's chapter of MassPIRG, working to educate the public about the overuse of antibiotics in the meat industry. Outside of her leadership roles, she is looking forward to helping with the proposed community garden on campus and enjoys spending time outdoors. Ashley loves being at Salem State University because it has helped her grow as a person in ways she never thought possible.

Jen Yao '18 is an Honors Program student in her fourth year at Salem State University. She majors in English and minors in business management. She loves Salem State and, in fact, raved about her college experiences in a memoir for a creative non-fiction course. Being from a single parent household with four siblings, she cannot express how grateful she is that donors make it possible for her and people like her to be able to receive a collegiate education at an affordable cost.

Senior Class Gift Committee (SCGC)

The Senior Class Gift Committee (SCGC) raises funds for a scholarship to be awarded to an incoming first-year student the following year. The SCGC is responsible for publicizing the senior class gift campaign and co-sponsoring events with the Young Alumni Society, to introduce seniors to the Alumni Association and facilitate their alumni involvement.

Stop by one of the Student Philanthropy Council (SPC) tables and make a donation. SPC giving tables are scheduled throughout the semester. Dates and locations are posted regularly on our Facebook page.

Interested students can get involved as a member of the Student Philanthropy Council, the Senior Class Gift Committee, and/or the Student Philanthropy Council Ambassador Program.

Contact:
Erica Bourbeau
978.542.2264