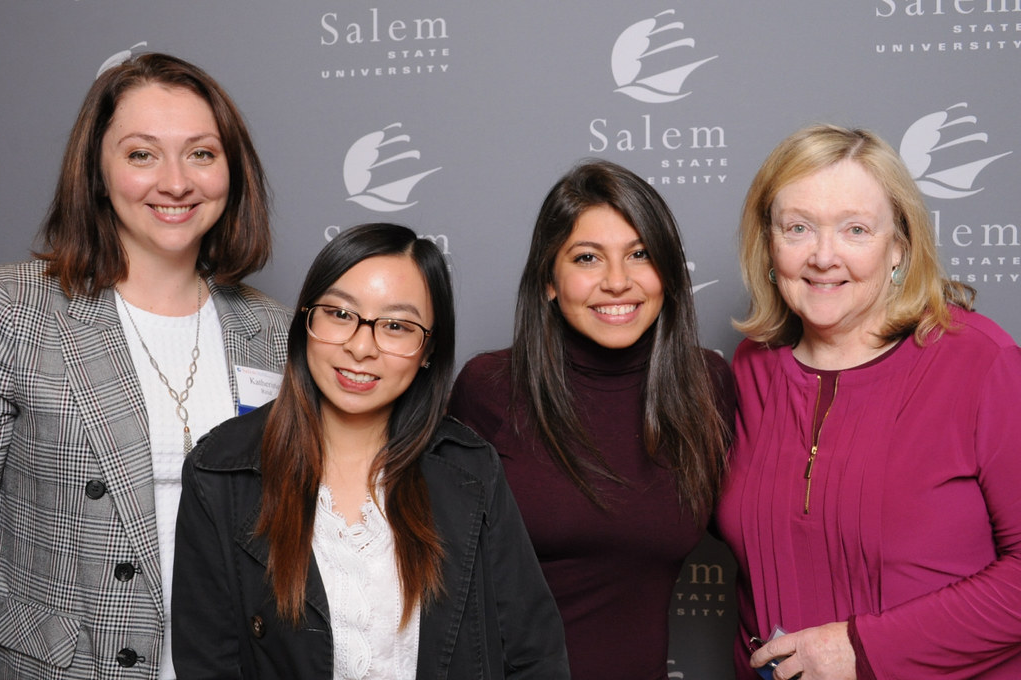 Our students rely on committed and visionary donors to help them achieve their goals. Without them, an affordable, high-quality education—our core mission here at Salem State—would not be possible!
Support through scholarships help our students fulfill their professional and personal aspirations.
From left are Katherine Reid, student scholars Tina Huynh and Zeinab Jubeili and Carole Reid. Both students received the Dorothy Stanton Scholarship Award.
Scholarships
General scholarships are established as short-term, renewable gifts of $1,000 or more per academic year. When a donor establishes an annual scholarship, the entire gift is awarded to a student or students. Consider making a gift to establish a general scholarship!
With an endowed scholarship, you can create an enduring legacy at Salem State that supports the university now and forever! Make your gift of $50,000 or more in one payment or over a period of up to five years and contribute additional principal at any time. After earning interest for three years, fund income can be spent according to your wishes. Consider making a gift to establish an endowed scholarship.
The Presidential Diversity Scholarship helps support students from diverse backgrounds, including racial and ethnic backgrounds who are traditionally underrepresented in higher education. You can make a difference by establishing a scholarship like the Presidential Diversity Scholarship!
Title
For More Information
Taylor Dunn
Director, Campaign and Donor Relations
978.542.7560