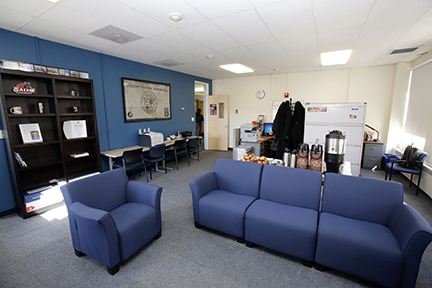 It has been said that veteran student success inside the classroom relies on a foundation of support outside the classroom. In creating this space—and the resources within it—the university is sending a clear message to the growing number of veterans within our community of learners: We value what you bring to our campus and we are prepared to help you succeed in what our student veteran organization calls your 'second mission.'
College students who are United States military veterans often have unique needs on campus, and it is incumbent upon us to not only understand their differing requirements, but to accommodate them as best we are able. Enabling our nation's veterans to succeed in the next phase of their lives is the very least we can do in thanks for the selfless service they have given on all of our behalves.
Consistently cited as a military-friendly school, we will continue to welcome America's veterans to our campus, for time and again they reward us for our efforts on their behalf through their accomplishments in the classroom and beyond. The student veteran center is designed to be a port of entry for student and alumni veterans seeking the academic, social and community support they need to meet their educational goals, complete college and reach their fullest potential. It serves as a clearinghouse for information and as a place where student veterans can study, spend time with fellow veterans and find community.
The construction of this facility would not be possible without support from the Student Veterans of America organization and The Home Depot Foundation, which together awarded Salem State University a $10,000 VetCenter Initiative Grant to make it a possibility.