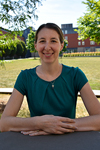 Jacklyn Haas
Director of Undergraduate Admissions
Jackie loves the positive energy of the campus and is continually impressed by Salem State's incredible growth and commitment to a first-class educational experience. Jackie's favorite part of admissions is working closely with students and their families and assisting them in finding a school that is the right fit! It is amazing to see students walking around campus and hearing about their great Salem State experience! 
Jackie completed her BA in social studies education at Ithaca College, Ithaca, New York, and her MEd in higher education at Northeastern University, Boston. She comes to Salem State with 10 years of admissions experience.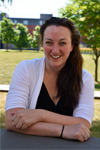 Anne McDonough
Assistant Director of Undergraduate Admissions
Anne joined Salem State University quite appropriately on a beautiful Halloween day in 2011. Previously Anne worked for over four years at Rensselaer Polytechnic Institute as assistant director of undergraduate admissions. While a student at RPI, Anne received her BS in electronic media, arts and communication in 2007 and her MS in management in 2011. Anne discovered her passion for working in higher education while an undergraduate student due to her positive experiences in residence life, conference services and admissions. She enjoys working with students to help them see their possibilities and potential at Salem State!