Master of Education in School Counseling
Salem State University is proud to offer a Master of Education in School Counseling/School Adjustment Counseling. If you want more information about this 60 credit combined program, click the link above.
Title
School Counseling Program Overview
An innovative mixture of education and psychology, our Master of Education (M Ed) in School Counseling Program is accredited by the Massachusetts Department of Elementary and Secondary Education and prepares students to serve and advocate for students, teachers, administrators, and the community as professional school counselors. 
Our students are trained to become Professional School Counselors who are trained as leaders, and advocates that develop and deliver comprehensive school counseling plans that are designed to respond to the needs of all students. Our program teaches students to contextualize their counseling competencies by developing skills in leadership, advocacy, and collaboration, and to develop an appreciation of diversity in meeting the varied needs of school students. School counselors assist students in achieving academic success, choosing appropriate career paths, making effective decisions, and developing socially and emotionally.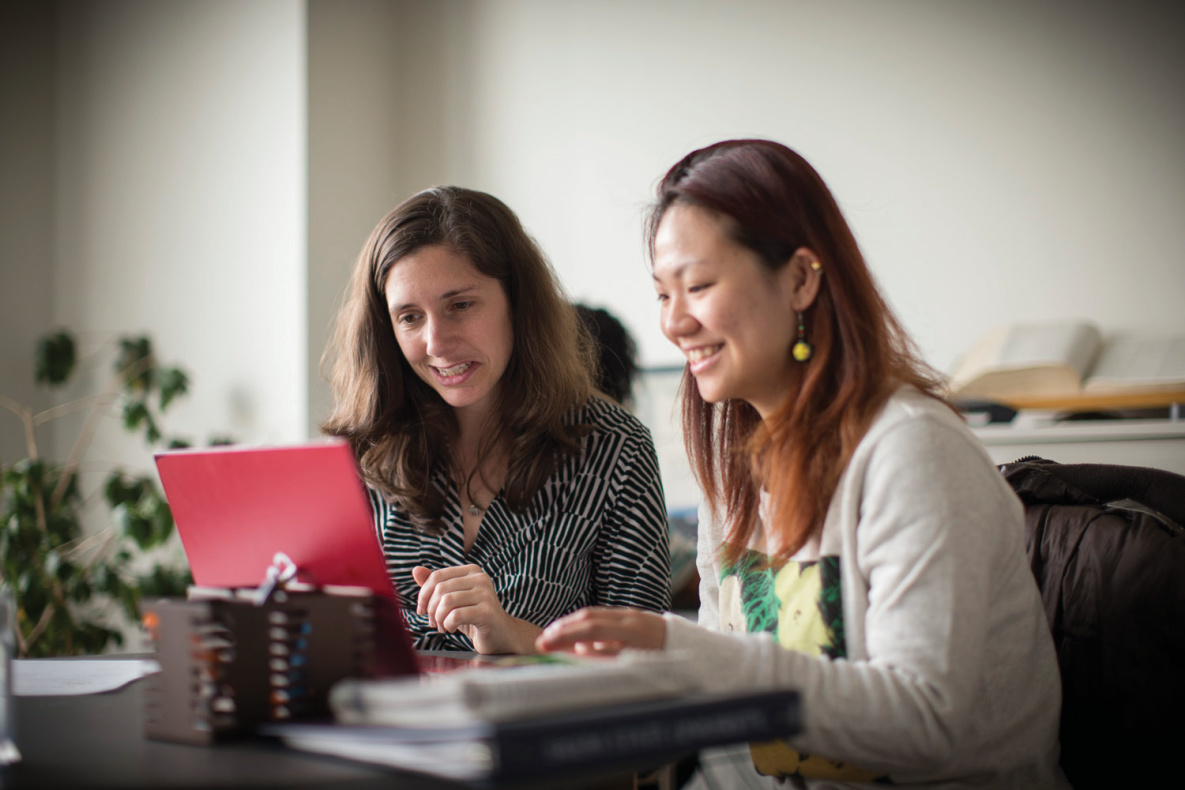 Licensure Options
Graduates of our program are endorsed for their initial school counseling license for the Pk-8 grade range or the 5-12 grade range.
Students completing this program are only two courses away from being eligible for a professional license. 
Our dedicated faculty are committed to promoting compassion, self-awareness, social justice and an authentic appreciation for diversity in our students. Graduates are multiculturally competent leaders, counselors who are empowered to provide effective academic, career/professional, and personal/social guidance to all students. Although our curriculum is intended to prepare students to become school counselors in the K-12 setting, higher education institutes as well as public and private agencies are interested in obtaining the services of professional counselors. 
Title
Students in this Program
Students in this program complete a master's degree while developing the necessary qualifications to meet the Commonwealth of Massachusetts requirements for initial licensure as a (K-8) or secondary (5-12) counselor. In addition to the 54-credit MEd in school counseling program, we offer a licensure only track for those who already hold a master's degree in counseling or psychology. Furthermore, our program graduates only need 6 additional credits and three years of employment as a school guidance counselor in order to obtain their professional license in school counseling (Massachusetts DESE Licensure Information). Students have various opportunities to earn these additional credits through engaging, semester-long course offerings or unique, week-long summer institutes. 
Title
Interested Students
Interested applicants can learn more about the program at the School of Graduate Studies Open House, held biannually in the fall and spring. Open House participants have the opportunity to meet our program coordinator, Laurie Dickstein-Fischer, speak with current students from the program, and explore the Salem State campus.
If you have a question about the application, please reach out to graduate admissions.
For more details about the program, review our brochure. 
Offered full or part-time, the 54 credit MEd in school counseling program is flexible and designed to meet your needs. Classes are offered in the evenings. You can choose to take classes on Monday, Tuesday, Wednesday, or Thursday evenings, and any evening you choose offers two classes- one beginning at 4:30 and the other at 7:00 p.m. Complete six credits a semester while only coming to campus one night a week or twelve credits a semester on two nights a week. 
Students enrolled full-time typically complete the program within two years. Students enrolled part-time typically complete the program within three years.
Program objectives are based on the indicators of effective teaching practice presented in the Massachusetts educator evaluation system, Massachusetts model for school counseling, and the National ASCA (American School Counselors Association) professional expectations for school counselors. Program graduates meet the requirements for initial licensure in school counseling (K-8 or 5-12) in Massachusetts and are eligible for licensure reciprocity in states included in the National Association of State Directors of Teacher Education and Certification (NASDTEC) Interstate Contract (ASCA State Certification Requirement Information).
These objectives are organized around five focus areas: 
School counseling curriculum and program delivery
Inclusion (equity and access)
Outreach and networking
Service and case management
Research and development
The Salem State University campus is conveniently located in Salem, which is on the MBTA commuter rail. Trains run regularly between Boston and Salem daily and students enrolled in the program commute in some capacity. Classes are scheduled so that coming to campus in-person once or twice a week is realistic.
World-class faculty pursuing cutting-edge research in areas such robotics, autism, social media, career exploration, English Language Learners, and social/emotional learning
Faculty is comprised of current guidance directors and guidance counselors to ensure student success and exposure to current experiences.   
Innovative curriculum that blends psychology and education, providing students with the best of both worlds
Innovative summer institutes that offer cutting-edge courses relevant to the school counseling field, such as EDU730A: Fundamentals of College Admissions Counseling, EDU857A: Consultations and Collaborations in the School Setting, and PSY820: Theory and Treatment of Substance Use Disorders
Small class sizes and cohort-based learning help to foster a tight-knit community between students and faculty
Exciting 500-hour practicums where students gain experience working in public schools under the supervision of a professional school counselor. All students are personally assisted in finding a placement.
Frequent, fun, and informative networking opportunities where students can connect with alumni, learn about the comprehensive exams, learn about the practicum process, and receive information about funding  
Opportunity to attend and potentially present research at the annual Massachusetts School Counseling Association conference 
Opportunities to apply for graduate assistantships, grants, and scholarships 
Close alumni relationships to ensure practicum and pre-practicum placements
Title
Practicum Partnerships
Students' final capstone experience in the school counseling program is completing a 500-hour, year-long practicum in a public school under the supervision of a professional school counselor. Students undertake their practicum experience during the final year of the program.
The field placement coordinator meets individually with each student to find the best placement for his or her practicum and every student finds an appropriate placement. Practicum site supervisors and our students have established working relationships with over seventy schools throughout Massachusetts. These schools appreciate the professional caliber of our students and look forward to hosting and supporting them throughout their year-long practicum placements.
Title
Licensure Only Program in School Counseling
The licensure only in school counseling program is designed specifically for individuals who already have a master's degree in counseling or psychology and are seeking an initial license in school counseling. This license allows candidates to gain employment as school counselors in the commonwealth of Massachusetts.
Students admitted to this program will meet with the program coordinator to map out a tailored program of study that will fulfill DESE license requirements. 
Please be aware that the Commonwealth of Massachusetts may change licensure requirements. Students are advised to contact the state for specific, current licensure requirements. Students may access that information at the Department for Elementary and Secondary Education (DESE).
Employed in public or private school settings, school counselors help students to develop the social, organizational and decision-making skills needed for academic and career success. Their role is to advocate, listen, counsel, inform, assess and empower. Research shows that school counselors are effective* in helping students to:
Improve academic achievement
Increase positive attitudes toward school
Enhance career development
Increase productive on-task behaviors
Positively resolve conflicts
In addition, they play a critical role in helping to:
Decrease negative behaviors such as school violence, bullying, and classroom disturbances 
Prevent student suicides
Prevent students from dropping out
There are currently 4,880 school counselors employed in the state of Massachusetts. The median pay is $78,220 per year.**
**Bureau of Labor Statistics, U.S. Department of Labor, Occupational Employment Statistics on the Internet at bls.gov/oes/current/oes193031.htm (visited March 15, 2016).
Employment Opportunities Beyond the Role of School Counselor
Higher Education
College Counseling
Nonprofit work
Social and Community Service
Jen Miller, Alumni

School Counselor Educator Award

School Counseling Open House

Student Research

Christopher Porrazzo, Alumni