Title
Bachelor of Science Athletic Training
The Commission on Accreditation for Athletic Training Education (CAATE) has mandated that all athletic training programs must change the entry-level Athletic Training (AT) degree to a master's level degree by 2022. Based on this change in degree requirement, the current undergraduate AT program at SSU will be phased out after the enrollment of the fall 2017 freshmen pre-professional athletic training class. This fall 2017 freshmen class will be the last class eligible to apply to the professional phase during their fall 2018 semester. Students must successfully complete ATR101: Prevention and Care of Athletic Injuries by the end of the spring 2018 semester, this will be the last time that this prerequisite course will be offered. Eligibility to apply to the program is contingent on completing required prerequisite course work and submitting required application materials prior to November 1, 2018. The last Bachelor of Sciences in Athletic Training class will graduate in 2021. All degree requirements for the BS in Athletic Training must be met by May 2021.
Undergraduate students interested in preparing for entry into a CAATE accredited master's degree program in Athletic Training can choose to study Exercise Science: Pre-rehabilitation Sciences within the sport and movement science department beginning fall 2018. Interested students should contact the Athletic Training Program Assistant, Kevin J. Silva, MS, AT.
The CAATE accredited athletic training education program prepares the student for the Athletic Training Board of Certification examination. The sequencing of athletic training courses will take three and one-half years to complete and should be started as a second-semester freshman, with Prevention and Care of Athletic Injuries (AT101), First Responder Training (SMS 175), and Anatomy and Physiology I (BIO 200). In addition to required courses as indicated in this course sequence, this program requires the completion of 850 hours of on-site clinical experiences.
This program has limited enrollment and specific requirements for admission and retention. Please see our Admission and Retention Policy for details. NOTE: A felony conviction could affect eligibility to sit for the BOC examination and make an applicant ineligible for a license from the Mass. Board of Registration of Allied Health Professionals. 
Additional requirements: Athletic training students must be prepared to provide their own transportation to clinical settings. In addition, students will be required to purchase professional liability insurance (approximate cost $22), 2-3 Athletic Training Program Polos ($20-25/each), and a name tag ($9.00). Students are responsible for annual renewal costs associated with continuous Emergency Cardiac Care certification throughout the professional phase of the program. Students must obtain a TB test, hepatitis B immunization and physical exam.
For complete details concerning curriculum policies and requirements, see the Athletic Training Handbook available in the SMS department.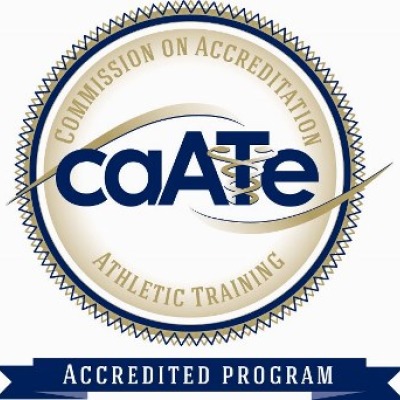 The Salem State University Athletic Training Program is accredited by the Commission on Accreditation of Athletic Training Education (CAATE).
6850 Austin Center Blvd
Suite 100
Austin, TX 78731-3184
Phone: 512.733.9700
Salem State University
Athletic Training Program
2014-2015 
2015-2016
2016-2017 
Total
3-year aggregate 
Overall Pass Rate
Number Graduated
7
6
3
16
 
 
Number took exam
7
6
3
16
 
 
Number passed first time
7
6
2
15
94%
 
Number passed any attempt
7
6
2
15
 
94%