Title
M.S. in Behavior Analysis
Program Overview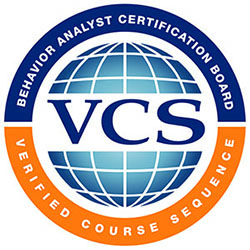 Our program includes a course sequence that has been approved by the Behavior Analyst Certification Board (BACB) to meet the educational coursework requirements to apply to the BACB to take examinations related to Board Certified Assistant Behavior Analyst (BCaBA) or Board Certified Behavior Analyst (BCBA). The full program curriculum consists of 24 seminar credits plus 18 to 19.5 credits that include electives, faculty-sponsored directed study, master's projects or theses, and an exam review course, for a total of 42-43.5 credits. Students applying to the BACB for certification are expected to meet additional requirements and should consult with the BACB directly concerning eligibility.
Students who complete the MS program are also eligible to apply for licensure in Massachusetts. Licensure requirements for applied behavior analysts are subject to change, so students should consult directly with the state licensure office regarding requirements. Learn more about program requirements and courses.
 
Program Highlights Include:
Individualized programs of study tailored to your unique professional goals
Internationally-renowned faculty focused on growing your knowledge base with their expertise in quantitative and experimental psychology, behavioral assessment of complex thinking skills, and translation of knowledge from research to applied settings
Unique opportunities to conduct experiments in our operant laboratory under the guidance of faculty mentors
All students complete a master's project or thesis under the supervision of program faculty
A course sequence that makes it possible for full-time professionals to complete a master's degree in as few as two years
Careers
Behavior Analysis is a growing and high demand field in which practitioners may be employed by hospitals, clinics, social service agencies, schools, and other related areas. Examples of the populations served and areas of application include children and adults with development delays; veteran and military populations; deaf populations; and additional groups and interventions. Behavior analysts can also conduct research for organizations, companies, and institutions of higher learning; pursue administrative positions within ABA organizations; or serve as consultants to government and non-government institutions. According to the Association of Professional Behavior Analysts, the median pay behavior analysts is approximately $60,000 per year.* Graduates of our program have secured positions at Melmark New England, Futures Behavior Therapy Center, SEEM Collaborative, and a variety of public schools.
*Source: APBA 2009 Professional Employment Survey Results
 
Admissions Information
Have Questions?
Whether you want to learn more about courses, faculty members or general program information, get in touch with the graduate program coordinator to see what this program has to offer you.
Ready to Apply?
Your future is waiting. Take the next step by learning about program-specific admissions requirements and applying today!
MS in Behavior Analysis Brochure