Title
Performance Ensembles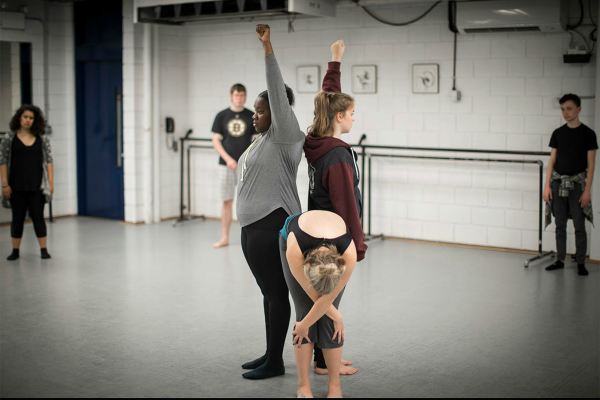 Salem State University's music and dance department has a wide array of ensemble performance opportunities available for credit towards your degree, each of which promises students an unforgettable educational experience. Whether you sing, dance, or play an instrument (or do all three!) you will find a home. Ensembles are open to all students regardless of major and can be repeated for credit. Each ensemble rehearses one to three days per week and performs a minimum of once each semester.  
The music program is able to provide a limited number of instruments for students who wish to participate in ensembles, but don't own an instrument. Locker storage space and practice rooms are also available.
Dance
Salem Dance Ensemble (SDE), a faculty-run dance group, presents a concert at the end of each semester consisting of faculty, guest, and student work. Students can receive credit for their involvement with the work through various courses including Dance Ensemble I and II, Dance Theory and Style, Dance Production, Special Topics in Dance, Dance Composition, Capstone Seminar in Dance, and Independent Study.  To become involved in the production outside of coursework, student choreographers submit a proposal and student performers audition for student work. Students participate in artistic showings throughout the semester where they present their work and receive feedback from faculty and students. All students are welcome and encouraged to participate in the SDE concert.
Choral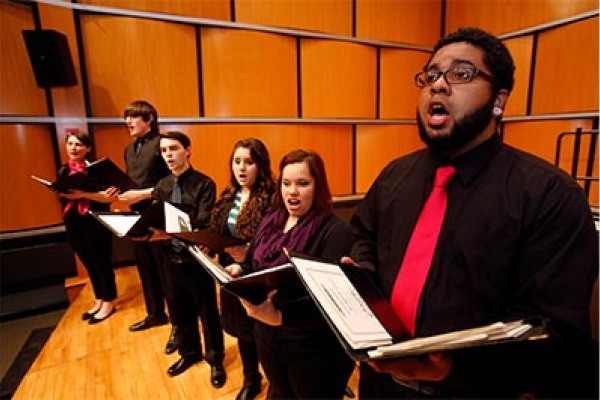 The university chorus is a large mixed choir of both men's and women's voices. The ensemble is composed of students who represent disciplines and majors from across the campus. It is a balanced group of singers (soprano, alto, tenor, bass) that performs extended multi-movement choral masterworks and provides solo singing opportunities.
A successful vocal audition is required to participate in chamber singers, a smaller choral group that focuses on works ranging from Renaissance madrigals and mass settings to vocal jazz.*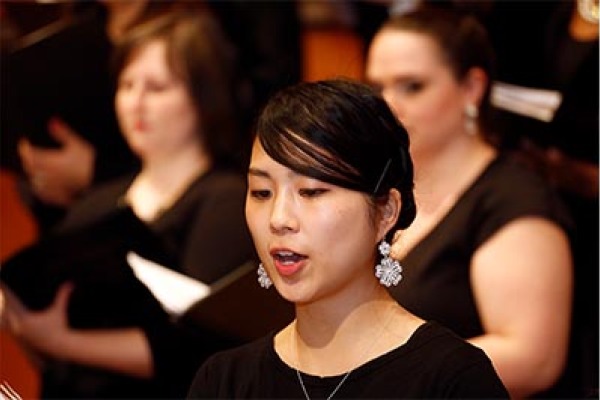 The altavoce treble chorus is a mixed ensemble devoted to the study and performance of literature written for treble (SSA) voices.  It is open to any student who sings in the treble range and includes a gender non-specific concert dress code. The chorus performs music from a variety of styles and time periods and features group singing as well as solo opportunities.
Instrumental
The university band is open to any student on campus regardless of major. There is no audition required and the ensemble offers an avenue to continue making music throughout your college career.  
The university wind ensemble explores musical literature written for band and other brass and woodwind combinations.  This ensemble is open to music majors and music minors with experience playing traditional woodwind, brass, or percussion instruments, and to others with permission of the department chairperson.    
The foundations jazz ensemble helps to develop improvisational skills in a small group setting and allows students to study significant periods, styles and artists in jazz history. The foundations jazz ensemble is open to any student regardless of major.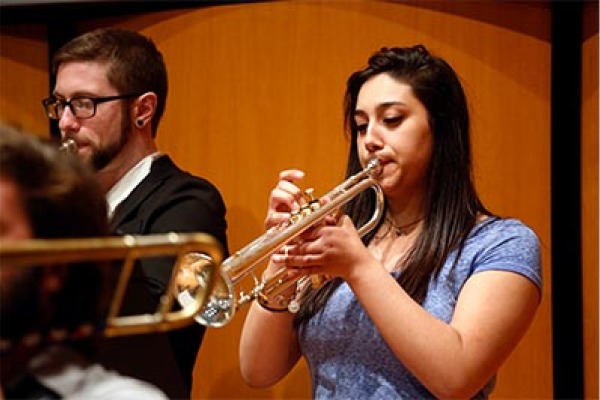 The SSU jazz band performs a variety of jazz and big band charts from many jazz styles. The band may perform both on- and off-campus throughout the year and is open to all students regardless of major. There is a chair placement audition required for this band.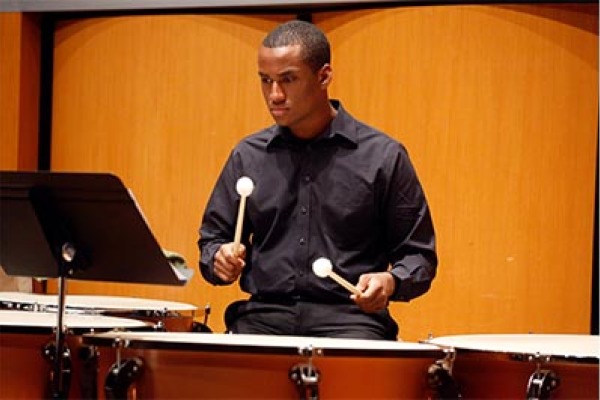 The chamber orchestra is a full symphonic ensemble comprised of both student and community musicians and includes strings, woodwinds, brass, and percussion. All are welcomed to study and perform challenging orchestral works for strings, woodwinds, brass, and percussion. 
Small Music Ensembles
The guitar ensemble is open to any student all students with experience on guitar and presents group performances on both acoustic and electric guitars. Music studied and performed ranges from classical to jazz.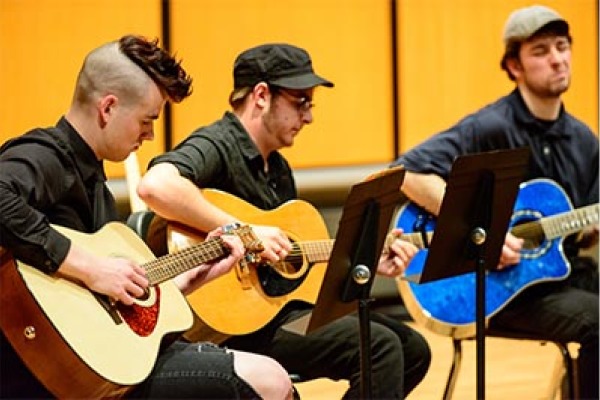 The handbell ensemble is a unique ensemble that studies and prepares music for on- and off-campus performances. No prior experience with handbells is necessary, although the ability to read music is highly recommended. The handbell ensemble is open to students across campus.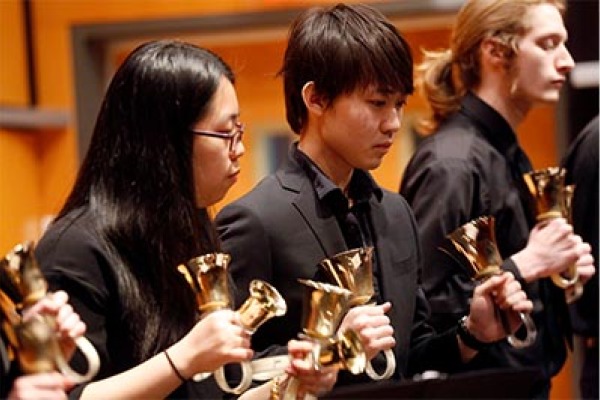 The mixed ensembles are small ensembles of varying combinations that may include strings, woodwinds, brass, piano, voice, and mixed media. These opportunities are open to all students.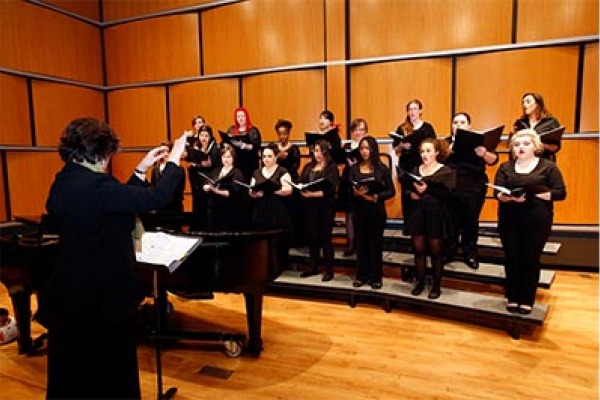 The percussion ensemble explores the many facets of contemporary music, ethnic rhythms, and diversity of cultures through percussion. Different techniques for various instruments are taught, including percussion, timpani and hand drumming. Experience with percussion instruments is highly recommended. 
The world music ensemble focuses on musical practices outside of the Western classical tradition. The ensemble currently focuses on the classical instruments of North India—the tabla and sitar—and the Mbira. Vocalists are also encouraged to join. This ensemble is open to any student across campus. 
*For ensembles requiring an audition, students must contact the ensemble director for audition requirements and times.
Community Music Ensembles (Open to All)
The Salem Community Chorus at Salem State University. Love to Sing? Want to learn? Join Salem State music faculty members Lynn Shane and Valerie Peterson and the the The Salem Community Chorus at Salem State University. The chorus is open to anyone over age 18 who loves to sing. No audition, no fee, and no experience necessary, just an open mind and an open heart. Repertoire will consist of a wide variety of styles and perspectives that are reflective of the diverse and welcoming community of Salem. Faculty, alumni, students, and all community members are encouraged to attend! To register for the chorus or to ask questions, please email Lynn Shane. We look forward to singing with you!
The Summer Orchestra at Salem State University, conducted by Mary-Jo Grenfell, provides an enriching experience and opportunity for musicians to read, rehearse, and perform music from the symphonic and chamber repertoire. The ensemble is a community orchestra comprised of intermediate and advanced musicians. The participants meet to play orchestral music, and also have an opportunity to form chamber ensembles with other members of the ensemble. The orchestra meets for rehearsals on five Tuesday evenings from mid-July through early August and presents an informal concert on a Sunday afternoon in August. This community ensemble is available at no cost and there is no audition required. For further information, contact Mary-Jo Grenfell.